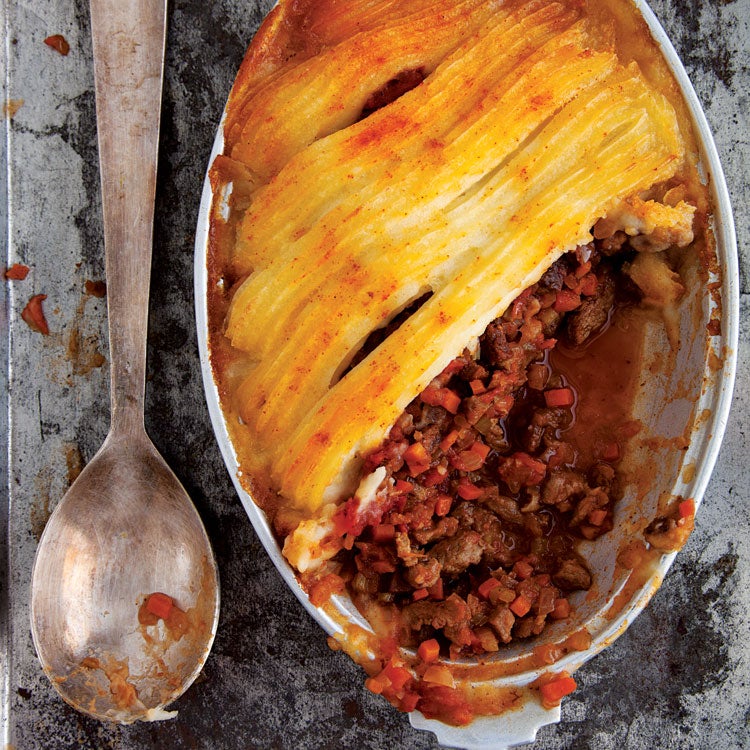 I have always believed that the greatest English food is every bit as great when turned into leftovers, and none greater than our superlative roasts: sirloins of grass-fed beef on the bone, legs or shoulders of lamb, properly hung and eaten at Sunday lunch with roast potatoes and gravy made from the roasting juices, then minced on a Monday and turned into cottage or shepherd's pies. A cottage pie is made with beef and has a long tradition as a rural dish, as does the shepherdly variation, which dates back way further than the 1870s, when mincing machines were developed and it first got its name. Traditionally leftover gravy is added to the minced meat, along with onions and any vegetables on hand, before a buttery mound of mashed potato is dolloped on top and the whole is browned in the oven. I always feel that the dish needs a little further savory enhancement, so the addition of Worcestershire sauce, a few drops of Tabasco, a squirt of tomato paste, or any combination of the above is permissible. Monday night has been shepherd's or cottage pie night since I was a child. A small break from tradition happened when my daughter Charissa went vegetarian in her teens. After several months she told me, secretly, not wanting her elder sister and brother to make fun of her, that she had decided to eat meat again; she craved shepherd's pie. Order was restored immediately, and the dish brought to the table as it had been for at least four generations of my family. —Tamasin Day-Lewis, author of Food You Can't Say No to (Quadrille, 2012)
Shepherd's Pie
The quintessential English casserole of leftover roast turned into shepherd's or cottage pie is just as good when made from scratch.
Ingredients
2 tbsp. olive oil
1 1⁄2 lb. trimmed lamb shoulder, cut into 1/4″ cubes
2 ribs celery, finely chopped
2 cloves garlic, finely chopped
1 large carrot, finely chopped
1 large yellow onion, finely chopped
2 tbsp. tomato paste
1⁄2 cup red wine
1⁄2 cup beef stock
1 tbsp. Worcestershire sauce
2 bay leaves
1 (15-oz.) can whole peeled tomatoes in juice, crushed by hand
Kosher salt and freshly ground black pepper, to taste
2 lb. russet potatoes, peeled
1⁄2 cup heavy cream
8 tbsp. unsalted butter
Instructions
Heat oil in a 6-qt. saucepan over medium-high heat. Add lamb, and cook, stirring, until browned all over, 10 to 12 minutes. Using a slotted spoon, transfer to a bowl and set aside. Add celery, garlic, carrot, and onion to pan, and cook until soft, about 5 minutes. Add tomato paste, and cook, stirring, until lightly caramelized, about 2 minutes. Add wine, and cook, stirring to scrape bottom of pan, until wine evaporates, about 8 minutes Add reserved lamb, stock, Worcestershire, bay leaves, and tomatoes, and cook, stirring, until slightly reduced, about 6 minutes. Remove from heat, season with salt and pepper, and transfer to a 9″ deep-dish pie plate; set aside.
Heat oven to 400°. Place potatoes in a 4-qt. saucepan, and cover with water by 1″; bring to a boil over high heat. Cook until tender, about 30 minutes; drain. Meanwhile, bring cream and butter to simmer in a 1-qt. saucepan; keep warm. Transfer potatoes to a food mill or potato ricer, and process into a bowl; add hot cream and butter, season with salt and pepper, and whisk until smooth and fluffy. Spoon potatoes over meat filling in dish, spreading to cover to the edge; drag tines of fork lightly over potatoes to create ridges all over. (Alternatively, fill a piping bag with the potatoes and pipe them in rows over the filling.) Bake until potatoes are golden brown and filling is heated through, about 45 minutes. Let cool 20 minutes; serve with peas.