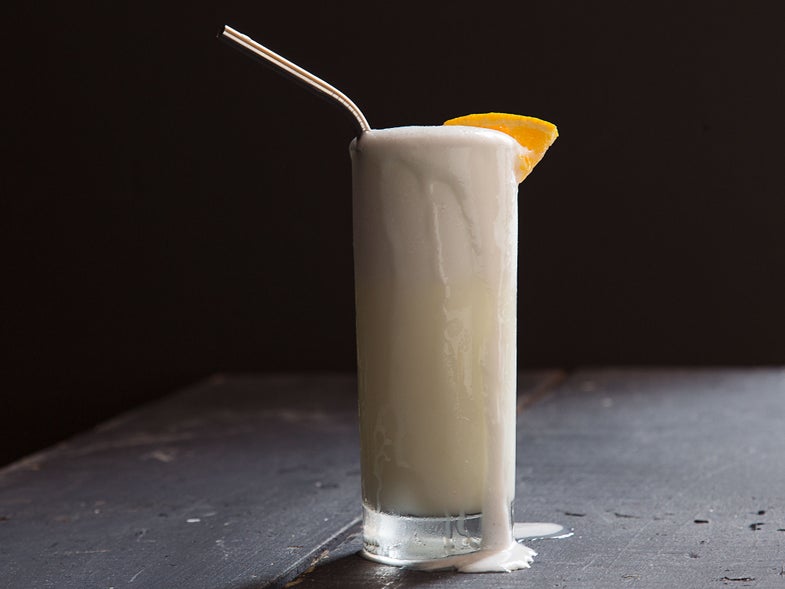 The New Orleans-born Ramos is among the best-loved classics out there, an ethereal and strangely light cocktail of gin and citrus, with cream and soda and an elusive touch of orange blossom water.
Featured in: Stop Driving Your Bartender Crazy and Make Your Own Ramos Gin Fizz
What You Will Need
Yield: makes 1 cocktail
Time: 5 minutes
Ingredients
1 1⁄2 oz. London dry gin
1 medium egg white
3⁄4 oz. simple syrup
1⁄2 oz. freshly squeezed lime juice
1⁄2 oz. freshly squeezed lemon juice
1⁄2 oz. half-and-half
3 dashes orange blossom water (also called orange flower water)
Instructions
In an empty cocktail shaker, combine all ingredients and shake vigorously for at least one minute. Fill the shaker three-quarters full with ice, and shake vigorously again for at least one minute.
Strain into a Collins glass with no ice, then add 2 ounces of club soda. (The drink will be foamy. Add any excess foam from the cocktail shaker on top.) Garnish with an orange wedge and serve immediately with a straw.