Recipes
Raw Oysters with Grilled Pineapple and Thai Basil
Serves

makes 1 Dozen

Cook

30 minutes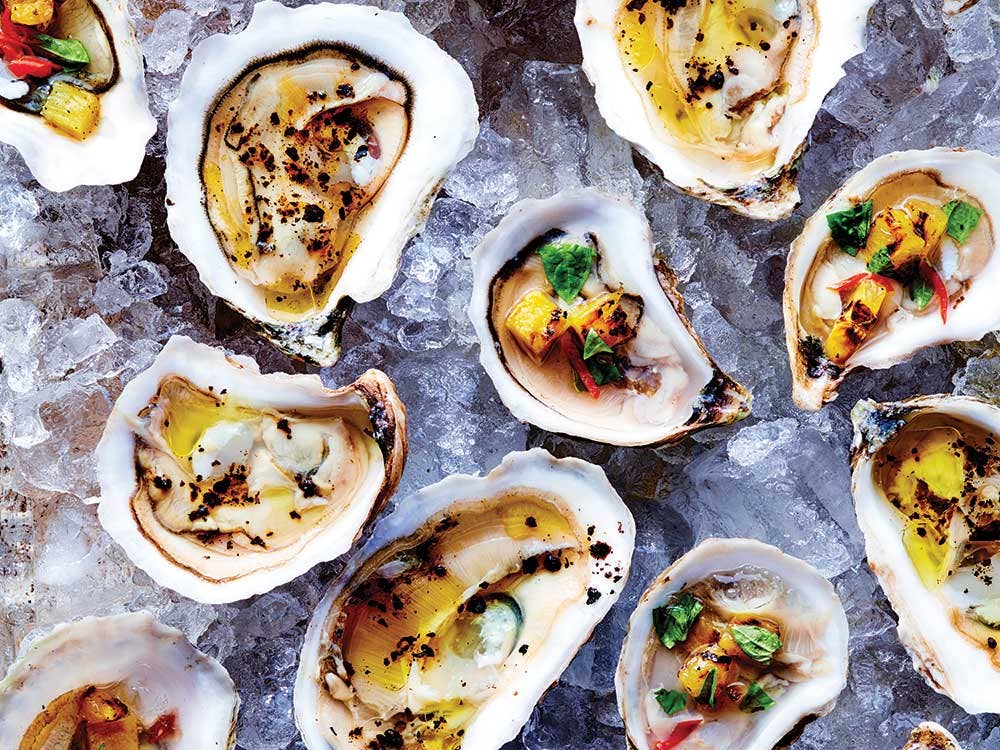 Some ingredients obscure raw oysters, others enhance them. Just as lemon juice brightens and cleans their flavor, so too does Thai basil, marinated pineapple, and a squeeze of lime. A sprinkling of dark-burgundy-colored urfa biber chile flakes, commonly known as urfa, adds a smoky dimension.
Ingredients
2 tbsp. granulated sugar
1 tsp. plus ⅛ tsp. Asian fish sauce, divided
1⁄2 tsp. fresh lime juice, plus lime wedges for squeezing
1 tbsp. minced shallot, divided
1 slice of fresh pineapple, ¼ inch thick (4½ oz.), skin cut away
1⁄4 tsp. extra-virgin olive oil
1 dozen medium, sweet oysters
Finely chopped fresh Thai basil, or substitute regular basil or cilantro
Very finely minced Thai chile, for garnish
Instructions
Step 1
In a medium bowl, add the sugar, fish sauce, lime juice, and 1 teaspoon of the shallot; whisk well until the mixture is thick and syrupy.
Step 2
Preheat a grill pan or grill to high heat. Brush both sides of the pineapple slice with some of the sugar mixture. Transfer to the preheated grill and let cook until well-charred, about 3 minutes per side.
Step 3
Remove the pineapple slice to a cutting board and finely dice it. Transfer to a small bowl and add the olive oil; stir well.
Step 4
Shuck the oysters and, using an oyster knife, detach the meat from the bottom of the shell, reserving the liquid.
Step 5
Place the oysters on a bed of coarse sea salt or crushed ice to stabilize them. Add at least 2 small cubes of pineapple to each, or more to taste. Top each oyster with a generous pinch of Thai basil leaves, a few pieces of shallot, and a sliver of Thai chile. Serve immediately with lime wedges.