Recipes
Bell Pepper Stir-Fry with Basil and Tofu
Give this vegan weeknight favorite a saucy, aromatic upgrade so good, you'll be making it on repeat.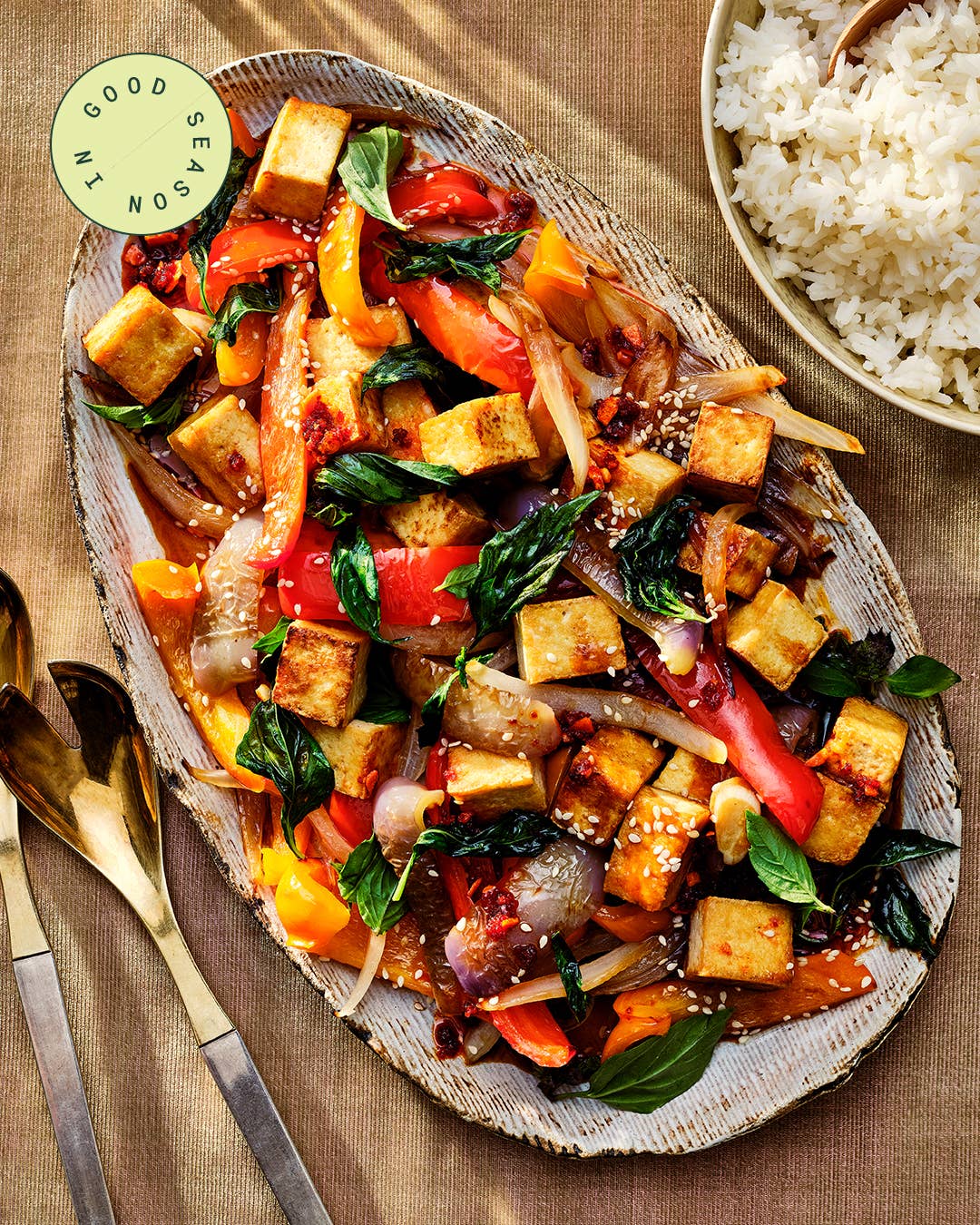 Welcome to SAVEUR's column on how to cook local produce according to our contributing editor, Fatima Khawaja. This is where you'll find creative, unfussy meal ideas plus plenty of cooking advice—like what to do with that bumper crop of zucchini or how to store delicate heirloom tomatoes. Every other week, Fatima hits the farmers market and chooses a peak-season ingredient to explore in depth. Follow along, and you'll learn how to turn the season's bounty into easy plant-based meals that'll be on the table in under an hour.
My daughter has loved tofu since before she could talk. For her, I keep things simple: drain, slice, pan-fry, serve. But when I'm cooking for myself, I like things saucier: Using her leftovers, I like to make an easy vegetarian stir-fry with bell peppers, Thai basil, and plenty of ginger and garlic. If you're a sucker for sauce like me, you'll love the sweet and salty flavors in this recipe—and may even want to double the sauce ingredients.
Most cooks know their way around a bell pepper—after all, it's the bedrock of countless cuisines. One potentially life-changing trick for removing those pesky seeds is to use the tip of a knife to cut around the stem: Simply pull up, and you'll have a seed-free pepper to work with. Another method is to use your thumb to push on the stem until the whole seeded core pops inside. Shake out the pepper, and you're good to go.
Any color of bell pepper will do in this recipe. If you can't find Thai basil, use the standard Italian stuff, or substitute cilantro or scallions. With leftover peppers, consider making this tart from Mallorca that's great for a crowd, or this ragu from Abruzzo made with ground lamb, tomatoes and a pop of sweetness from the peppers.
Ingredients
1 lb. firm tofu
¼ cup soy sauce
3 Tbsp. seasoned rice vinegar
1 Tbsp. sesame oil
2 tsp. cornstarch
1 tsp. kosher salt
¼ cup vegetable oil, divided
2 medium bell peppers, cored, seeded, and cut into thick slices
1 medium white or yellow onion, thinly sliced
2 garlic cloves, thinly sliced
1 Tbsp. finely grated ginger
1 cup torn Thai basil leaves
1 Tbsp. chili crisp (optional)
2 tsp. toasted white sesame seeds
Steamed jasmine rice (optional)
Instructions
Step 1
Drain the tofu, then place the block on a paper-towel-lined plate. Top with another layer of paper towels and a second plate, then place a light weight (such as two 28-ounce cans) on top. Set aside until most of the water is pressed out and the tofu feels dense and dry to the touch, 20–30 minutes. Pour off any excess liquid, then cut the tofu into ¾-inch cubes.
Step 2
In a small bowl, whisk together the soy sauce, vinegar, sesame oil, cornstarch, and salt. Set aside.
Step 3
To a large wok or skillet set over medium-high heat, add 2 tablespoons of the vegetable oil. When it's hot and shimmering, add the tofu and stir-fry, tossing occasionally, until golden brown, about 8 minutes. Transfer to a paper-towel-lined plate.
Step 4
Turn the heat to high. To the empty wok, add the remaining vegetable oil, the bell peppers, and the onion and stir-fry until softened slightly and beginning to brown, about 7 minutes. Stir in the ginger and garlic and cook until fragrant, about 1 minute. Add the basil and cook until wilted, about 10 seconds, then stir in the reserved tofu and soy sauce mixture. Cook until the sauce thickens slightly and coats the tofu, about 30 seconds. Remove from the heat, stir in the chili crisp if using and the sesame seeds, and serve with rice if desired.