Spaghetti alla Chitarra with Lamb and Sweet Pepper Ragù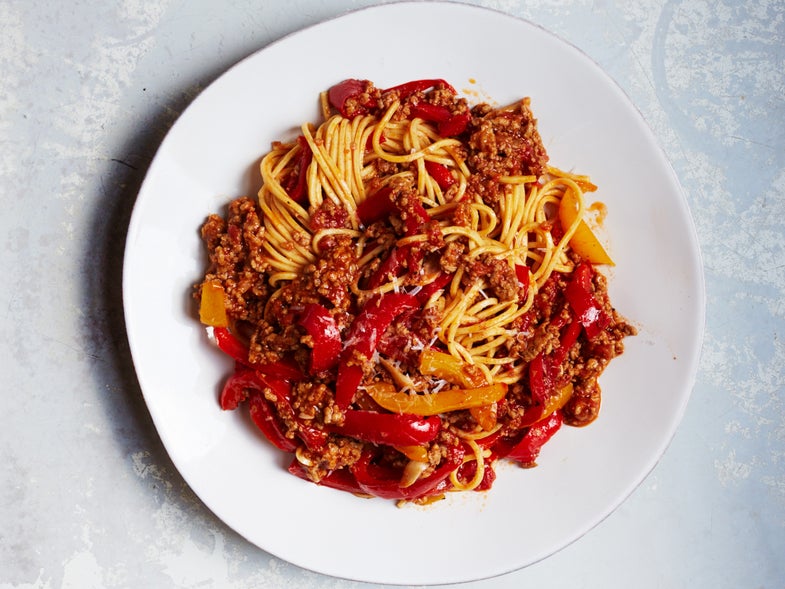 Lighter than the rich beef and pork ragùs of other Italian regions, this Abruzzo specialty features bell peppers mixed into the sauce and cooked briefly so they retain their shape and lend a pop of sweetness. It is typically served over spaghetti alla chitarra (pasta from Abruzzo that is shaped on a tool that resembles a guitar), though it makes a delicious sauce for almost any type of long noodle. Featured in: The Road to Abruzzo
Find this recipe in our cookbook, SAVEUR: Italian Comfort Food
Spaghetti alla Chitarra with Lamb and Sweet Pepper Ragù
Barely cooked bell peppers add a pop of sweetness to light lamb ragù, which enrobes spaghetti alla chitarra, a thick noodle, traditional in the Abruzzo region of Italy.
Time: 1 hour, 10 minutes
Ingredients
1⁄2 cup olive oil
1 lb. ground lamb
3 bay leaves
3 cloves garlic, thinly sliced
Kosher salt and freshly ground black pepper, to taste
1⁄2 cup dry white wine
1 1⁄2 cups lamb or chicken stock
1 (15 oz.) can whole peeled tomatoes, crushed by hand
2 large red bell peppers, stemmed, seeded, and sliced 1/4″ thick
1 large yellow bell pepper, stemmed, seeded, and sliced 1/4″ thick
1 lb. spaghetti alla chitarra (eataly.com) or thick spaghetti
Grated Pecorino Romano, for garnish
Instructions
Heat oil in a 6-qt. saucepan over medium-high. Cook lamb, stirring and breaking up meat into small pieces, until browned, 6–8 minutes. Add bay leaves, garlic, salt, and pepper; cook until garlic is golden, 2–3 minutes. Stir in wine; cook until reduced by half, 2–3 minutes. Add stock, tomatoes, salt, and pepper; bring to a simmer. Reduce heat to medium-low; cook, stirring occasionally, until sauce is slightly thickened, 35–40 minutes. Stir in peppers; cook until peppers are tender but not falling apart, 4–6 minutes. Discard bay leaves.
Meanwhile, bring a large pot of salted water to a boil. Cook pasta until al dente, 10–12 minutes. Drain pasta and transfer to pan with sauce. Add salt and pepper and, using tongs, toss pasta in sauce. Divide pasta between bowls; garnish with pecorino.