Recipes
Braised Beef Stew with Garlic Cream
A zingy condiment adorns this silky, simple, one-pot Chilean dish.
Serves

serves 4-6

Cook

4 hours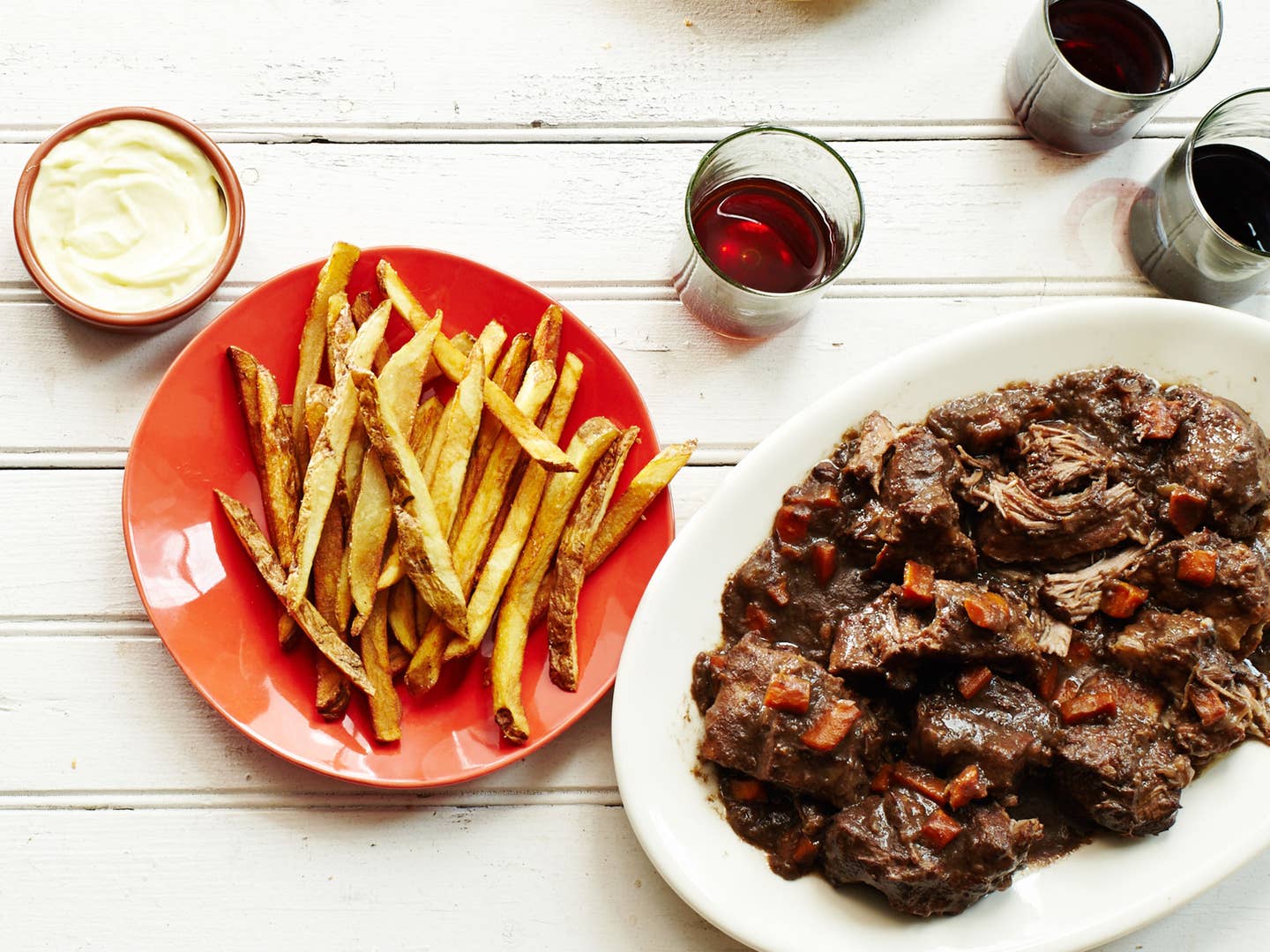 A silky garlic cream sauce adds welcome zing to this dish from Chilean chef Juan Pablo Mellado Arana. A great condiment in its own right when served with fries or slathered on sandwich bread.
Ingredients
1 cup olive oil
8 garlic cloves, coarsely chopped
½ cups whole milk
½ cups heavy cream
Kosher salt and freshly ground black pepper
3 lb. trimmed beef chuck, cut into 2-in. chunks
½ cups all-purpose flour
⅓ cups vegetable oil
1 large yellow onion, coarsely chopped
1 medium carrot, coarsely chopped
2 cups fruity red wine, such as Chilean carménère
2 2 thyme sprigs
Instructions
Step 1
To a large Dutch oven set over medium-low heat, add the olive oil and garlic, and cook until the garlic is tender, about 7 minutes (do not brown). Place a small sieve over a bowl and drain the garlic, reserving the oil. Return the garlic to the pot, add the milk and cream, and turn the heat to medium-high. When the liquid begins to boil, turn the heat to medium and cook, stirring until the cream has reduced slightly and the garlic is soft, 10–12 minutes, then remove from the heat. Using an immersion or regular blender, purée the liquid. With the blender running, gradually add the reserved oil and salt and pepper to taste until you have a thick sauce. Scrape into a serving bowl or gravy boat, cover, and set aside. Clean the Dutch oven and return it to the stove.
Step 2
In a large bowl, season the beef generously with salt and black pepper and toss with the flour. To the empty Dutch oven, add the vegetable oil and turn the heat to medium-high. When it's hot and shimmering, working in batches, add the beef to the pot and cook, turning until browned on all sides, 6–8 minutes per batch. Use a slotted spoon to transfer the beef to a plate. To the empty Dutch oven, add the onion and carrot and cook, stirring frequently, until lightly browned, about 6 minutes. Stir in the wine and thyme and cook, stirring occasionally, until the wine reduces by half, about 10 minutes. Return the beef to the liquid and add 8 cups of water. When the water boils, turn the heat to medium-low and cook, stirring occasionally, until the beef is very tender, about 3 hours.
Step 3
To serve, microwave the sauce on 50 percent power until hot, about 4 minutes. Ladle the stew into bowls and pass the garlic sauce on the side.