Recipes
Carrot Crêpes
The sweet spring root vegetable gets the French treatment in Jacques Pépin's simple recipe.
Serves

makes 12 crepes

Cook

1 hour 40 minutes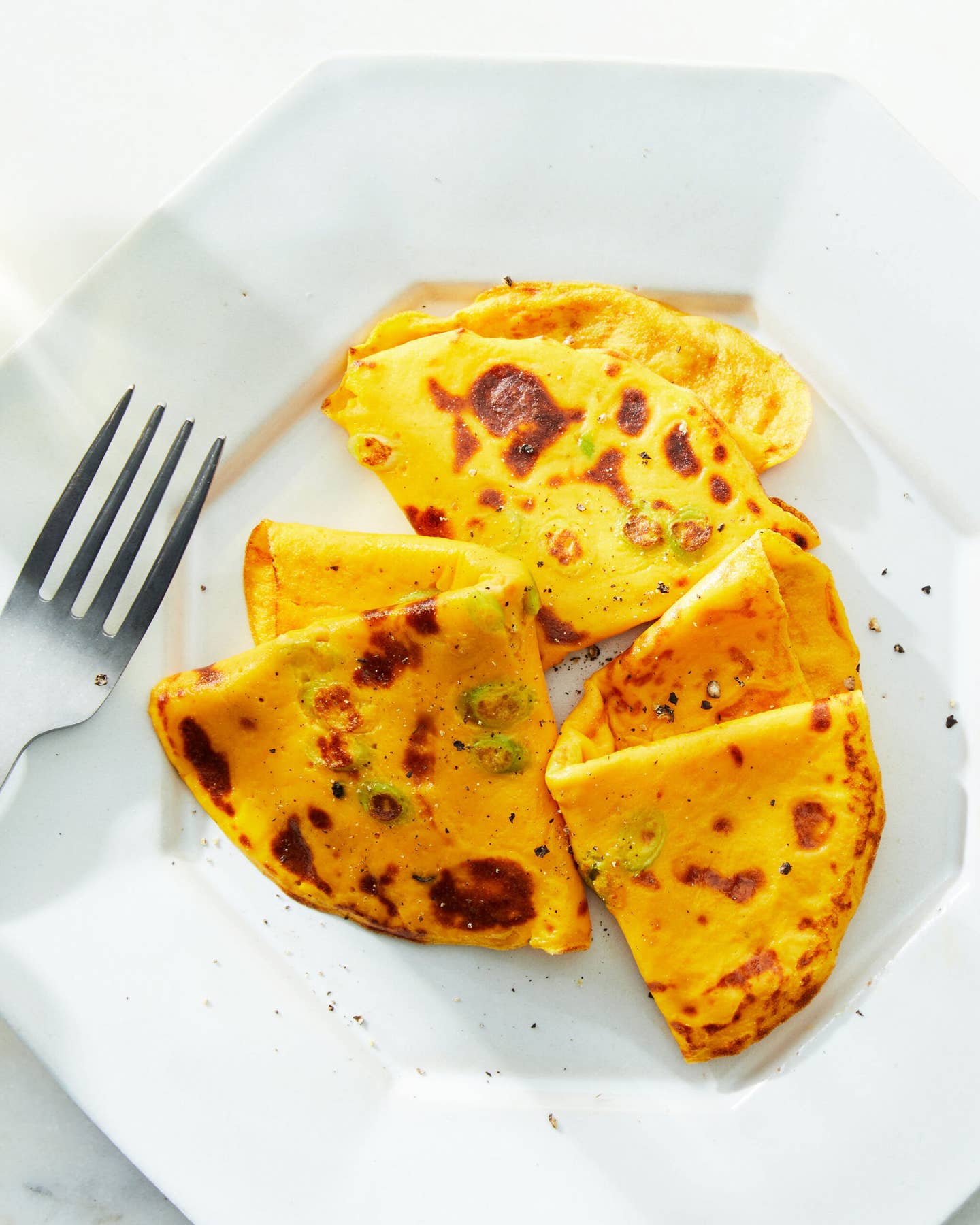 Carrots give these crêpes from chef Jacques Pépin their faint sweetness and sunny orange hue. Delicate and delicious, they can be served as a side dish alongside meat or fish or as a first course. Although the thin pancakes are best eaten fresh from the skillet, they can also be made ahead of time and cooled in a single layer on a baking sheet. Reheat the cooled crêpes in a 200-degree oven.
Ingredients
3 large carrots (12 oz.), peeled and cut crosswise into 2-in. pieces
¼ cups whole milk
3 tbsp. all-purpose flour
1 tbsp. cornstarch
½ tsp. kosher salt
¼ tsp. freshly ground black pepper
¼ tsp. sugar
2 large eggs
2 tbsp. finely chopped scallions
3–4 tbsp. canola oil
Instructions
Step 1
Preheat the oven to 200ºF.
Step 2
To a medium pot over high heat, add the carrots and 1¼ cup of water, and bring to a boil. Cover, turn the heat down to low, and cook until the carrots are tender and all but 2 tablespoons of the cooking liquid has evaporated, about 40 minutes.
Step 3
Transfer the carrots and their cooking liquid to a food processor and process to a fine paste. Add the milk, flour, cornstarch, salt, pepper, and sugar, and pulse to combine, then add the eggs and continue processing until smooth. Add the scallion and pulse twice to just combine, then transfer the batter to a medium bowl or a large liquid measuring cup.
Step 4
To a medium skillet over medium heat, add 1 tablespoons of the oil. When the oil just begins to shimmer, add 2 tablespoons of the carrot batter, swirling the pan to make a 3-inches crêpe. Cook over medium until the top of the pancake is nearly set and the bottom is golden brown, about 2 minutes . Using a thin, offset spatula, gently turn the crepe over and continue cooking 2 minutes more. Transfer to a baking sheet and keep warm in the oven while you cook the remaining crepes, adding more oil to the pan as needed. Serve warm.