Recipes
Chicken and Dumplings
Cook the dough right on top of the chicken for the lightest, fluffiest way to make this Southern icon.
Serves

serves 8

Cook

3 hours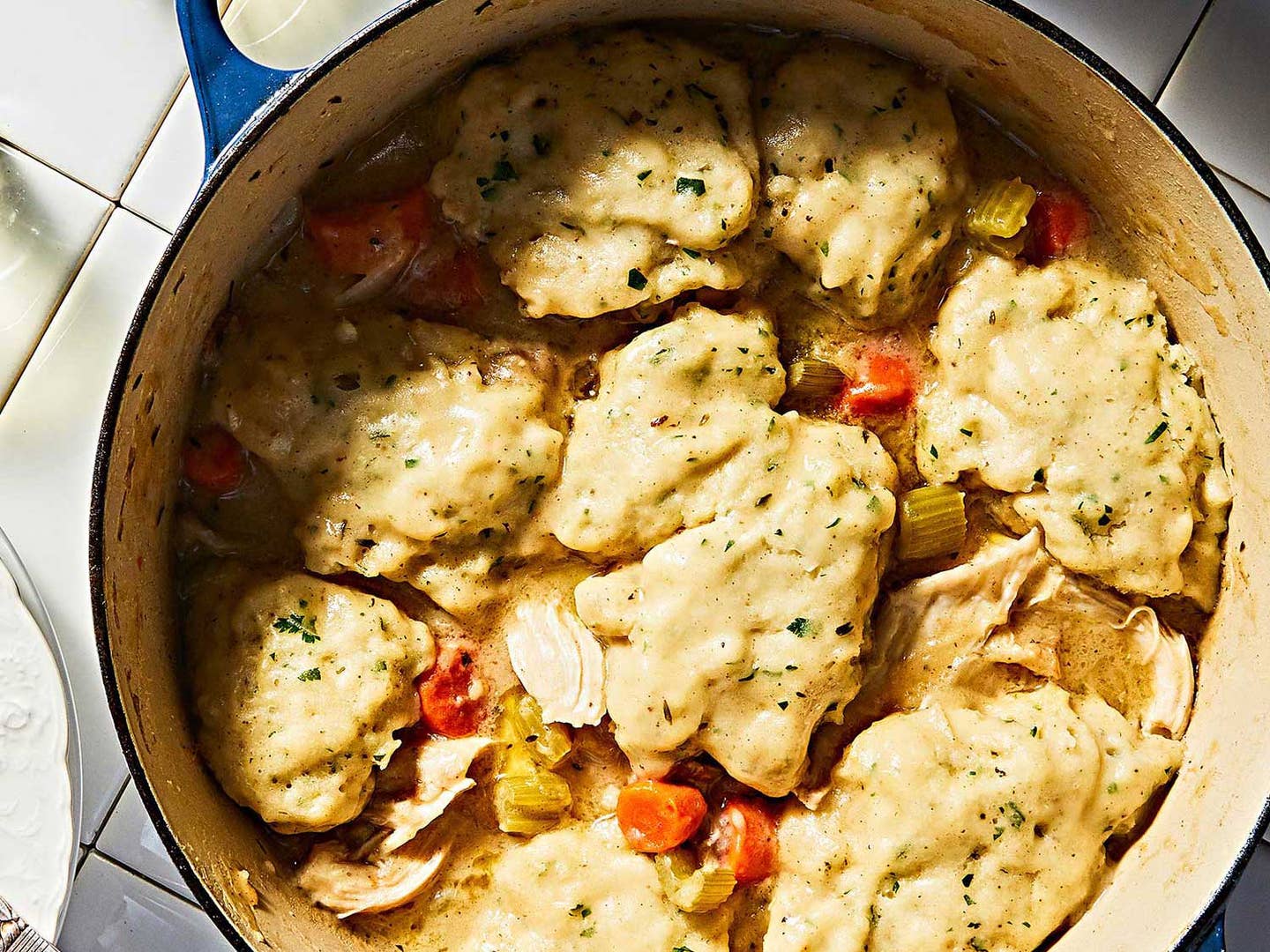 In this Southern dinner staple from chef Andrea Reusing of Lantern in Chapel Hill, North Carolina, chicken stew is enriched with bacon and crowned with featherlight, parsley-flecked dumplings. Chicken pulls double duty here: the meat adds heft, while the carcass yields a rich broth that's used to flavor the stew.
Ingredients
1 whole chicken (4 lb.), preferably heritage, legs removed
Kosher salt and freshly ground black pepper
1⁄4 lb. slab bacon, cut into slivers
2 Tbsp. canola oil
2 tsp. dried thyme
4 cloves garlic, chopped
4 medium carrots, thickly sliced
4 stalks celery, thickly sliced
2 large yellow onions, cut into 1-inch chunks
1 fresh bay leaf
2 2⁄3 cups all-purpose flour
1 cup white wine
1 Tbsp. baking powder
1⁄2 tsp. baking soda
5 1⁄2 Tbsp. unsalted butter, melted and cooled slightly
3⁄4 cup buttermilk
2 Tbsp. finely chopped flat-leaf parsley
Instructions
Step 1
Halve the chicken legs, separating the thigh from the drumstick. Season with salt and pepper; set aside. Place remaining chicken in a pot, cover with salted water, and bring to a boil. Reduce the heat to a simmer and cook until the breast is just cooked, 12–15 minutes. Remove the chicken. Cut the breast and wings from the carcass. Discard any skin and bones from the breast and wing meat, cut into 1-inch chunks, and refrigerate. Return the carcass to the pot and simmer for 1 hour. Strain; reserve 4 cups broth (save the remainder for another use).
Step 2
Meanwhile, in a large, wide pot over medium heat, add the bacon and cook until crisp, 8–10 minutes. Transfer to a plate, leaving the fat in the pot. Add the oil; when the oil is hot, brown the chicken drumsticks and thighs, 8–10 minutes. Transfer to a plate. Add the thyme, garlic, carrots, celery, onions, and bay leaf; cook until light brown, 18–20 minutes. Add ⅔ cup flour; cook for 1 minute. Add the wine; cook for 1 minute. Whisk in the reserved broth and salt and pepper to taste. Nestle in the drumsticks, thighs, and bacon. Reduce the heat to medium-low and simmer, covered, for 15 minutes.
Step 3
In a bowl, whisk together the remaining 2 cups flour, baking powder, baking soda, 1½ tsp. salt, and ¼ tsp. pepper. In a separate bowl, combine the butter, buttermilk, and parsley. Pour into the flour mixture and stir to make a thick batter. Uncover the pot; add the reserved breast and wing meat. Drop the batter in 8 large spoonfuls over the top. Cover and simmer until the dumplings are cooked, 20–25 minutes.