Recipes
Orange Chocolate Pound Cake
A tender, marbled loaf with a balance of dark cocoa and candied citrus.
Serves

makes 1 loav

Cook

2 hours 25 minutes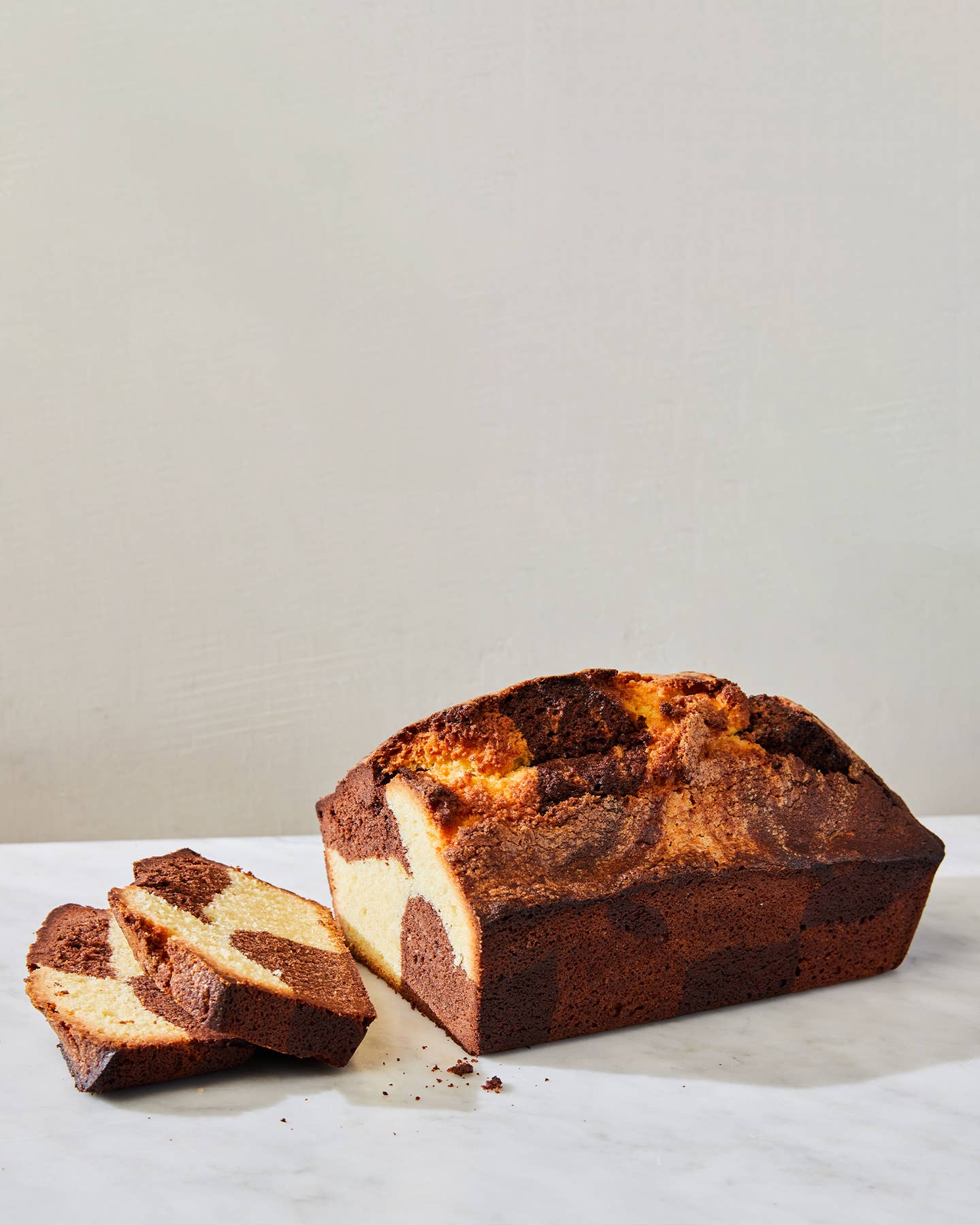 Toronto-based master preserver and baker Camilla Wynne showcases her own homemade whole citrus marmalade in this moist and tender orange chocolate pound cake recipe. Find her easy-to-follow marmalade method here—but if you're in a hurry, we've found that a good-quality storebought version is a suitable substitute. Each slice of this dense and tender loaf sports a marbled swirl of rich bittersweet chocolate and sunny and aromatic citrus.
Ingredients
Nonstick baking spray
3½ oz. dark chocolate, finely chopped (½ cup)
2 tbsp. cocoa powder
2½ cups all-purpose flour
1¼ tsp. baking powder
½ tsp. kosher salt
1¼ cups unsalted butter, softened
1¾ cups sugar
5 large eggs, at room temperature
2 tsp. vanilla extract
⅓ cups orange marmalade, finely chopped
2 tsp. finely grated orange zest
Instructions
Step 1
Preheat the oven (with one of its racks positioned in the bottom third) to 350°F. Grease a 9- by 5- by 3-inch loaf pan; line the pan with parchment paper and set aside.
Step 2
In a small metal bowl set over a pot of simmering water, add the chocolate and melt, stirring occasionally until smooth, 2–3 minutes. Remove from the heat, then whisk in the cocoa until smooth and set aside.
Step 3
Into a medium bowl, sift the flour, baking powder, and salt. Set aside.
Step 4
To the bowl of a stand mixer fitted with the paddle attachment, add the butter and sugar and beat on medium-high until pale and fluffy, about 5 minutes. Turn the speed down to medium and, one by one, add the eggs, beating well and scraping down the sides and bottom of the bowl with a silicone spatula between each addition. Beat in the vanilla, then turn the speed down to low, add flour mixture, and mix just until incorporated. Turn the speed up to medium-high and beat until the batter is emulsified and completely homogenous, about 30 seconds. Transfer half of the batter to a medium bowl and stir in the chocolate-cocoa mixture until combined. To the other half of the batter, stir in the marmalade and orange zest.
Step 5
Using two ¼-cup cookie scoops (or two large spoons), scoop alternating mounds of each batter into the prepared loaf pan. Using an offset spatula or a butter knife, smooth the top surface, then slice a channel about ½-inch deep down the center of the length of the cake (this will help to create an even indent while it bakes). Transfer to the oven and bake, rotating the pan 180 degrees about halfway through cooking, until the cake is golden brown and a toothpick inserted in the center comes out clean, 70–85 minutes. (Tent the cake loosely with foil if it starts to get too dark before it is cooked through).
Step 6
Remove the cake from the oven and cool in the pan for 20 minutes, then use the edges of the parchment to lift it out of the pan and place on a wire rack to finish cooling to room temperature. Cut into slices and serve. Completely cooled leftovers may be wrapped tightly and plastic wrap and stored at room temperature for up to 1 week.