Recipes
Efo Riro (Nigerian-Style Chicken Stew with Greens, Spinach, and Iru)
Fermented locust beans lend their particular savory richness to this traditional West African dish.
Serves

serves 6

Cook

1 hour 50 minutes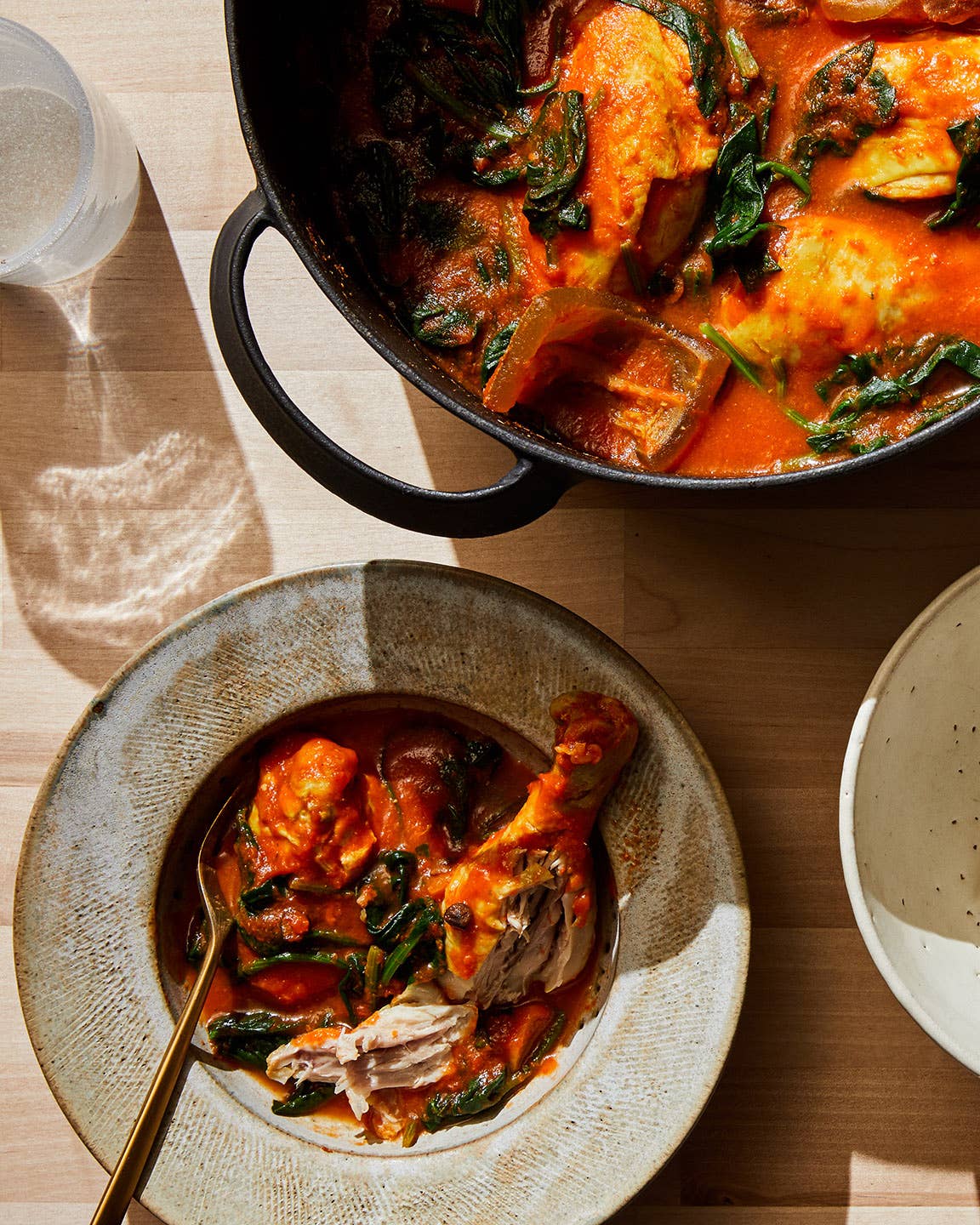 In the language of the Yoruba people of Western Nigeria, efo riro means "stirred leaf." This comforting stew is traditionally made with shoko leaf, a mild bitter green common in the area, however ordinary spinach makes a suitable substitute. This recipe, which is adapted from Tola Akerele's The Orishirishi Cookbook, can be made with either oxtail, goat, or bone-in chicken pieces. Find the smoked and dried fish (typically catfish), ground crayfish, and ponmo at your local African market or online through Osiafrik; fermented locust beans (known as iru in Yoruba) may be ordered dried from Burlap & Barrel. Efo Riro is traditionally eaten with swallows— starchy sides like cooked and pounded cassava or yam—but it can also be enjoyed with rice or any other cooked grain.
Ingredients
For the chicken:
1 3¼-lb. whole chicken, cut in 10 pieces
2 medium yellow onions, coarsely chopped
3–4 Scotch bonnet chiles
1 smoked and dried fish, such as catfish
1 1½-in. piece fresh ginger, coarsely chopped
3 medium garlic cloves, coarsely chopped
3 chicken bouillon cubes
2½ tsp. kosher salt
¾ tsp. curry powder
¾ tsp. freshly ground white pepper
¾ tsp. dried thyme
For the stew:
8 large red bell peppers, stemmed, seeded and coarsely chopped
5 medium plum tomatoes, coarsely chopped
2 medium yellow onions, coarsely chopped
5 Scotch bonnet chiles, stemmed, seeded, and coarsely chopped
2¼ lb. shoko leaf (or substitute fresh spinach), cleaned
Kosher salt
3½ oz. ponmo (dried cow skin)
3½ oz. stockfish
¼ cups plus 2 Tbsp. ground crayfish
3 tbsp. iru (fermented locust beans)
2 tbsp. palm oil
2 vegetable oil
2 chicken bouillon cubes
1 oz. smoked and dried fish, such as catfish
Cooked pounded yam, white rice, or whole grains, to serve
Instructions
Step 1
Prepare the meat: To a large pot, add the chicken, onion, chiles, dried fish, ginger, garlic, bouillon cubes, salt, curry powder, white pepper, and thyme. Add just enough water to cover, then set over medium-high heat, bring to a boil, then lower the heat to maintain a simmer. Cook, stirring occasionally, until the chicken is tender and cooked through, about 45 minutes. Remove from the heat and using tongs, transfer the chicken to a large bowl and set aside. Set a fine mesh sieve in a large bowl and strain the cooking liquid, discarding any solids; set both aside to cool at room temperature.
Step 2
Meanwhile, make the stew: To a blender, add the bell peppers, tomatoes, onions, chiles, and half a cup of water. Blend on high until smooth and homogenous, about 1 minute. Set aside.
Step 3
Fill a large pot halfway with water and bring to a boil over medium-high heat. Place a colander in the sink. Working in batches, add the shoko leaves to the pot and blanch until wilted and tender, about 6 minutes. Using tongs, transfer the greens to the colander to drain while you continue cooking the rest; discard the cooking water. Once the spinach is cool enough to handle, squeeze out as much excess water as you can, then season lightly with salt and set aside.
Step 4
Return the pot to the stove, set over medium heat, and add the reserved vegetable purée and cook, stirring occasionally, until slightly darkened and thickened, about 5 minutes. Stir in the ponmo, stockfish, crayfish, iru, palm oil, vegetable oil, bouillon cubes, dried fish, and the reserved chicken. Bring to a simmer, then turn the heat to low, stir in the reserved greens, and cook, stirring frequently, until the flavors have melded and everything is heated through, about 10 minutes.
Step 5
To serve, ladle the efo riro into bowls and serve with swallows or rice on the side.