Drinks
El Quijote Sangría
Upgrade your picnic punch with this recipe from Manhattan's iconic Spanish restaurant.
Serves

serves 4

Cook

15 minutes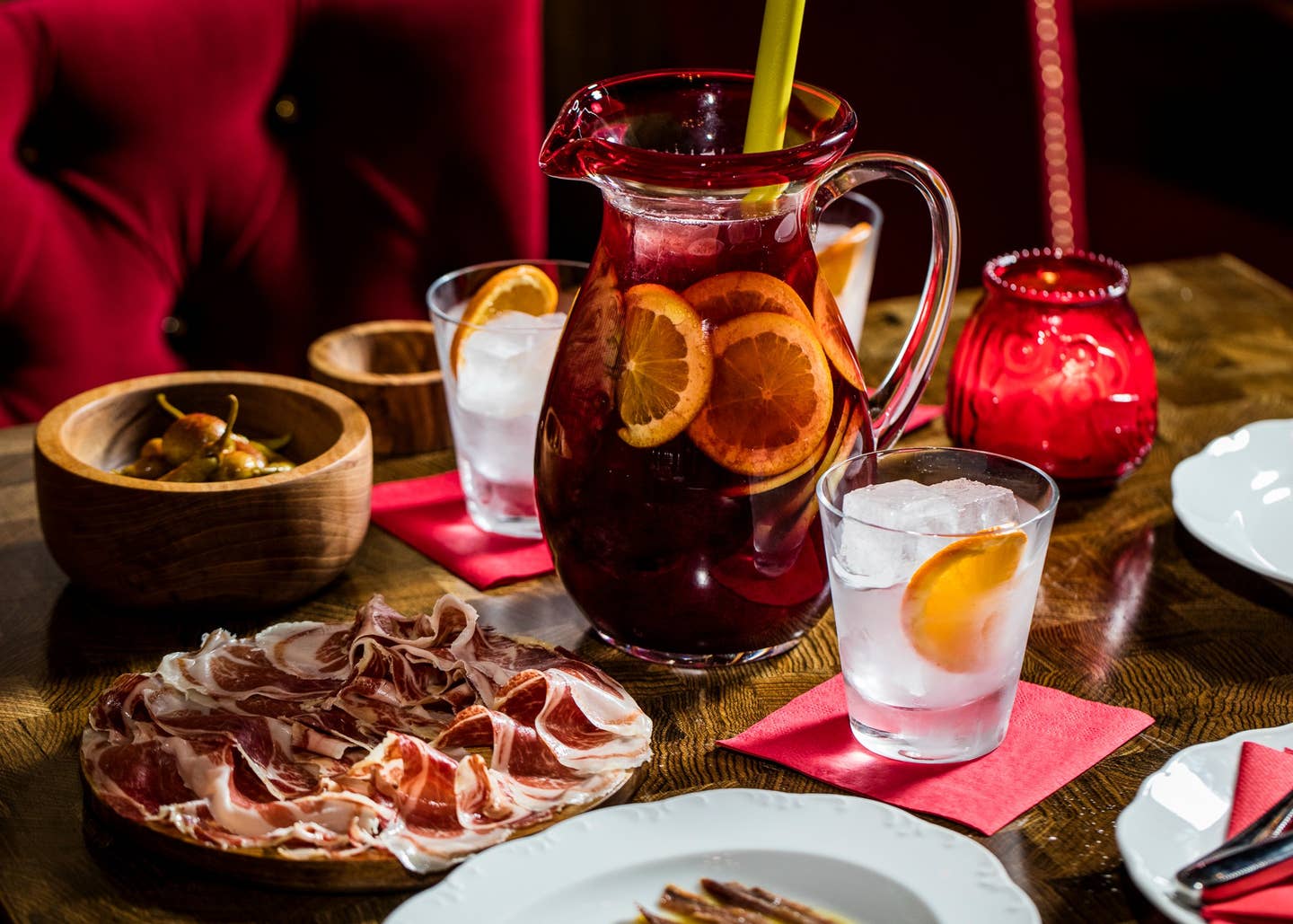 On the ground floor of Manhattan's iconic Hotel Chelsea, neighborhood barflies—including many of New York City's great creative minds—have long holed up in the kitchy El Quijote bar. Alongside massive helpings of lobster, paella, and chorizo, pitchers of vibrant red sangría were by far the drink pairing of choice from the time the restaurant opened in 1930 until it shuttered in 2018. 
This spring, the beloved El Quijote reopened, now under new management, and bar manager Brian Evans felt it was important to honor the establishment's storied history with a similar sangría recipe, albeit refreshed and updated for the contemporary palate. His recipe starts with a base of light and fruity garnacha wine, which he spikes with Spanish brandy and Bonanto, a bitter, white-wine-based aperitif flavored with 30 Mediterranean botanicals, sweet cherry, and orange peel. A few drops of store-bought balsamic reduction and a splash of cinnamon syrup enhances the sweetness, body, and complexity of the iced cocktail. Evans batches the drink out by the gallon ahead of time, and just before serving, he transfers the mix into a pitcher of ice and fresh, sliced citrus, then tops everything off with lemon juice and a froth of effervescent Cava. The result is at once thoroughly retro and deliciously current.
Ingredients
For the cinnamon syrup:
1 cup white sugar
8 cinnamon sticks (lightly crushed)
For the sangría:
7 oz. garnacha wine
3 oz. Bonanto Aperitivo
2 oz. Lustau Brandy de Jerez Reserva
2½ oz. pineapple juice
1½ oz. cinnamon syrup
½ oz. balsamic reduction (store-bought or homemade)
5 thin orange slices
5 thin lemon slices
5 thin lime slices
1 thin pineapple slice
1½ oz. fresh lemon juice, to top
6 oz. Cava, to top
Instructions
Step 1
Make the cinnamon syrup: In a small pot, combine the sugar with 1 cup of hot water. Set over medium heat and bring to a simmer, stirring occasionally until the sugar dissolves. Remove from the heat and set aside to cool to room temperature. Set a fine mesh strainer over a small bowl and strain the syrup, discarding the cinnamon pieces; use immediately or transfer to an airtight container and refrigerate for up to 1 month.
Step 2
Make the sangria: Fill a large pitcher ¼ of the way with ice. Add the garnacha, Bonanto, brandy, pineapple juice, 1½ ounces of the cinnamon syrup, and the balsamic reduction. Add the sliced orange, lemon, lime, and pineapple and stir to combine. Stir in the the lemon juice, top with the cava. To serve, pour into ice-filled wine glasses at the table. (If you are batching out the drink ahead of time, leave out the ice, fruit, lemon juice, and Caba until just before serving.)