A Field Guide to the Great Wide World of Bitter Red Italian Spirits
There's a lot more out there than Aperol and Campari, and more bottles are available in America than ever before.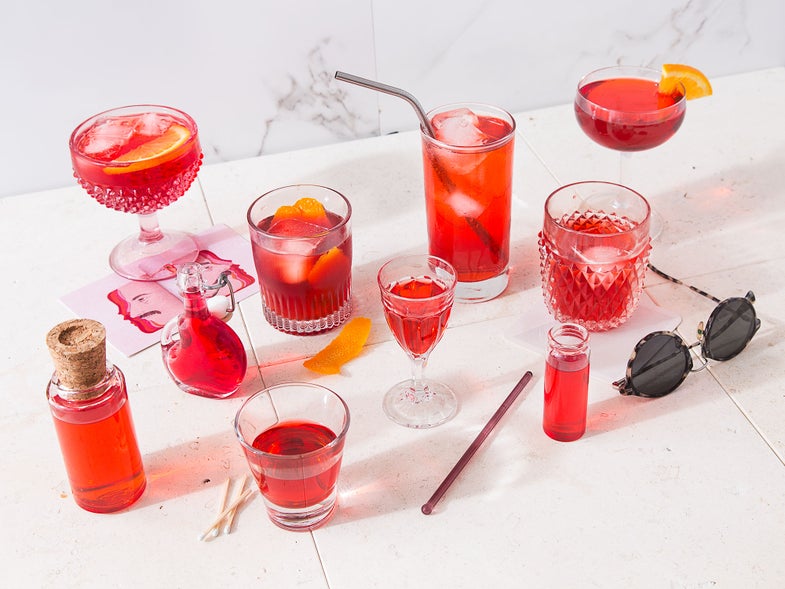 When summer arrives, one's thoughts turn toward Aperol spritzes. Or perhaps an Americano, with Campari, vermouth, and soda, in the late afternoon. But Italy produces over a dozen other bitter red aperitivo liqueurs and wines—and today, more than ever are available in the States.
They belong to a category broadly called aperitivo liqueur, several of which have been in production for a century or more. As in so many aspects of Italian culture, these liqueurs were traditionally regional; each corner of the nation had its own best-loved version. The term aperitivo refers to the Italian tradition of having a drink and a bite before dinner. Just as British teatime doesn't have to involve tea, aperitivo hour doesn't necessarily mean you're drinking an aperitivo liqueur; beer, wine, any pre-dinner drink qualifies.
But these liqueurs have an enduring popularity. Striking a balance between bitter and sweet, flavored with spices, herbs, and roots, and more, they have obvious appeal as an evening sip to stimulate the appetite. And their complexity also lends itself to cocktails. The lighter ones often swap in well for Aperol, as in a spritz; those on the bitter end of the spectrum can be an appealing substitute for Campari.
Try these liqueurs on their own, and their huge range of flavors becomes clear—some are piney, others floral, some winelike, some bright and juicy. And as a result, each one performs best in different drinks. Here's a guide to (most of) the red bottles you'll see in the States, on an increasing scale of bitterness—and the best ways to drink each one.
Once you taste it against its counterparts, Aperol isn't the most complex or interesting of the bunch, but due to its low alcohol (11%), very restrained bitter elements, and pleasant orangey flavor, it's a great gateway aperitivo. Just bitter enough to introduce you to the genre.
Try it in: An Aperol Spritz, naturally. It'd also be a great addition to a pilsner-lemon shandy.
Most Italian aperitivi have decades, if not centuries, of history behind them; we're seeing more and more imported to the States, and a few recent recipes born in the States, but few from Italy that are new products in their own right. Aperitivo Rinomato, first launched in 2015 and just now appearing in America, is an exception. Made in Asti, Piedmont, and clocking in at 14% ABV, it's the work of vermouth producer Giancarlo Mancino. Orange and vanilla leap out in front, which gives Rinomato a pleasant Creamsicle aroma and initial taste, but is nicely bitter on the back end to balance.
Try it in: When we first tasted Rinomato we wanted to pour it over ice cream or a slushy lemon granita. (That hunch proved right.) This is one we'd drink on the rocks with just a little splash of soda and a big lemon wedge.
Cappelletti
Definitely Italian, slightly bitter, very red; but differs from many others in that its base is wine, rather than a neutral spirit. And it tastes it; in some ways, Cappelletti drinks closer to a vermouth. Regardless, it has a pleasant weight to it, a gently bitter, slightly pine-y backbone, and mixes beautifully. At 17% ABV, it's a little boozier than Aperol but still low-proof enough for afternoon drinking.
Try it in: Juicy and wine-like, Cappelletti is extremely pleasant sipped chilled, either neat or on the rocks. Half an ounce is an excellent addition to a classic Tom Collins.
When in Venice, don't drink an Aperol Spritz; drink a Select spritz. As the bottle proclaims, it's "Nato a Venezia 1920"—born in Venice in 1920—and still popular today. While quite similar to Aperol in alcohol (14% vs. Aperol's 11%), body, and base flavors, Select just has more going on—with vivid flavors of vanilla and ginger it's more vibrant, more flavorful, just a touch less sweet but still bright and easygoing.
Try it in: With immense respect to Aperol for popularizing the spritz, Select is a real upgrade. (Many of these bottles are not interchangeable when it comes to cocktail recipes, but Select subs in for Aperol seamlessly in almost any case.)
Best known for its maraschino liqueur, the Luxardo company dates back to 19th-century Croatia, and is now located in Padua, across the northern Adriatic. Their Aperitivo, which, like Aperol, clocks in at 11% ABV, is pleasantly light with a soft, almost powdery quality alongside its notes of orange and rhubarb.
Try it in: For a super-low ABV cocktail, we'd love an ounce of Luxardo Aperitvo in a tall glass of fresh lemonade; for a slightly more robust drink, add an ounce to a Tom Collins.
Rich but bright on the tongue, Contratto is made from a base of grape brandy, which in part accounts for its lively, slightly fruity character. At 22% ABV, it's close to Campari in proof but not quite as bitter, with spices including clove, cardamom, and ginger, which results in a complex herbal-spiced liqueur; its wide range of botanicals plays nicely in cocktails.
Try it in: Let Contratto's own character shine through in simple drinks like the Americano, or just a Contratto and soda.
A bit of an odd duck, Meletti has real weight and a fascinating array of flavors—is it warm-spiced? Is it a little gamey? Cinnamony?—which makes it ideal in cocktails that can play off that complexity. If you find yourself a fan, at 25% ABV Meletti is a solid substitute for Campari.
Try it in: Its intensity pairs very well with gin; swap it out for the Campari in a Negroni.
As the name might suggest, this bottle is a good deal more bitter than Luxardo Aperitivo, and at 25% ABV, considerably more powerful. Mint, thyme, and marjoram give an intriguing herbal backdrop to the bitter and sweet orange and rhubarb; while it's not as aggressively bitter as Campari, it's up there.
Try it in: A sparkling Negroni sbagliato, or a "mistaken Negroni"—the bitter liqueur plus sweet vermouth, with sparkling wine subbing in for the gin.
What to say about Campari, the best-known red bitter of them all? There's no mistaking its pleasingly sharp edges and herbal-bitter bite. If you're already a fan, the rest of these liqueurs won't strike you as overly bitter. If not, it's a taste worth acquiring.
Try it in: There are any number of classics that show off Campari, from the Negroni to the Boulevardier and beyond. For summer drinking, try this Campari-gin sour, which smooths out the rough edges with silky egg white.
Still Thirsty?
The Saveur Guide to Summer Drinking »
The Rules of the Spritz »