Recipes
Green Beans with Black Bean Sauce
Super-savory dou si are the pantry stand-out in cookbook author Hetty McKinnon's vegetarian kitchen.
Serves

serves 4

Cook

15 minutes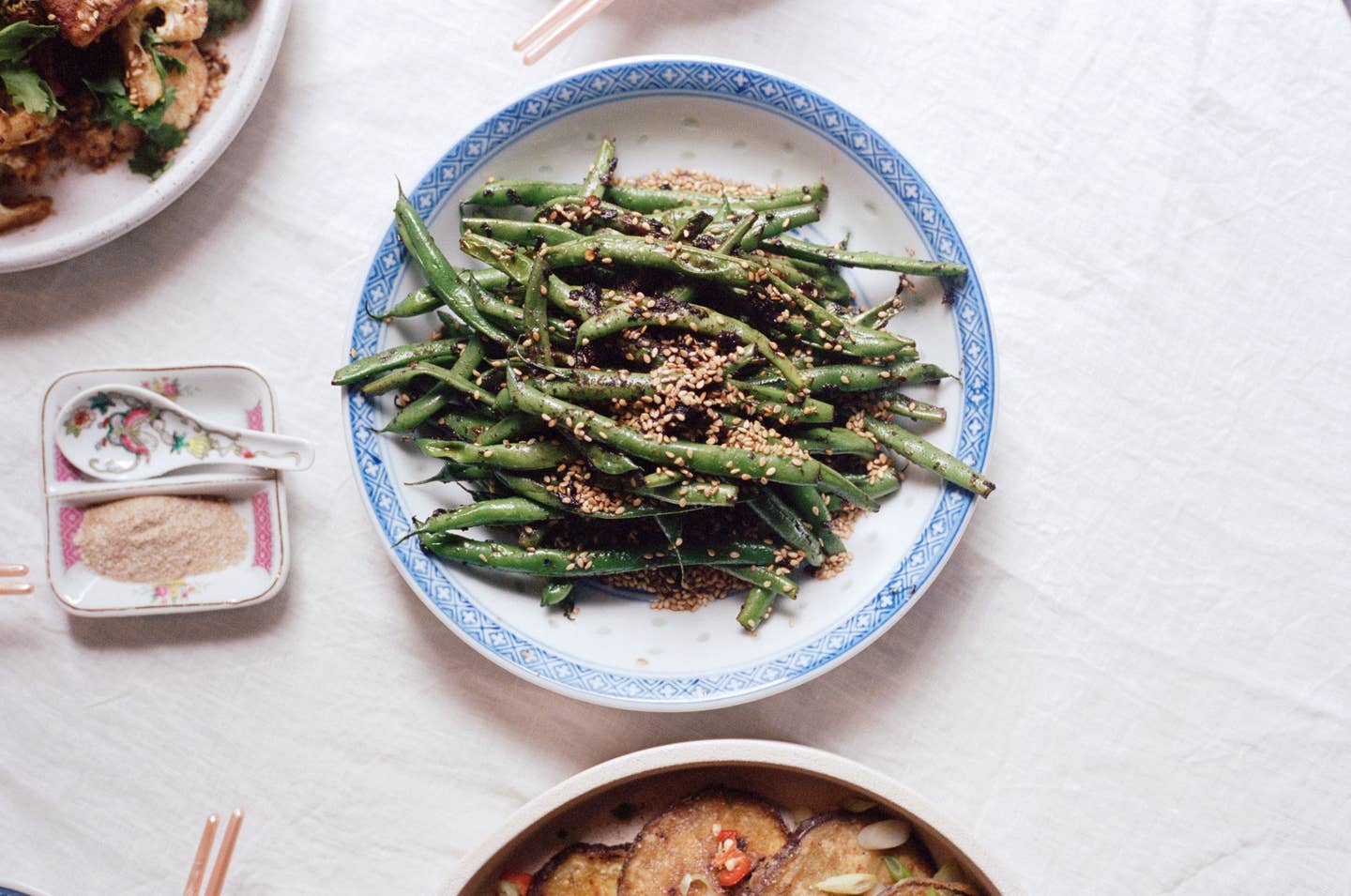 Much like olives or parmesan, the flavor of fermented black beans is intoxicating, so intensely savory and salty that you immediately crave more. Fermented black beans (or dou si) are actually black soybeans that have been fermented and salted, making them soft and semidry. At the supermarket, you will most likely find the ingredient blended into black bean sauce, a spicy and flavorful condiment that can be added directly to stir-fries and greens. If you do happen to find a bag of whole fermented black beans (which are widely available in Asian grocery stores or online) then please try this homemade version, which has a fresh and complex taste. Double the recipe, as the sauce keeps well in the fridge and is just as delicious on zucchini, snake beans, or broccoli.
Ingredients
For the sauce:
1⁄2 cup (2½ oz.) fermented black beans
2 tbsp. olive oil
2 tbsp. Shaoxing rice wine
2 medium garlic cloves, finely chopped (1 Tbsp.)
2 tsp. tamari or soy sauce
1 tsp. crushed red chile flakes or 1 long red chile, finely chopped
1 tsp. sugar
For the green beans:
2 tbsp. vegetable oil
9 oz. green beans, trimmed
1 tbsp. toasted white sesame seeds
Fine sea salt and freshly ground black pepper
Steamed white or brown rice, to serve (optional)
Instructions
Step 1
Make the sauce: Place the fermented black beans in a colander and rinse under cold running water. Drain well. Transfer the beans to a small bowl and mash with the back of a fork or spoon to form a coarse paste. Add the olive oil, Shaoxing rice wine, garlic, tamari, chile flakes, and sugar, mix well, and set aside.
Step 2
Place a wok or large skillet over high heat. When hot, add the oil, swirl the wok to coat the surface, then add the green beans. Using tongs to toss occasionally, cook until the beans are bright green, about 2 minutes. Add 2 tablespoon of the black bean sauce, along with about 3 tablespoons of water, and continue cooking while tossing frequently until the beans are just starting to color and are tender-crisp, 2–3 minutes more. Season to taste with sea salt and black pepper, adding more black bean sauce as needed to coat the beans. Sprinkle with sesame seeds and serve immediately with steamed white or brown rice, if desired. Transfer any remaining sauce to an airtight container and store in the fridge for up to 1 week.