Recipes
Melty Braised Cabbage with Bacon and Pecans
We dare you to come up with a more comforting cold-weather main.
Serves

4–6

Cook

2 hours 35 minutes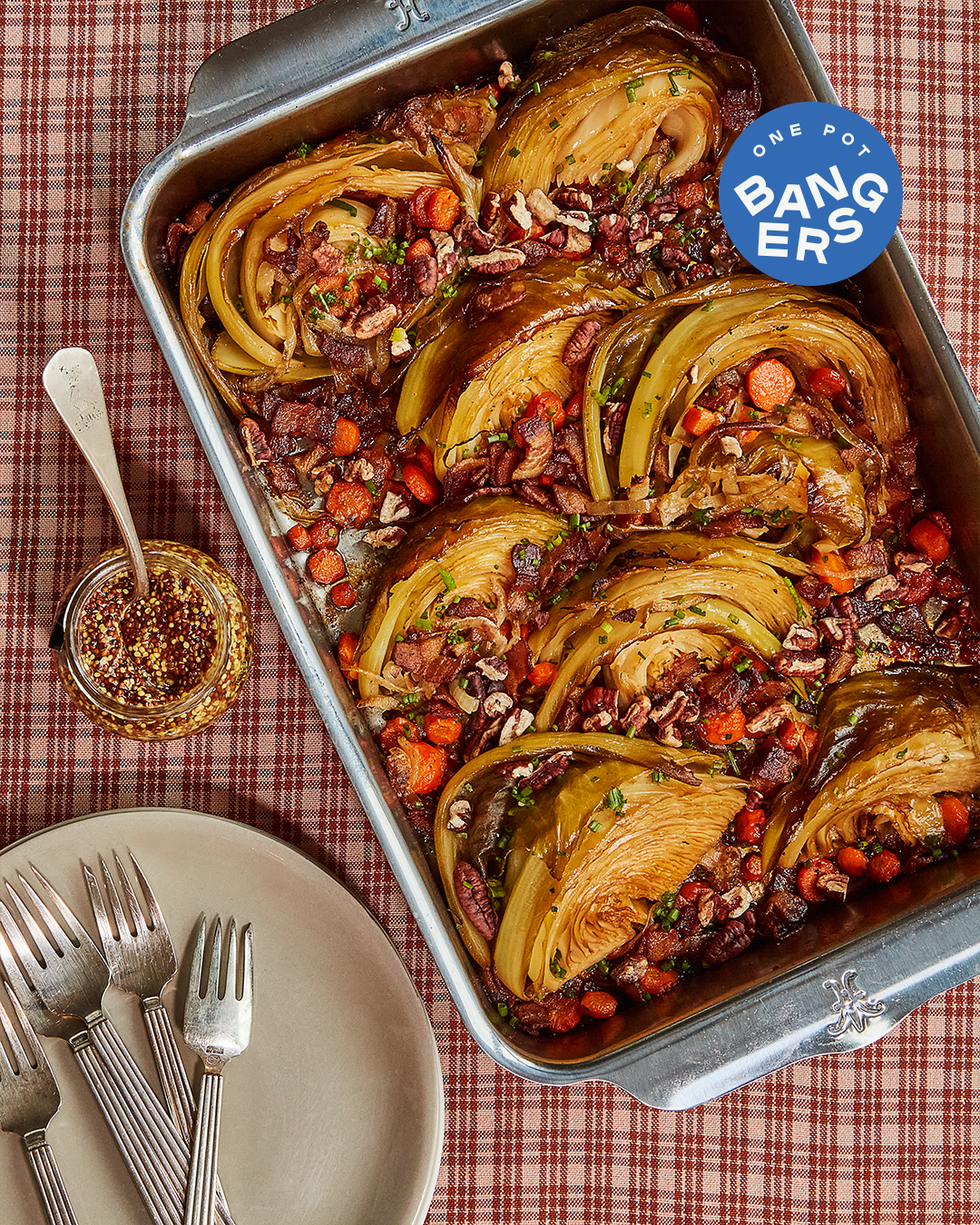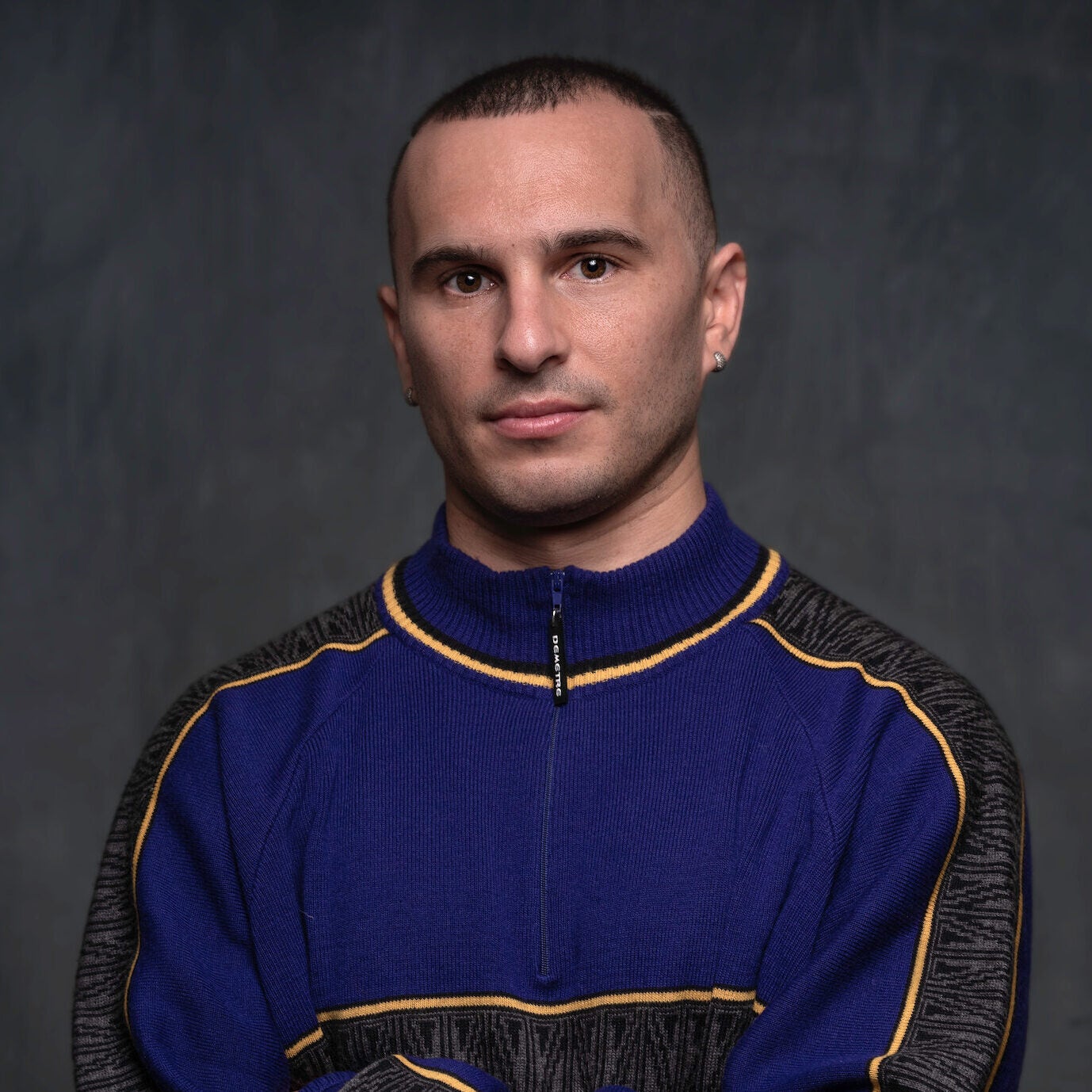 ---
Welcome to One Pot Bangers, Benjamin Kemper's weeknight cooking column, where you'll find our freshest, boldest ideas that require just one pot, skillet, or sheet pan. Busy week? We've got you covered with these low-effort, high-reward recipes from around the globe.
Do you know what happens to cabbage when you bake it for two and a half hours? If not, read on.
Of all the cookbooks on my shelf, come winter there's one I reach for the most. Its pages are schmutzed and dogeared, and once upon a time—in the early aughts—everybody in the food world was talking about it: All About Braising, by Molly Stevens. I mean, the recipes basically sell themselves: What's not to love about duck ragù with bucatini, braised cauliflower with toasted breadcrumbs, or soy-braised chicken thighs with orange and star anise?
But the greatest hit for me is Stevens' braised cabbage, which comes together in a good ole 9-by-13 and whose secret ingredient is time—two and a half hours, to be exact, rendering the cabbage ultra-melty and sweet. The dish is great as a side, but I like serving it family-style as the main with the addition of bacon for heft and richness. You can assemble (by that I mean mostly plop and plunk) everything in the baking pan up to two days in advance; simply cover and refrigerate until you're ready to roll.
Ingredients
8–10 slices thick-cut bacon (12 oz.), coarsely chopped
1 medium head green cabbage (2 lb.), cored and cut into 8 wedges
2 large carrots, trimmed, cut into ¼-in. rounds
1 large yellow onion, thinly sliced
¼ cup apple cider vinegar
Kosher salt and freshly ground black pepper
2 Tbsp. unsalted butter
Coarsely chopped toasted pecans, for garnish
Finely chopped chives, for garnish
Grainy mustard, for serving
Instructions
Step 1
Position a rack in the center of the oven and preheat to 350ºF. In a heavy-bottomed nonreactive roasting pan (see footnote) set over medium heat, fry the bacon, stirring frequently, until deep golden and crisp, 10–14 minutes. Turn off the heat, then, using a slotted spoon, transfer to a small bowl. Discard all but roughly 2 tablespoons of the bacon grease.
Step 2
In the roasting pan, arrange the cabbage wedges cut-side down beside one another, then scatter the onion and carrot over the top, followed by the reserved bacon. Pour in the vinegar and ¼ cup of water, then season with salt and black pepper. Dot with the butter and cover tightly with foil. Bake for 1 hour, then flip the wedges and continue cooking until the cabbage is very soft, about 1 hour more.
Step 3
Uncover the pan and turn the oven to 425ºF. Continue baking until the vegetables are browned at the edges, about 18 minutes more. Sprinkle with the pecans and chives and serve warm with mustard on the side.
Note: If you don't own a large, heavy roasting pan, fry the bacon in a skillet in step 1. At the beginning of step 2, arrange the cabbage in a 9-by-13-inch casserole dish, then drizzle with the reserved bacon grease and proceed with the recipe.