White Bean and Garlic Scapes Dip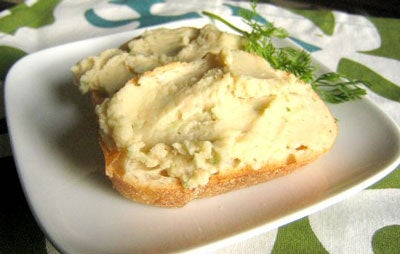 Garlic scapes are a spring delicacy: if you see them at your market, pick them up and whip up this dip that uses common kitchen staples, including white cannellini beans and olive oil.
I ground beans and scapes in the food processor with a little lemon, and less olive oil than I would have used behind closed doors. The dip was billowing and fluffy, with the color of sugar snap peas. It had a velvety texture that wrapped itself around an assertive, racy wallop so intense that I worried I'd scare even my garlic-loving parents out of the house.