Recipes
Rye's Red Chili
Oven-roasted pulled pork fills this Kansas City concoction.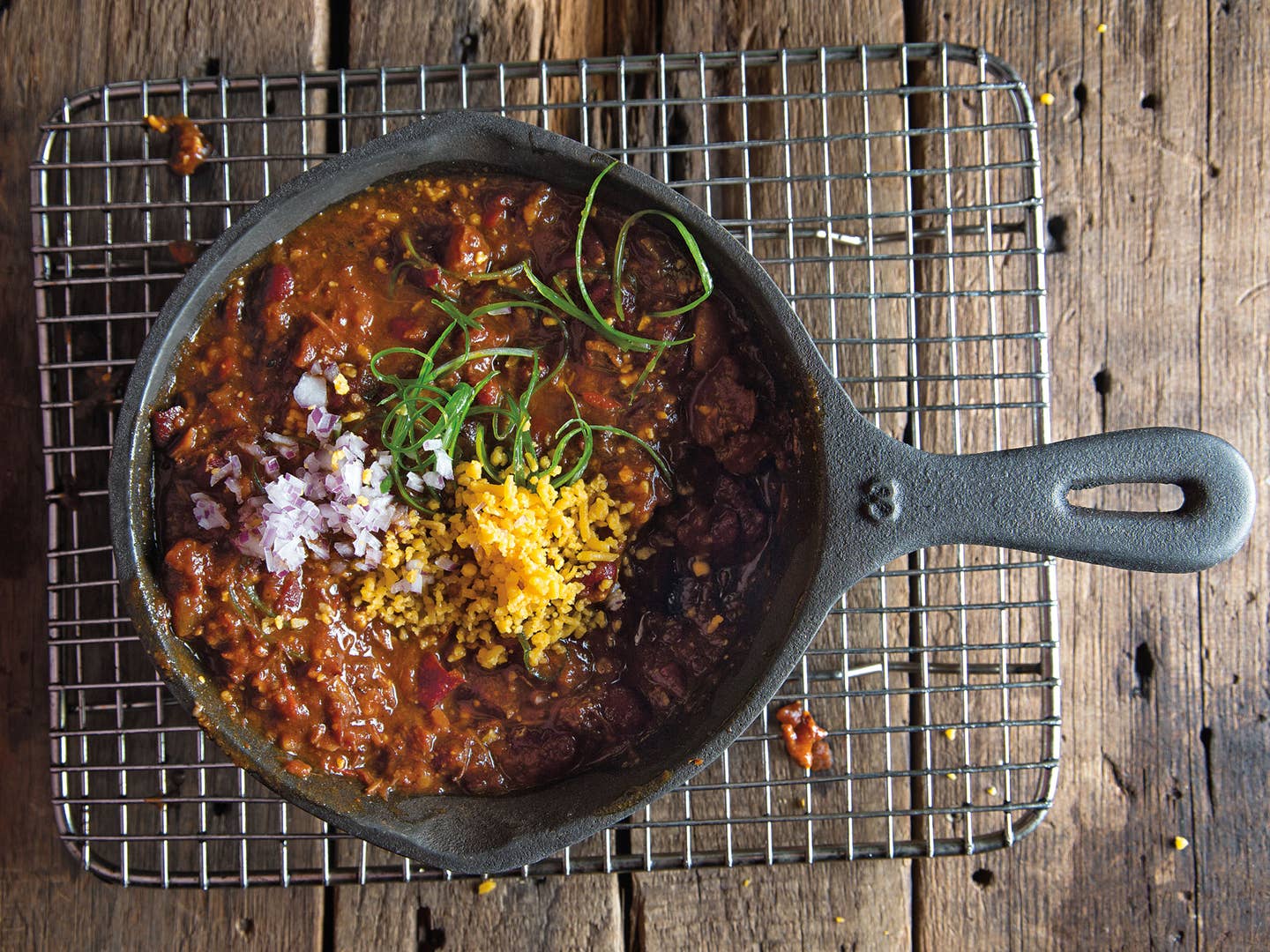 This robust chili is inspired by one served during wintertime at Rye KC in Leawood, Kansas. If you like, crumble cornbread on top or serve it on the side. This recipe first appeared in our August/September 2013 Heartland issue with the story Mom and Populist.
Ingredients
1 lb. trimmed boneless pork shoulder
Kosher salt and freshly ground black pepper
1⁄3 cup light brown sugar
2 tsp. garlic powder
1 tsp. ground cumin
Two 12-oz. bottles pale ale, divided
6 oz. bacon (about 6 strips), finely chopped
10 garlic cloves, finely chopped
1 jalapeño, seeded and finely chopped
1 large red bell pepper, finely chopped
1 large Vidalia onion, finely chopped
1⁄4 cup tomato paste
3 tbsp. chile powder
1⁄2 tbsp. ground Aleppo pepper
1 tsp. crushed red chile flakes
2 bay leaves
2 cups chicken stock
Two 28-oz. cans whole tomatoes, crushed by hand
Two 15½-oz. cans dark red kidney beans, drained
2 tbsp. hot sauce
2 tbsp. Worcestershire sauce
Sliced scallions, for garnish
Instructions
Step 1
Position a rack in the center of the oven and preheat to 500°F. In a small bowl, whisk together the brown sugar, garlic powder, and cumin. Season the pork generously with salt and black pepper, then rub all over with the brown sugar mixture. Place in a large Dutch oven and bake uncovered until browned, 30–35 minutes.
Step 2
Turn the oven to 300°F. Pour 1 of the beers over the meat, cover, and bake until the pork is very tender, about 2 hours. Remove the pot from the oven and let it rest, covered, at room temperature for 20 minutes. Uncover, and when cool enough to handle, use your hands or two forks to shred the meat, then cut it into 1-inch chunks and transfer to a bowl. Clean the Dutch oven and place it on the stove.
Step 3
To the empty Dutch oven, add the bacon and cook over medium-high heat until its fat is rendered, 8–10 minutes. Add the garlic, jalapeño, red bell pepper, and onion, and cook until soft, 10–12 minutes. Stir in the tomato paste, chili powder, Aleppo pepper, chile flakes, and bay leaves, and cook until fragrant and beginning to brown, about 3 minutes. Add the stock, tomatoes, beans, and remaining beer. When the liquid boils, turn the heat to medium-low and cook, partially covered, until the chili has thickened slightly, 1½–2 hours. Stir in the pork, hot sauce, and Worcestershire.
Step 4
To serve, ladle the chili into bowls and garnish with the scallions.