Recipes
Sour Cherry Hand Pies
Bring the hyper-seasonal stone fruit on the road with these portable little pastries.
Serves

makes 9 pies

Cook

4 hours 30 minutes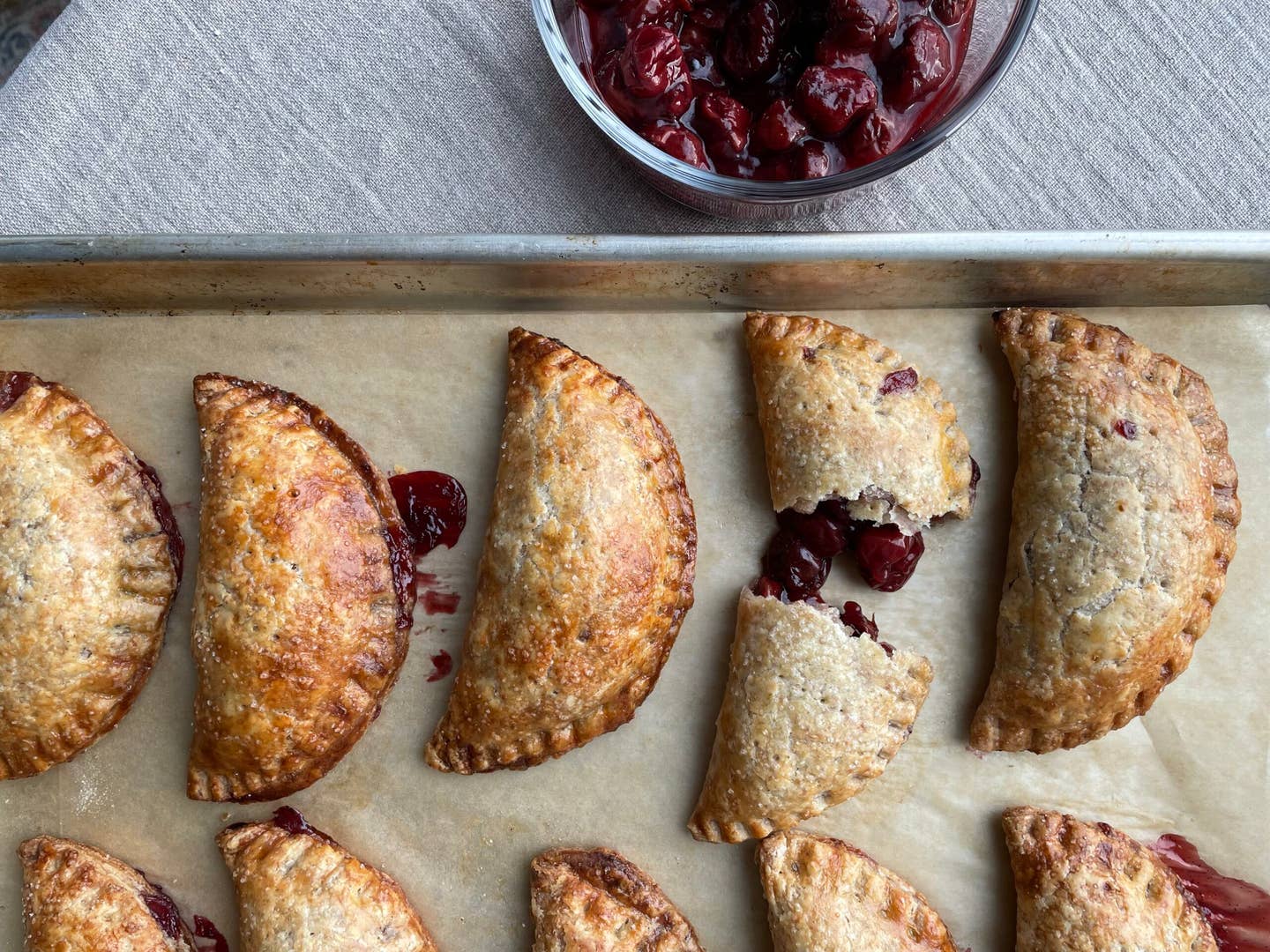 These hand pies are an easy and portable way to showcase seasonal sour cherries. Rye flour lends a nutty complexity to the tender butter pie crust while cherry cocktail bitters, rich balsamic vinegar, and whole vanilla bean provide additional layers of fragrance and depth. Punch out circles of dough using a 6-inch aluminum pie tin or a bowl of similar size. A cherry pitter will make fast work of processing the fresh fruit; out of season, frozen sour cherries are an excellent substitute.
The crust and filling keep well in the fridge for several days, or the pies may be assembled and frozen, wrapped tightly in plastic wrap, for up to a month until you are ready to bake them off.
Ingredients
For the pie dough:
1½ tsp. balsamic vinegar
1 large egg
1½ cups all-purpose flour, plus more for dusting
½ cups medium rye flour
1 tbsp. raw cane sugar
1 tsp. kosher salt
12 tbsp. (6 oz.) cold unsalted butter, cut into small cubes
For the filling:
1½ lb. sour cherries, rinsed, stems removed, pitted (3 cups)
2½ tsp. lemon juice
2 tbsp. plus 1½ tsp.. raw cane sugar, plus extra for sprinkling
2½ tsp. dark brown sugar
1 tbsp. plus 1½ tsp. cornstarch
1 tsp. cherry bitters
2½ tsp. balsamic vinegar
1 vanilla bean, split, seeds scraped with tip of paring knife
Pinch of salt
1 large egg, lightly beaten with 1 tablespoon cold water
Instructions
Step 1
Make the pie dough: In a medium bowl, whisk together ¼ cup plus 2 tablespoons ice cold water, the balsamic vinegar, and the egg. Transfer to the fridge to keep cold.
Step 2
In a large bowl, whisk together the all-purpose flour, rye flour, sugar, and salt. Add the butter and, using your fingers or a pastry blender, rub the butter into the flour mixture until it resembles coarse breadcrumbs with a few pea-sized pieces. Retrieve the liquid mixture from the fridge and gradually drizzle it into the flour mixture, stirring lightly with a fork until a shaggy dough just clings together. (Stir in an additional 1–2 tablespoons of cold water if the dough feels dry.). Gather the dough together, divide it evenly in half, and press into two disks. Wrap each disk tightly in plastic wrap and refrigerate until firm, at least one hour.
Step 3
Make the filling: In a heavy medium pot, stir together the cherries, lemon juice, cane sugar, brown sugar, cornstarch, bitters, vinegar, vanilla bean seeds, and salt. Set aside to macerate for 15 minutes, then set over medium-low heat and bring to a boil, stirring frequently to prevent sticking. Lower the heat to low and cook, stirring frequently, just until the mixture thickens and the cherries soften but still hold their shape, about 8 minutes. Transfer to a heatproof bowl, set aside to cool to room temperature, then cover and refrigerate until you are ready to assemble the pies.
Step 4
Line a large rimmed baking sheet with parchment paper and set it aside. Lightly flour a clean work surface. Retrieve one disk of dough from the fridge and, using a rolling pin, roll the dough out to an even ⅛-inch thickness. Using a 6-inch round cutter or a similarly-sized bowl and a paring knife, Cut out four circles of the dough, saving the scraps. Transfer the circles to the lined baking sheet, then repeat with the second disk of dough.. Combine the scraps and reroll once to get 1 or 2 additional circles. Refrigerate the circles until firm, at least 30 minutes.
Step 5
Retrieve the filling and pastry circles. Place 2 tablespoons of the filling on one half of each circle, leaving a ½-inch border. Brush the edges of the circles lightly with the egg wash, then fold the dough over to cover the cherries and form a half-moon shape. Using the tip of a chopstick or the tines of a fork, press the edges to seal and crimp. Repeat with the remaining pastry circles. Use a small fork or a paring knife to poke steam vents in the top of each pie, brush lightly with egg wash, and sprinkle with additional raw sugar. Transfer to the freezer and freeze until the dough is firm, at least 30 minutes. (If assembling more than 3 hours before baking, cover tightly with plastic wrap.)
Step 6
Preheat the oven (with one of its racks positioned in the center) to 375°F. Transfer the chilled pies to the oven and bake until the crust is deeply golden and the juices bubble up from the center, 25–30 minutes. Cool slightly on the baking sheet, then use an offset spatula to loosen the pies from the parchment paper. Serve warm or at room temperature. Cooled pies may be transferred to an airtight container and stored at room temperature for up to two days.