Simple Spatchcock Turkey
Our butcher's secret to a faster, juicier, tastier bird.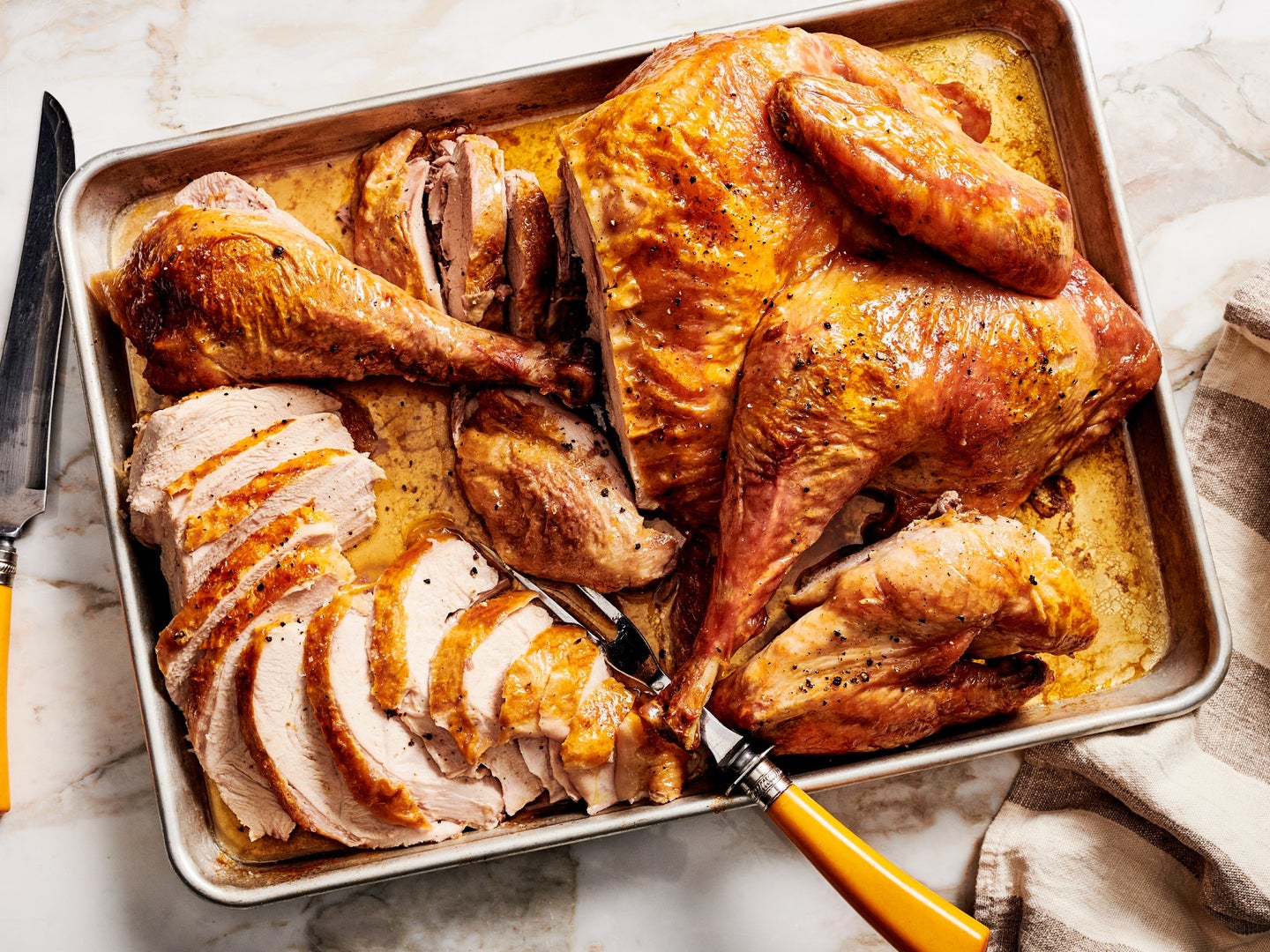 Holiday turkeys are notoriously inconsistent, but butcher Jake Dickson of Dickson's Farmstand Meats has a solution to make sure your bird turns out beautifully every time. Most turkey troubles stem from airflow issues, he explains: Big animals with empty (or stuffed!) cavities cooked in small home ovens can get in the way of an even roast. Flattening the bird allows it to cook more evenly and faster, resulting in a tastier roast. Dickson's foolproof spatchcock turkey recipe uses a cheap rubber mallet from the hardware store and a cleaver to give you more precision in cutting the bird. Once split, the meat is seasoned simply, then quick-cooked at a single temperature, leaving you more time to get creative with the side dishes.
Featured in: "Get That Bird on the Table Faster (and More Evenly Cooked) With This Time-Saving Technique."
Yield: serves 6-8
Time: 2 hours
Ingredients
One 8–10-lb. turkey, backbone removed and breastbone cracked to flatten
¼ cups extra-virgin olive oil
Kosher salt and freshly ground black pepper
Instructions
Preheat the oven, with one of its racks positioned in the center, to 400°F. Line a large rimmed baking sheet with aluminum foil.
Use paper towels to pat the turkey very dry, then drizzle it all over with the olive oil. Season generously with kosher salt and freshly ground black pepper, then place the bird on the prepared baking sheet.
Transfer to the oven and cook until an instant-read thermometer inserted into the thickest part of the turkey reaches an internal temperature of 165°F, approximately 12 minutes per pound. (If the skin starts to brown too much before the meat is fully cooked, tent loosely with aluminum foil.
Remove the turkey from the oven and let it rest at room temperature for at least 15 and up to 45 minutes before carving.