No Time? Here Are 10 Easy Thanksgiving Side Dishes to Beat the Holiday Crunch
Creamy mash, crispy sprouts, roasted squash, and more.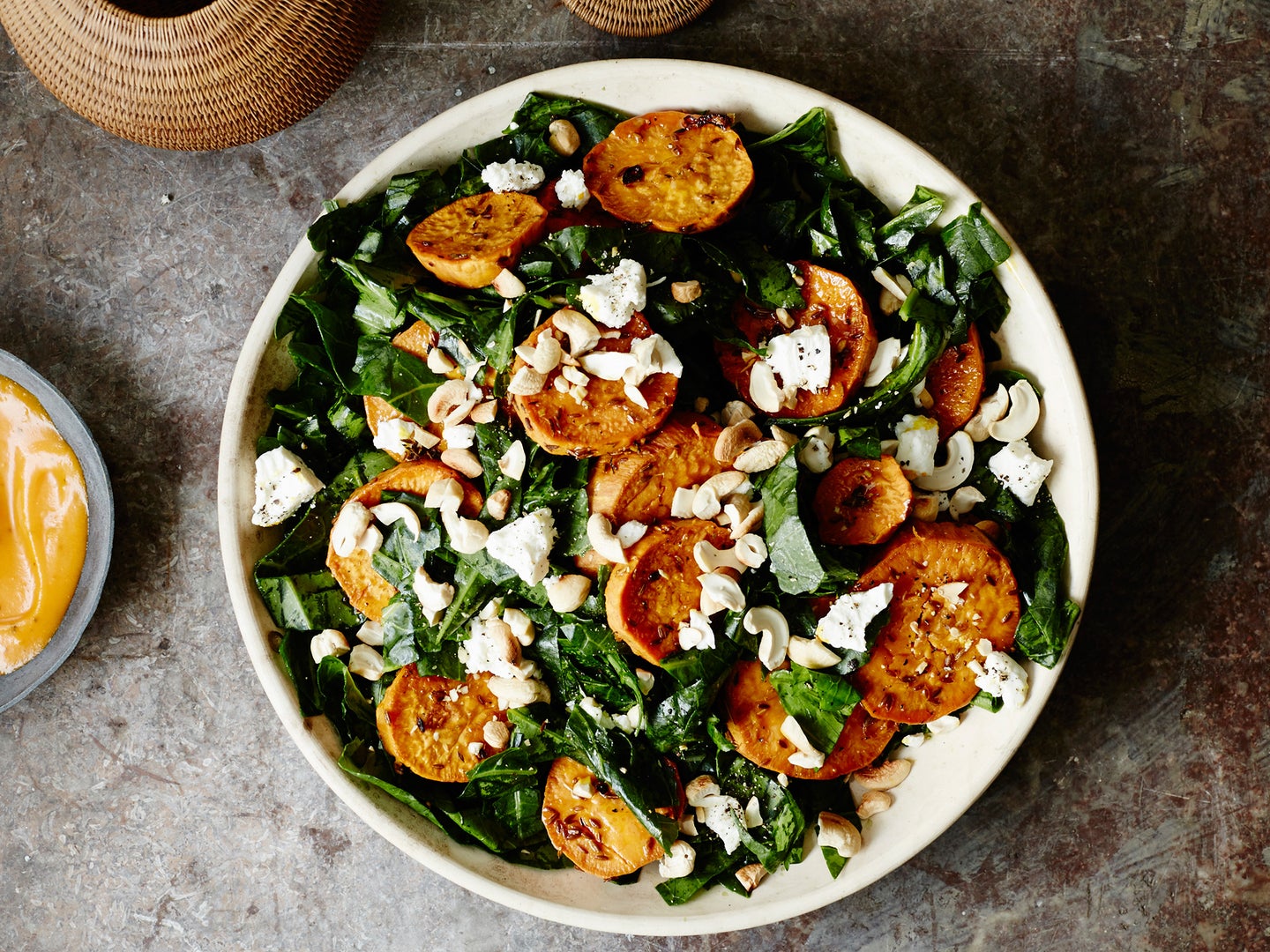 It's Thanksgiving day and you have a to-do list that could unfurl down the kitchen counter. Don't hit the panic button just yet! While that big bird (or a vegetarian knockout main) is baking its way to crispy tenderness, round out your recipes with these easy sides that come together in a snap. Skip the casserole and go straight for salads with shredded collard greens, brussel sprouts, and green beans. Roast your pumpkins, squashes, and beets at the same time as your bird for maximum efficiency. And that pucker-perfect cranberry relish? It can be made in as little as ten minutes, no baking needed. (Hint: if the Thanksgiving turkey still has you pulling your hair out, here's our number one tip for making the star dish stress-free.)  
So, prep was a breeze, the kitchen smells enticing, and the plates are warm (it's the little touches, you know?). All that's left is to set the table, enjoy the company, and remember all the things to be thankful for—besides these easy Thanksgiving sides, of course.
The flavor of raw collard greens combines perfectly with tender roasted sweet potatoes and tangy, rich goat cheese in this hearty salad. Get the recipe >
This bracingly tart relish, from Matthew Jennings of the now-retired Townsman restaurant in Boston is the perfect foil for a rich Thanksgiving spread. Whole pieces or orange flesh and peel add texture to balance the creamy smoothness of mashed potatoes and cornbread dressing. Get the recipe >
Bring out the best in Brussels sprouts with this simple, creamy preparation. Don't skimp on the salt: it lends depth and highlights the sprouts' natural sweetness. Get the recipe >
A cool and tangy crème fraîche dressing adorns roasted beets for a simple, colorful side dish. We like to use a combination of red and golden beets for presentation. Get the recipe >
The key to getting a good char on Brussels sprouts is roasting them in a single flat layer, making sure they don't overlap. Don't worry about serving them right out of the oven, as they are just as tasty at room temperature. Prep them ahead for an easy Thanksgiving side. Get the recipe >
This recipe is an adaptation of the one developed in the 1950s by the Campbell's Soup Company. Get the recipe >
Cloves of garlic are first blanched whole, which enhances their sweetness, then used to make a rich béchamel sauce that's stirred into mashed potatoes with cream and parsley in this recipe from America's favorite cooking teacher. Get the recipe >
Cookbook author Leah Koenig's family always served puréed carrots as part of their holiday repertoire. This version gets amped up with ginger, garlic, and bright citrus. Get the recipe >
With warming notes of curry and cinnamon, this hearty vegetable curry is perfect for a chilly fall or winter evening. Get the recipe >
Amy Thielen's creamed spinach is an ultra-fine, silky version of this traditional staple, puréed with parsley leaves for a vivid green and vermouth for a pop of acidity. For the brightest color, cool the spinach mixture down fully before puréeing, then reheat. Get the recipe >