Recipes
Strawberry Pretzel Salad
Our favorite picnic dessert this season is a "salad" that calls for Cool Whip and Jell-O—and we're not sorry.
Serves

makes twelve 2-inch bars

Cook

12 hours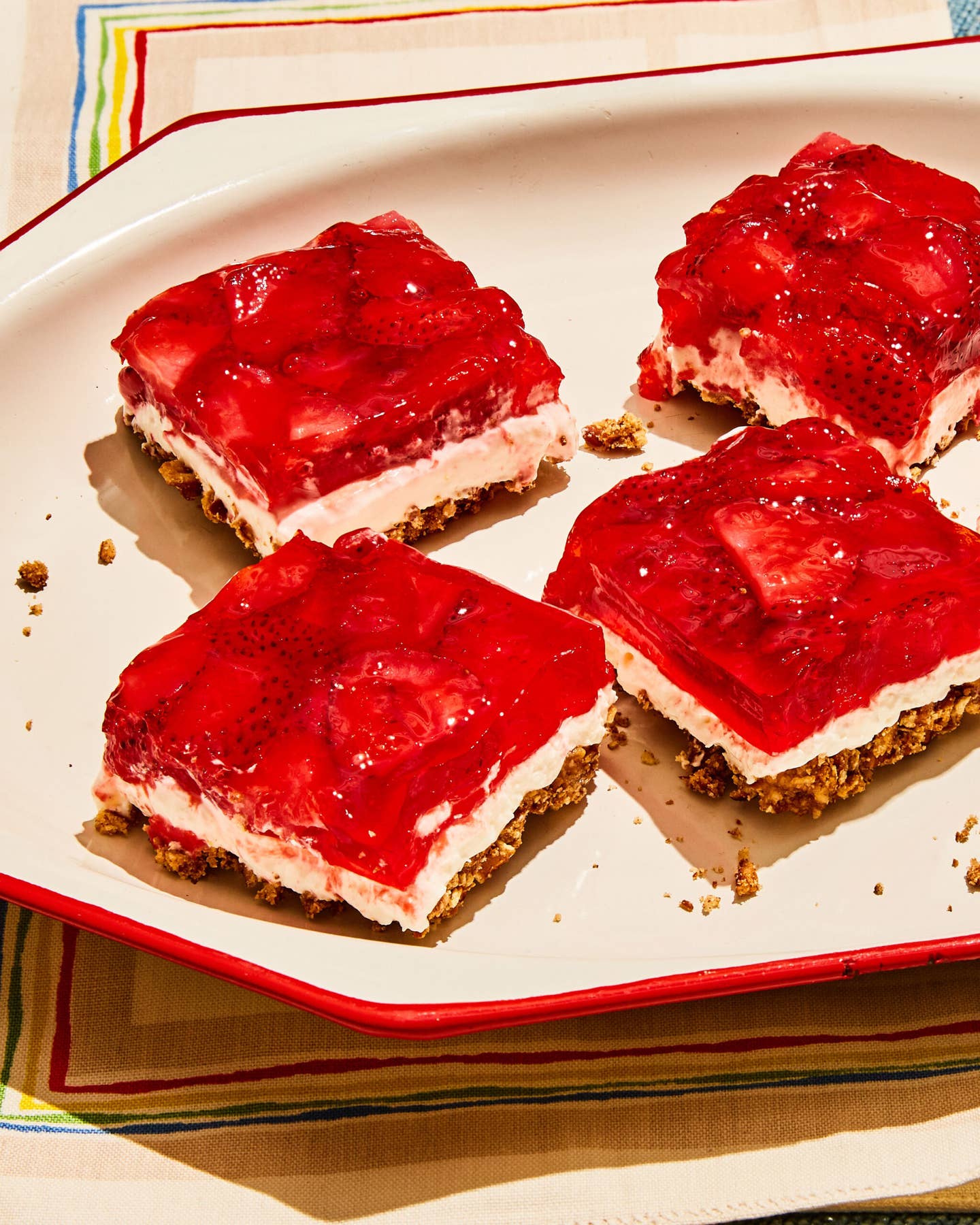 Strawberry pretzel salad is a time-honored relic of the 1970s, when Jell-O salads were all the rage. The dish, a picnic favorite with kids and adults alike, is low-effort but needs several hours to set up in the fridge. Those without a food processor can crush the pretzels in a resealable bag with a rolling pin. It's important to spread each layer to the edge of the pan to prevent seepage. Using frozen strawberries speeds up the cooling of the gelatin; if you prefer fresh berries, cool the gelatin mixture to room temperature before adding the fruit.
Ingredients
For the crust:
12 tbsp. unsalted butter, melted, plus more for greasing
8 oz. pretzels
2 tbsp. sugar
For the middle layer:
8 oz. softened cream cheese
One 8-oz. tub Cool Whip, thawed, plus more for garnish (optional)
1 cup sugar
For the top layer:
Two 0.3-oz. strawberry gelatin boxes
20 oz. frozen sliced strawberries (see headnote), plus more for garnish (optional)
Instructions
Step 1
Position a rack in the center of the oven and preheat to 400ºF. Butter a 9-by-13-inch pan.
Step 2
Make the crust: In a food processor, pulverize the pretzels to coarse crumbs, about seven 1-second pulses. Add the sugar and butter and blend until incorporated, about three pulses more. Scrape into the pan and use the bottom of a glass to press into an even layer all the way to the edges. Bake until beginning to brown, about 7 minutes, then remove from the oven and cool thoroughly, at least 1 hour.
Step 3
Make the middle layer: Using a stand or handheld electric mixer, beat together the cream cheese, Cool Whip, and sugar. Use a silicone spatula to spread evenly over the crust to the edges of the pan, then cover and refrigerate until firm, at least 2 hours.
Step 4
Make the top layer: In a bowl, whisk 2 cups of boiling water into the gelatin until dissolved. Add the strawberries and stir until the berries are thawed and the liquid is room temperature and beginning to thicken. Pour over the cream layer, cover, and refrigerate until firm, at least 2 hours.
Step 5
To serve, cut into 2-inch squares in the pan, wiping the knife as you go to ensure the layers remain visible. Top each square with additional Cool Whip and strawberries if desired.