14 Strawberry Recipes to Sweeten Your Spring and Summer
'Tis the season for shortcake, spritzes, and sorbet—and for berry-filled savory snacks, too.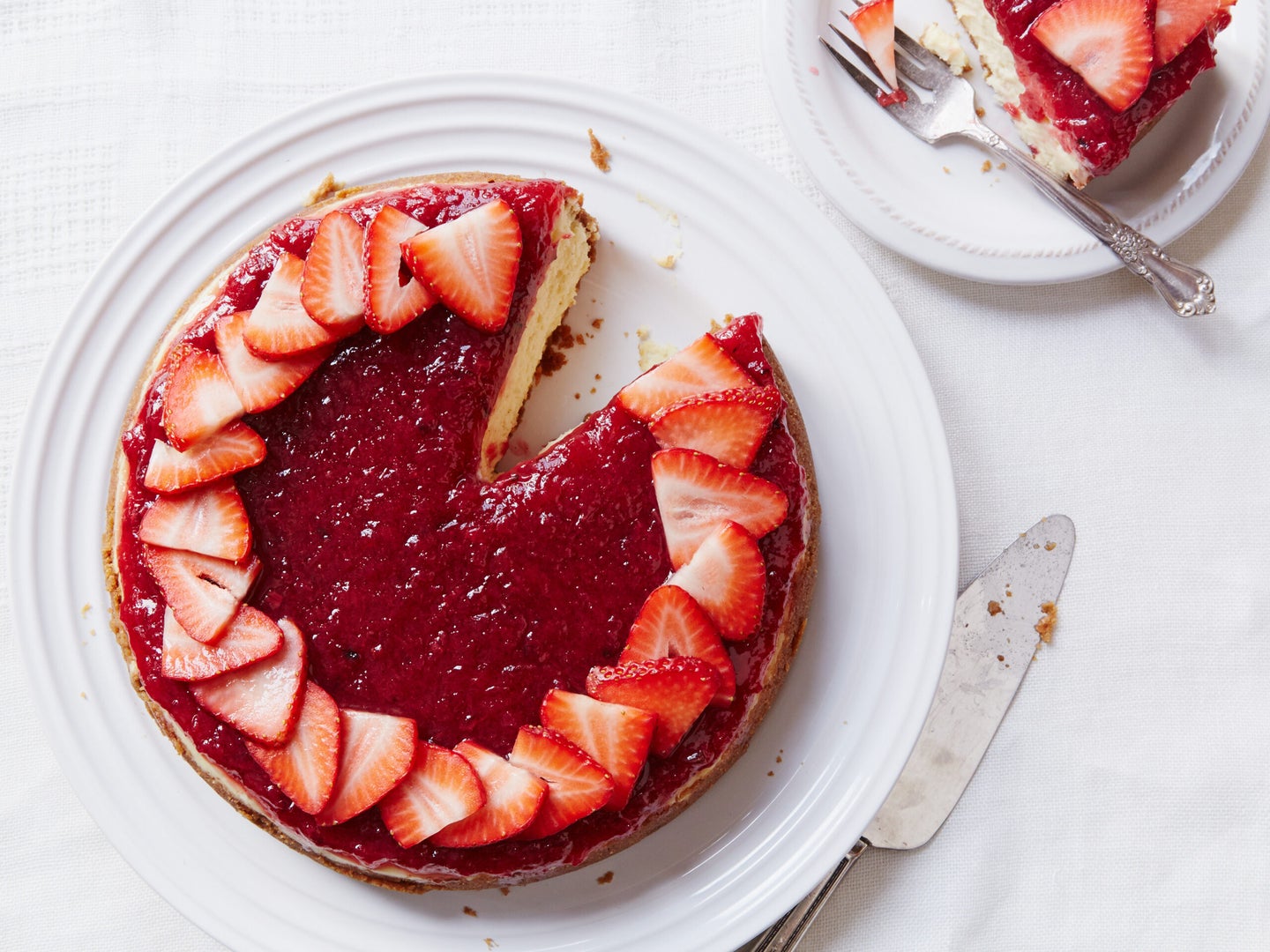 Good strawberries—you know, those crimson, thimble-size gems currently perfuming the air at farm stands—are as ephemeral as spring itself. They can turn to mush in hours, a problem we often solve by tossing them back like popcorn while mosying home from the market. Cooks with more restraint, however, should keep strawberries fresh by storing them in the fridge, spread in a single layer on a paper towel in an airtight container.    
Strawberries make some of the world's most heavenly sweets, from cool berry tarts to pretty pink cocktails and crowd-pleasing strawberry shortcakes. Rhubarb may be the strawberry's most ubiquitous bedfellow, but the berry's heady aromas play wonderfully with citrus, acid, booze, spices, and—yes—salt, as proven by dishes like strawberry-goat cheese hand pies and crackly strawberry focaccia. A dollop of dairy (mascarpone, yogurt, ice cream, what have you) turns them into something altogether ambrosial, as anyone who's tucked into a bowl of fresh strawberries and cream can attest.
But we have a bone to pick with supermarket strawberries. While useful in a pinch for decorating desserts, they can be watery and tough. That's because they're a Chilean American hybrid bred for looks and durability as opposed to flavor. They pale in comparison to our favorite Tristars and Lilliputian fraises des bois, which you're more likely to encounter at the farmers market—all the more reason to seek out (and, sigh, splurge on) the real deal during the berries' fleeting season. With these recipes in your back pocket, you'll be off to a running start.
Swirled with jam and and divoted with whole cooked strawberries, this snacking cake is a brunch knockout. Get the recipe >
Strawberry milkshakes get the adult treatment in this boozy, orange-scented beverage that doubles as dessert. Get the recipe >
These fragrant jelly candies call for a bounty of fresh fruit—which means they're healthy, right? Right? Get the recipe >
Our go-to recipe for strawberry shortcake turns out moist, buttery biscuits every time. Slice them in half, then let your guests load them up with soft whipped cream and macerated fresh berries. Get the recipe >
It's two sticky thumbs up to these flaky, fork-crimped beauties perfect for picnicking and potlucks. Get the recipe >
Swirled with jam and and divoted with whole cooked strawberries, this snacking cake is a brunch knockout. Get the recipe >
This sweet-and-salty focaccia that comes together with minimal effort is a welcome springtime twist on the original. Get the recipe >
Thickened with coconut milk and pepped up with fresh lime juice, the strawberry spritz created at Detroit's Candy Bar drinks like a tropical vacation. Get the recipe >
It turns out that the secret to great strawberry ice cream is—you guessed it—sweet, overripe farmers-market berries. Get the recipe >
Vibrant fuschia orbs of tart yet earthy sorbet are a refreshing finale to any summer cookout. Get the recipe >
Inspire oohs and aahs with this luxurious strawberry-topped cheesecake spread with smoky, tangy charred rhubarb jam. Get the recipe >
This recipe goes out to all the readers who can't think of a better bagel topping than cream cheese and jam. Get the recipe >
A crackly crown of meringue brimming with colorful berries is the kind of fresh, light dessert we crave when temperatures soar. Get the recipe >
Cool off with these homemade pink popsicles that are a hit with kids and adults alike. Get the recipe >