Recipes
Braised Rabbit with Pan-Fried Radishes and Creamy Polenta
This gorgeous meal-in-one recipe is perfect for casual entertaining.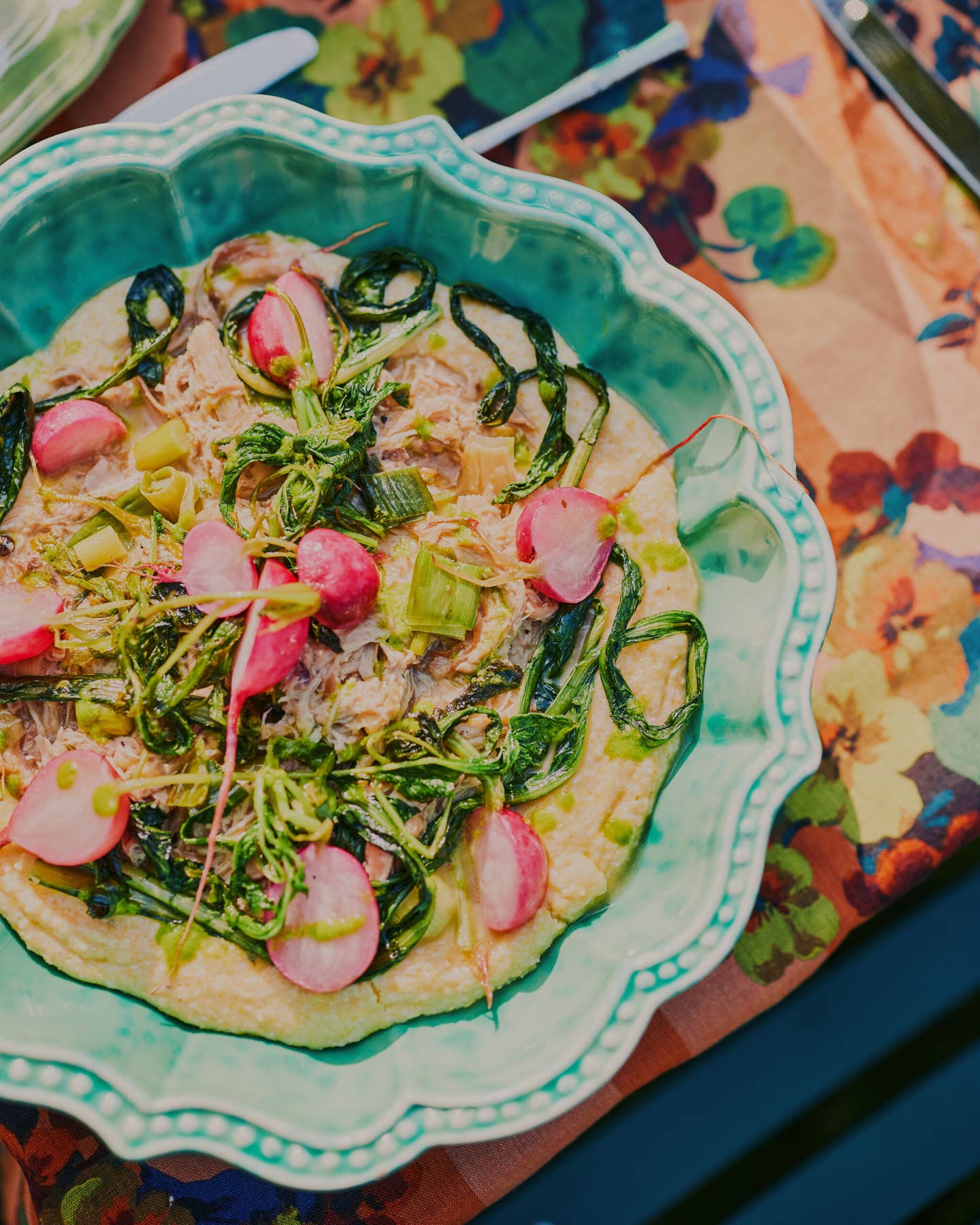 Chef Eliza Glaister grew up in New York's Hudson Valley, where her cooking was influenced by neighboring farmers and wild game purveyors like Quattro's Farm. This braised rabbit recipe, served over creamy polenta and topped with pan-fried radishes and leek oil, is a summer favorite. "When preparing game with little to no fat, especially rabbit, braising it is a wonderful method," she says. "Cooking seasonally means working with ingredients that are all growing together at the same time and place. They end up just working well together. The radish and dandelion greens add a big punch of peppery bitterness to this succulent braise."
Ingredients
For the rabbit:
1 medium leek, washed
1 whole 2½–3 lb. rabbit
1 cup plus 2 Tbsp. vegetable oil, divided
Kosher salt and freshly ground black pepper
4 cups chicken stock
2 cups dry white wine
1 Tbsp. chopped fresh oregano leaves
6 fresh bay leaves, or 12 dried
6 juniper berries
1 Tbsp. Dijon mustard
For the vegetables:
1 Tbsp. olive oil
1 Tbsp. unsalted butter
1 bunch red radishes (8–12 oz.), greens left attached, scrubbed and halved lengthwise
12 large dandelion leaves
2 garlic cloves, finely chopped
Kosher salt
For the grits:
2 cups whole milk, divided
½ cup fine yellow grits or polenta
4 Tbsp. unsalted butter
Kosher salt, to taste
Instructions
Step 1
Make the rabbit: Discard any dry or discolored green parts of the leek, then coarsely chop the remaining greens and reserve. Slice the white end into 1-inch-thick rounds and set aside. To a large Dutch oven, add the rabbit and 2 tablespoons of the oil and season with salt and pepper. Turn the heat to medium and cook, turning occasionally, until golden brown on all sides, about 8 minutes total. Add the chicken stock, white wine, oregano, leek rounds, bay leaves, and juniper berries. When the liquid begins to boil, cover and turn the heat to medium-low. Simmer, rotating the rabbit halfway through cooking, until the rabbit is tender, about 1½  hours. Remove from the heat.
Step 2
Meanwhile, in a food processor, purée the leek greens and remaining oil, then strain into a bowl and season with salt to taste. (Refrigerated, the sauce will keep for one month.)
Step 3
Using tongs, transfer the rabbit to a cutting board. When cool enough to handle, pick the meat from the bones (discard the bones, or reserve them to make a stock) and return it to the pot. Stir in the mustard and salt and black pepper to taste, then turn the heat to low and continue to cook, uncovered, until thickened slightly, 10–15
minutes.
Step 4
Make the vegetables: To a skillet set over medium-low heat, add the oil, butter, radishes, dandelion leaves, and garlic. Cook, stirring occasionally, until the radishes are fork tender, 6–10 minutes. Season with salt and set aside.
Step 5
Make the grits: In a medium pot, bring 1 cup of the milk and 1 cup of water to a boil. Season with salt, then turn the heat to low and add the grits. Cook, whisking continuously, until thickened, about 10 minutes. Whisk in the butter and remaining milk and season with salt to taste.
Step 6
To serve, scrape the grits onto a platter. Using a slotted spoon, top evenly with the braised rabbit, then spoon with the cooking liquid. Top with the vegetables, then drizzle with the leek oil and serve.