Carter Rochelle's Texas Chili
For a true taste of this state dish, skip the beans and tomatoes.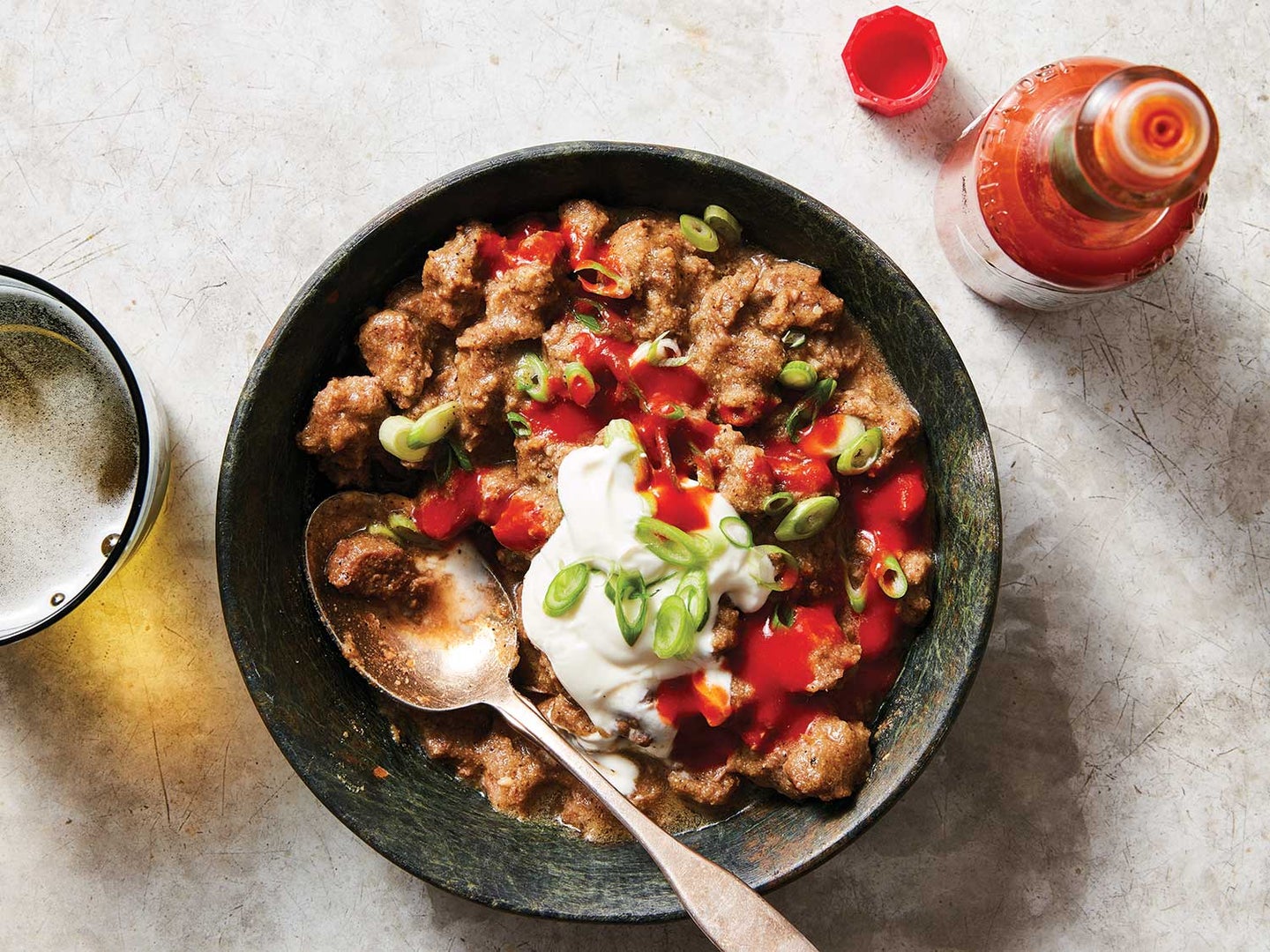 Beef suet and masa give this Lone Star chili (no beans, no tomatoes) its distinctive flavor. The recipe comes from Carter Rochelle, a native Houstonian and chili connoisseur. Find all of our best chili recipes here.
Featured in: "Our Best Recipes of All Time."
Equipment
Carter Rochelle's Real Texas Chili
Because it must make an impact in just one bite, competition chili is often too rich and salty for plain eating. We prefer this recipe from Carter Rochelle, a native Houstonian and chili connoisseur.
Time: 4 hours, 30 minutes
Ingredients
6 oz. beef suet, coarsely chopped
3 lb. trimmed beef chuck, cut into ½-in. pieces
6 tbsp. chili powder
4 large garlic cloves, peeled and minced
Kosher salt and freshly ground black pepper
1 cup masa harina
4 cups beef stock or low-sodium beef broth, warm
3 tbsp. white vinegar
Cayenne pepper
Chopped cilantro, for garnish
Tabasco, for serving
Thinly sliced scallions, for garnish
Tabasco, for serving
Saltines, for serving
Sour cream, for serving
Instructions
In a large Dutch oven set over medium-high heat, melt the suet, stirring frequently, 8–9 minutes. Use a slotted spoon to discard any solids. Working in batches if necessary, add the chuck and cook, stirring occasionally, until browned all over, 8–10 minutes. Turn the heat to medium and stir in the chili powder, garlic, and salt and black pepper to taste. Add the masa harina and stir to coat, then gradually pour in the broth, vinegar, and 4 cups of water. Turn the heat to medium-low and cook, partially covered and stirring occasionally, until the meat begins to fall apart, about 4 hours, adding water as needed to prevent sticking. Season with additional salt, black pepper, and cayenne to taste.
To serve, ladle the chili into bowls and garnish with the cilantro and scallions. Accompany with Tabasco, saltines, and sour cream.