Our Best Recipes of All Time
More than 25 years and dozens of cooks in the Test Kitchen later, these recipes are the ones we always come back to.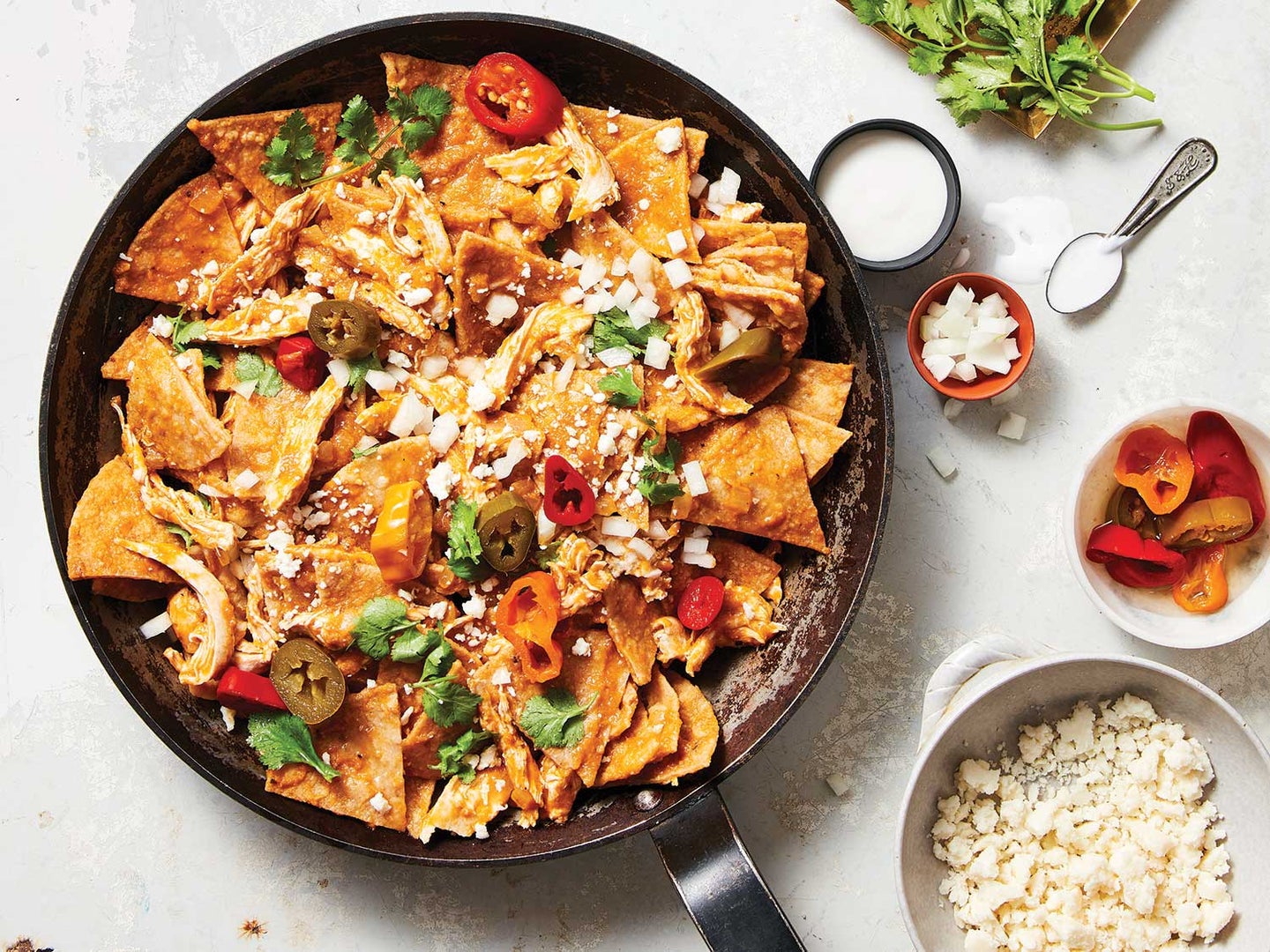 If anyone should know if a recipe's a keeper, it's the person tasked with making sense of the original instructions—from the far reaches of Sri Lanka, say, or a famous chef who measures nothing. This might explain why many test kitchen staffers named favorites that their predecessors had tested and recommended. (Though a couple put forth recipes they developed themselves.) And while Saveur never shies away from the oddball authentic ingredient, the fare on the following pages is the stuff we cook at home, over and over again. Consider it global comfort food.
Chilaquiles
Vivian Jao and I tested this recipe with and without the chicken bouillon powder and decided that it definitely tasted so much more addictive with. We called it "crackquiles" and could not stop eating it. I have made this truly delicious, down-to-earth dish numerous times since, for both upscale dinner parties and game-day snacking. It's always a big hit. Get the recipe for Chilaquiles »
Judy Joo, test kitchen assistant, 2004–2005
Gougeres
Get seasonal recipes, methods and techniques sent right to your inbox—sign up here to receive Saveur newsletters. And don't forget to follow us on Instagram at @SaveurMag.
Melissa Hamilton, who was Saveur's food editor when I ran the test kitchen, pointed me toward this old recipe, which predated both of our stints there. l still make these French cheese puffs often, especially if I'm having people over for dinner. Get the recipe for Gougères »
Vivian Jao, test kitchen director, 2004–2005
Roasted Mushrooms with Chile-Lemon Oil
Skilled forager and cookbook author Tama Matsuoka Wong once brought us an insane mushroom haul, including many varieties I'd never seen before. (Google image "lion's mane mushroom.") The fungi are sponges for flavor, so I whipped up an infusion of herbs, garlic, chiles, and citrus to roast them in. It's become my favorite side dish of all time! Get the recipe for Roasted Mushrooms with Chile-Lemon Oil »
Jake Cohen, test kitchen assistant, 2014–2015
Carter Rochelle's Real Texas Chili
I hadn't started working in the test kitchen yet when this recipe was published, but it's still the only chili I make. I love it for its purity; there aren't any tomatoes or beans—just tender chunks of meaty deliciousness. The addition of suet and a sprinkling of instant masa give this hearty Texas chili its distinctive flavor and make it a recipe worth making time and again. Get the recipe for Carter Rochelle's Real Texas Chili »
Melissa Hamilton, test kitchen director, food editor, 1998–2005
Martin Yan's Scallion Pancakes
I was asked who I wanted to invite to the office to do a story or video, and there was only one person: Martin Yan. I watched him after school as a kid and endlessly bugged my mom to make his outrageous Chinese dishes. Chef Yan came alone to the kitchen that day, with a bag of knives and his chef coat on a hanger. No press agent, no handler, no entourage. I loved him for being such a confident professional. He not only gave us this scallion pancake recipe that day, but also bestowed a cleaver on me. Get the recipe for Martin Yan's Scallion Pancakes»
Kellie Evans, test kitchen assistant, test kitchen director, associate food editor, 2010–2015
Smoked Trout Hash
I developed this recipe for the most fun issue I've ever been a part of: Saveur's Breakfast Issue, which won a 2009 National Magazine Award. The dish is an ode to my grandparents in Asheville, North Carolina. My grandfather taught me to fish and smoke trout, and my grandmother would serve the results for breakfast. Get the recipe for Smoked Trout Hash »
Hunter Lewis, test kitchen director, 2008–2010
Sri Lankan Fish Curry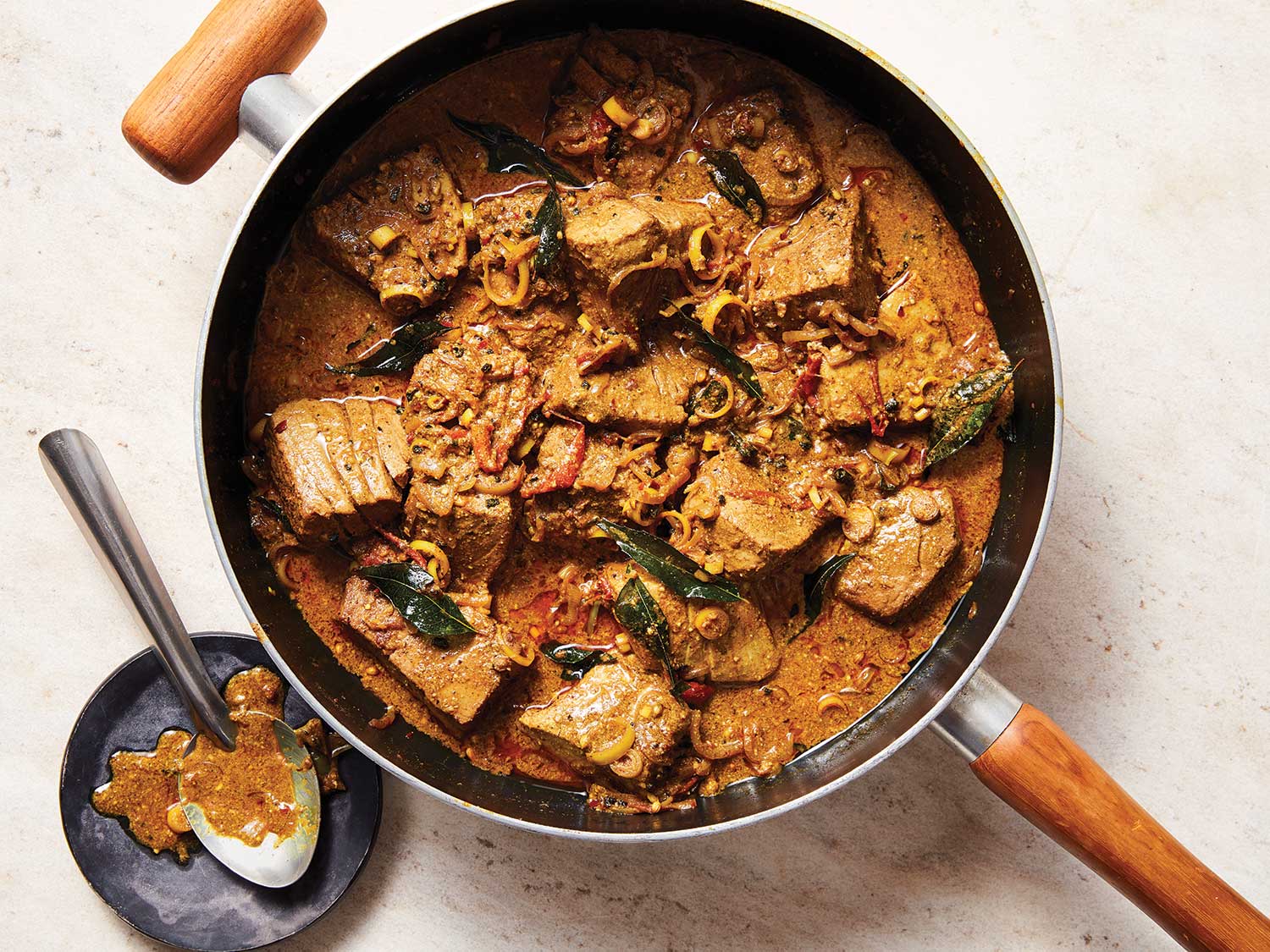 This punchy, deeply aromatic coconut curry introduced me to goraka, a dried tropical fruit that adds a unique sweet-sour depth. Though the dish is eaten for breakfast in Sri Lanka, I once made it the night before Thanksgiving, when I knew my family would want something dramatically different from roast bird and potatoes. Light and satisfying, it's a recipe that can really save you from a cooking rut. Get the recipe for Sri Lankan Fish Curry »
Stacy Adimando, test kitchen director, executive editor, ­editor-in-chief, 2016–2019
Pork Riblets Simmered in Caramel Sauce (Xu'o'n Kho)
After all these years, this recipe still sticks in my head. Making the sauce is almost like candy-­making— the sugar cooks to the edge of burning. You can make extra, bottle it, and use it for other meats. Get the recipe for Pork Riblets Simmered in Caramel Sauce »
Julia Lee, test kitchen assistant, assistant editor, test kitchen director, 1999–2004
Spinach and Ricotta Dumplings (Ravioli Nudi)
Nudi are an unexpected surprise: stripped-down ravioli, hence "naked" in the title. The only tricky part to this simple recipe is using the least amount of flour needed to keep the dumplings intact as they cook. Get the recipe for Spinach and Ricotta Dumplings (Ravioli Nudi) »
Kelly Kochendorfer, assistant editor, test kitchen director, 1994–1997
Barbecued Shrimp
Turns out, New Orleans–style barbecued shrimp never hits a grill! At first, I was concerned that Commander's Palace had sent us a recipe riddled with typos, given its dizzying measurements of mismatched ingredients: fresh rosemary steeped in Crystal hot sauce, and 6 tablespoons of Worcestershire where I'd normally use a dash? But the sharp and buttery results fashioned a powerful memory, as the interns and I leaned over the counter, using warm bread to wick up every bit of sauce. Get the recipe for Barbecued Shrimp »
Liz Pearson, test kitchen assistant, test kitchen director, 2004–2008
Chicken Liver Pate
When I moved back to the US after working as a chef in New Zealand, I missed the creamy liver pâté I had fallen in love with there. I turned to my favorite food magazine's website and found this recipe, along with a link to "Ask the Test Kitchen." I quickly emailed the kitchen director, Kellie Evans. The recipe secured a place at all of my family holidays; I scored an internship and eventually a job at Saveur. Get the recipe for Chicken Liver Pate »
Farideh Sadeghin, test kitchen assistant, digital assistant, test kitchen director, 2012–2016
Canadian Butter Tarts
I was 16 when this recipe was published, and it was among the first I snipped from a magazine and made for my family, who loved the sweet, intentionally runny results. That old Saveur page is probably still tucked in a box of old prom photos and concert tickets. Get the recipe for Canadian Butter Tarts »
Kat Craddock, test kitchen assistant, test kitchen associate, test kitchen manager, test kitchen director, 2015–present
Leaf and Spear
I keep coming back to this vibrant rum drink whenever I'm faced with hosting brunch or a bridal shower. It's fresh and bright with lime juice, and spicy-sweet from a jalapeño-­infused syrup, all grounded by the earthiness of Tuscan kale. Get the recipe for Leaf and Spear »
Judy Haubert, test kitchen assistant, associate test kitchen director, associate food editor, food and prop stylist, 2008–2015