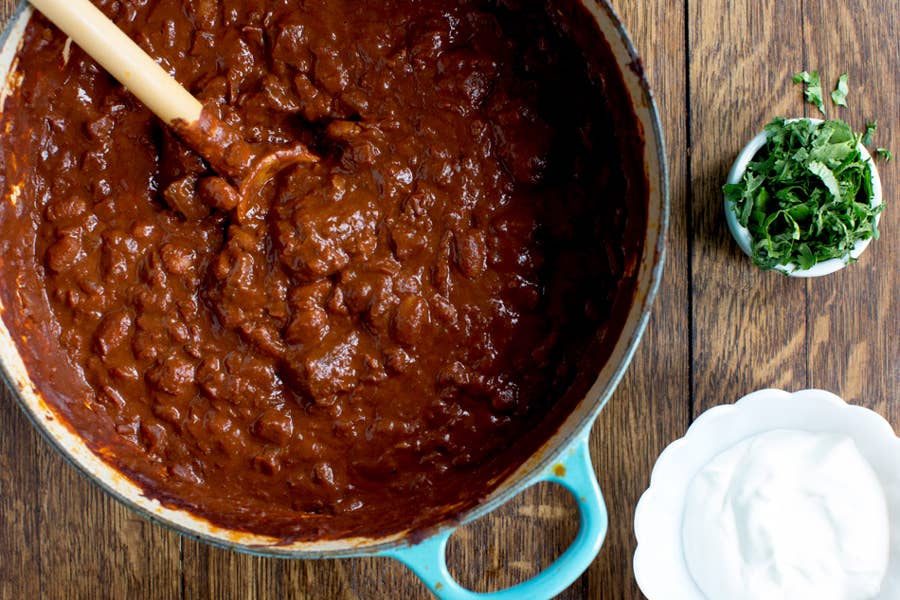 Recipes
Chili Recipes
The proper way to make a batch of chili is hotly debated.
The proper way to make a batch of chili is hotly debated. Should it have tomatoes? What kind of spices? And—the biggest question of all—do beans have any place in a bowl of chili? We consider ourselves to be equal-opportunity chili lovers, interested in all sorts of styles. We've rounded up five chili recipes that we hope can satisfy eaters on all sides of the issue.
Texans go crazy for chili con carne, and they're adamant that beans have no place in it. Our chili con carne recipe stays true to that belief, sticking with just tender cubes of beef and pork, fiery chiles, and plenty of garlic, onion, oregano, and cumin for flavor. To add a rich, smoky undertone, we do add a little bacon.
New Mexican chile verde also doesn't have beans, just chunks of juicy pork shoulder in a tart tomatillo sauce. Green chiles give the dish its signature kick—hatch chiles are traditional, but if you live outside of New Mexico and can't find them then Anaheims will work.
If you want to add some heft to your chili and aren't worried about provoking the wrath of purist, then go ahead and bulk the dish up with some beans. We use pintos in our triple chocolate beef and bean chili. Cocoa powder and semisweet chocolate lend darkness and depth to the hearty dish, which is rounded out with the complex bitterness of chocolate stout beer.
Beans or not, you'll find something you like in our collection of chili recipes.