Recipes
Jasmine Granola
Hazelnuts and flaxseed lend a satisfying crunch to this not-too-sweet floral treat.
Serves

makes about 10 cups

Cook

1 hour 10 minutes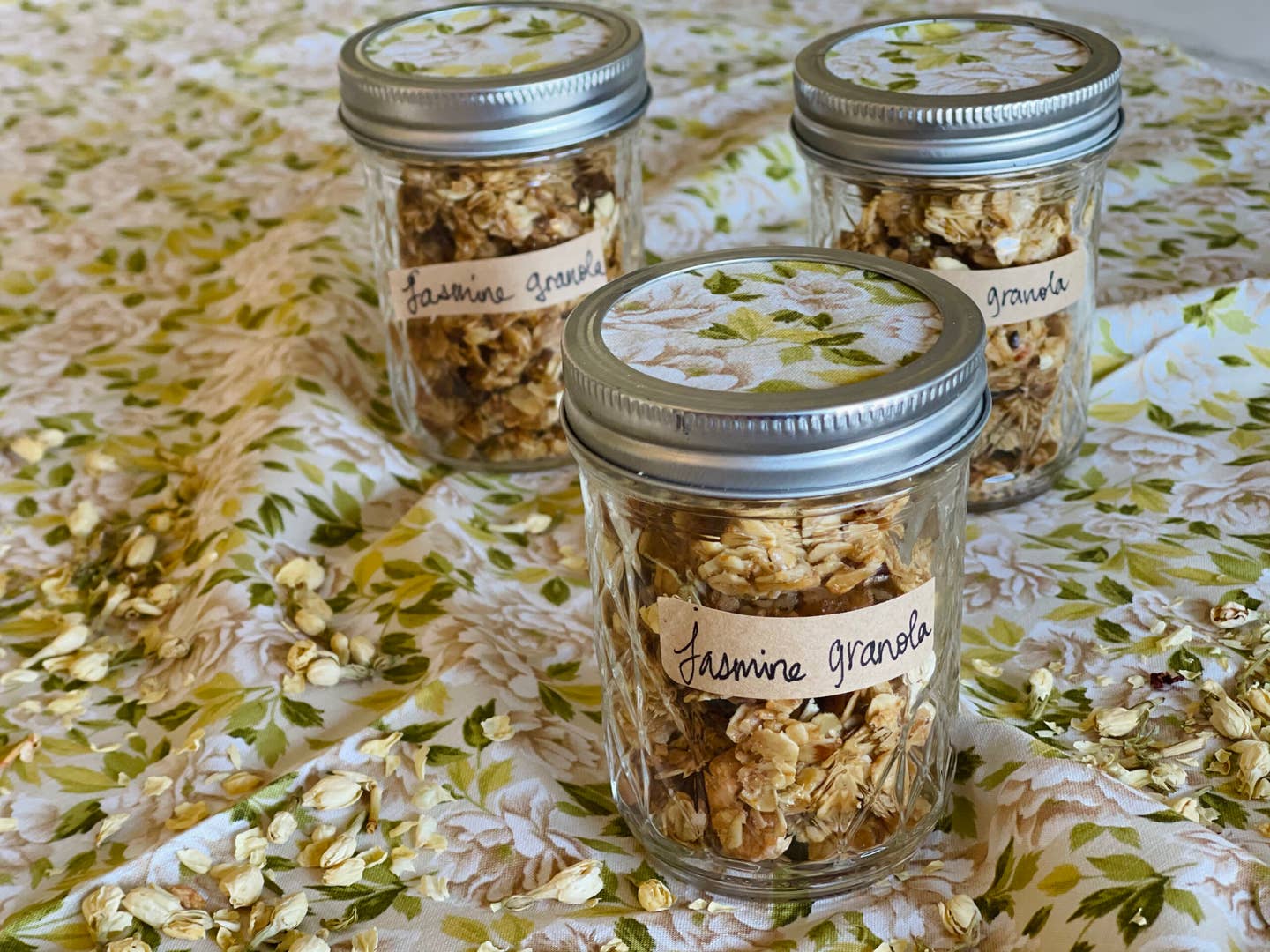 This vegan granola is crisp and light, with the delicate fragrance of jasmine flowers. Los Angeles baker and caterer Loria Stern suggests using organic ingredients and also advises that you take care to source an edible strain of dried jasmine as nonedible varieties are typically sprayed with pesticides. Look for the blossoms in an herbalist or spice shop, or order online from Kalustyan's. Packing the raw granola onto the baking sheet creates satisfying chunks, so resist the urge to stir as it cooks.
Ingredients
1⁄3 cup extra-virgin olive oil
1⁄3 cup coconut oil
2⁄3 cup plus 2 Tbsp. maple syrup
3⁄4 cup fine sea salt
1⁄4 cup (¼ oz.) dried jasmine flowers
10 cups (1½ lb.) rolled oats
1 1⁄2 tsp. whole golden or regular flax seeds
1 1⁄2 tsp. ground flax seeds
1⁄2 cup (2 oz.) coarsely chopped raw hazelnuts
1⁄2 cup (3 oz.) coarsely chopped dried apricots (optional)
Instructions
Step 1
Preheat the oven (with 1 of its racks positioned in the center) to 300°F. Line a large rimmed baking sheet with parchment paper and set aside.
Step 2
In a large stockpot over medium heat, stir together the maple syrup, coconut oil, olive oil, jasmine flowers, and sea salt. Bring to a low boil, then lower the heat to simmer and cook the liquid thickens slightly and is very fragrant, 8-10 minutes. Remove from the heat, then add the oats and, using a long-handled wooden spoon or silicone spatula, stir until the oates are thoroughly coated. Add the whole and ground flax seeds and stir to combine, then stir in the hazelnuts and apricots (if using). Pour the oat mixture onto the prepared baking sheet, then use the spoon or spatula to lightly pack into a tight, even layer. Transfer to the oven and bake, rotating the tray halfway through, until the oats are golden and fragrant and the hazelnuts are lightly toasted, 45–55 minutes. Remove the tray from the oven and set aside without disturbing until the granola has cooled completely to room temperature. Break into bite-sized chunks and serve immediately, or pack into airtight glass jars. Stored at room temperature, the granola will keep well for up to 6 weeks.