Our 59 Favorite Vegan Recipes to Showcase the Power of Eating Green
Live your best (plant-based) life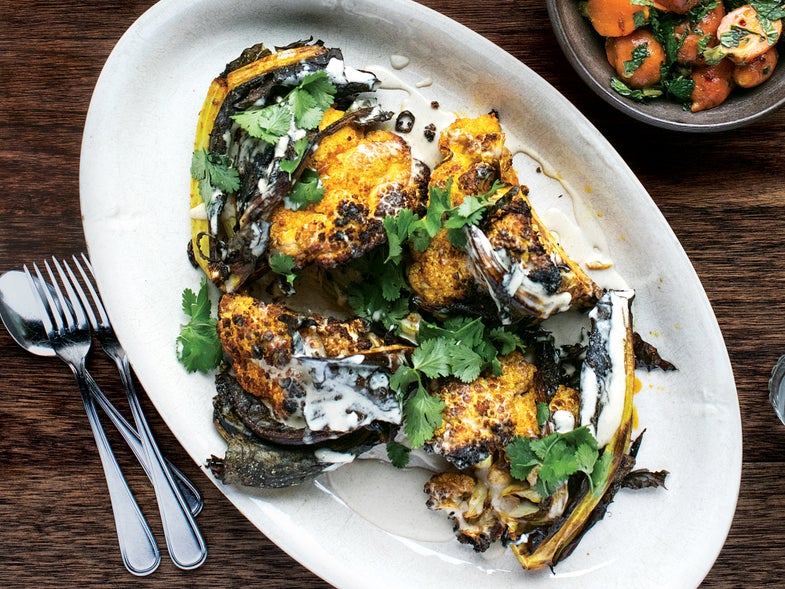 Heads up, veggie-vores. Whether you've given up meat, dairy, and eggs for health or ethical reasons, we're here to make sure you're still eating well and living your best (plant-based) life. None of our best vegan and vegetarian recipes relies on protein substitutes or fake meat for flavor. We've got the best ways to use the textures of tofu, the meaty umami kick of mushroom, and the creaminess of eggplant. And let's not forget about vegan dessert. There's a whole world of ingredients to explore. From the best vegetable soups and Asian noodles to fried eggplant and wood-fired maitake mushrooms, here are our best vegan and vegetarian recipes to make giving up meat easy breezy.
We love this quick braised side dish with Swiss chard, but any hearty green will work. Try it with bok choy, kale, or even green or purple cabbage. Get the recipe for Skillet-Braised Swiss Chard »
This recipe calls specifically for gyokuro, a premium Japanese tea that, unlike other green varieties, retains plenty of their flavor after repeated steepings. We recommend the Kanro gyokuro from Ippodo for this salad, which uses the tea leaves left over from one serving of tea and flavors them with soy sauce and sesame oil.
Dolmakadia, the Greek word for stuffed grape leaves, is one of the most iconic recipes of Greek cuisine and, although there are many varieties, the meatless version is the most common. In the warmer months, try to find and use fresh grape leaves; they are more tender and flavorful than the jarred types. Out of season, jarred leaves are a fine substitute (we prefer the Orlando brand). Get the recipe for Greek Stuffed Grape Leaves With Rice and Herbs (Dolmadakia) »
The earthy, nutty quality of Jerusalem artichokes works beautifully with tahini and lemon in this appetizer. Get the recipe for Sunchoke Hummus »
Whole cauliflower is quartered and roasted with paprika, turmeric, and jalapeño in this wintry side dish. Get the recipe for Spicy Roasted Cauliflower with Tahini »
This light and delicious salad from chef Dan Kluger makes wonderful use of winter produce. Crisp, raw celery root (a.k.a. celeriac) mingles with tart, julienned apples, crunchy croutons, and a tarragon-infused, mayonnaise-based dressing. Get the recipe for Raw Celery Root Salad with Apples and Parsley »
This kind of luscious puréed bean soup is made all over Italy with either white or fava beans. Prepare the soup several days in advance, but sauté the broccoli rabe just before serving. Get the recipe for White Bean Soup with Fennel Seeds and Broccoli Rabe »
This twist on a classic Israeli salad, in which Asian pear stands in for tomatoes, is a refreshing counterpart to warm, spice-roasted meats like chicken or kebabs. Get the recipe for Cucumber, Pear, and Sumac–Onion Salad »
A garnish of chopped peanuts and slivered cucumber and carrot add crunch to the silky, savory Chinese-American noodle dish. Get the recipe for Sesame Noodles »
Freekeh—sun-dried and roasted unripe wheat berries—is a popular grain in Mediterranean cuisines, and has a mildly smoky flavor and pleasant chew. Here, chef Mehmet Gürs of Istanbul's Mikla cooks it pilaf-style and spices it with sumac, a bright red spice that lends color and a lemony zing to anything it hits. Get the recipe for Freekeh Pilaf with Sumac »
The dressing for this cumin-spiced salad is made from the carrots' cooking liquid, which concentrates into a sweet syrup when reduced. Get the recipe for Moroccan Carrots with Aleppo Pepper and Mint »
This refreshing salad of soba noodles tossed with winter greens and mixed vegetables is brought together by a tart dressing of miso, ginger juice, and lemon. Get the recipe for Soba Salad with Lemon-Miso Vinaigrette »
Charred until nearly burnt, then mashed with earthy paprika and sour sherry vinegar, we love this dish as a condiment on roast lamb or served as a dip with pita chips. Get the recipe for Twice-Cooked Eggplant with Sherry Vinegar and Paprika »
Tofu adds creaminess to this spare salad of spinach dressed with peanut butter and red miso paste. Get the recipe for Spinach and Tofu Salad with Peanut–Miso Dressing »
This eggplant dish from Michael Solomonov's Zahav restaurant in Philadelphia highlights classic Middle Eastern ingredients: carob molasses, tahini, and pomegranate. Get the recipe for Fried Eggplant with Tahini and Pomegranate Seeds »
Distantly related to Mexican salsa, pebre is an emulsified blend of tomatoes, peppers, and vinegar traditionally served with bread rolls in Santiago. This recipe, from chef Rodolfo Guzmán of Boragó in Santiago, Chile, uses native green ajè cristal chiles, but you can substitute banana peppers to mimic their very mild, floral heat. Get the recipe for Chilean Tomato and Pepper Sauce (Pebre) »
"Filipinos love anything with adobo sauce, and kangkong is one of my favorite vegetables to eat." – Leah Cohen of Pig & Khao Get the recipe for Philippine Vinegar-Braised Greens (Kangkong Adobo) »
Though there are many versions of gazpacho, the traditional, tomato-based Andalusian variety is the one you want on a hot afternoon or warm evening. Get the recipe for Gazpacho Andaluz »
Stir-frying yuba crisps its edges, intensifying its flavor and texture. Get the recipe for Spicy Yuba Stir-Fry with Edamame »
This gluten-free grain, a type of millet, provides a wonderfully nutty backbone to a salad of sweet dates and carrots, and crunchy roasted peanuts. Get the recipe for Fonio Pilaf with Dates, Carrots, and Peanuts »
Fragrant with star anise, chiles de árbol, and cilantro, these mushrooms brown to a crisp on the outside while remaining tender inside. Get the recipe for Maitake Mushrooms with Red Chiles and Cilantro »
The beans in this classic Punjabi dish can be cooked without a pressure cooker, but allow for an extra hour of cooking time. Get the recipe for North Indian Kidney Bean Masala Stew (Rajma) »
A variety mushrooms gives nuance to this hearty vegetarian soup. Any assortment of fresh mushrooms will work and you can change those flavorful notes by switching up the combination each time you make it. Get the recipe for Onion Fennel and Mushroom Soup »
These sweet, satisfying granola bars (which just so happen to be vegan and can be made gluten-free) are as good for breakfast as they are as a mid-afternoon snack. Get the recipe for Chewy Fruit and Nut Granola Bars »
These intensely-flavored cookies have a crunchy caramelized exterior and a chewy, amaretto-flavored interior. Get the recipe for Chewy Almond Macaroons »
Fresh onions add cool spice to this simple parsley salad. Get the recipe for Parsley and Onion Salad »
A simple salad of raw shredded kale and Brussels sprouts is a refreshing variation on cold weather's ubiquitous green vegetables. Get the recipe for Shredded Brussels Sprouts and Kale Salad »
This vegan ice cream from Brooklyn's Van Leeuwen Artisan Ice Cream takes a classic flavor combination, peanut butter and chocolate, and uses cashew milk to make for an extra rich ice cream. Get the recipe for Vegan Peanut Butter and Chocolate Chip Ice Cream »
Wetzel reinforces the earthy funk of shiitakes by marinating fresh mushrooms in a broth made from dry, before giving them smoked edge with a trip to the grill. Get the recipe for Marinated and Grilled Shiitakes »
Tossing bitter charred escarole with sweet-tart grilled apples gives new dimension to backyard cookout side dishes. Get the recipe for Charred Escarole Salad »
Tearing the basil leaves for this simple salad releases their aroma while preventing the bruising that results from chopping. Get the recipe for Tomato Salad with Green Beans and Basil »
This version of the classic Mexican rice-based drink, which writer Sara Deseran adapted from one at Fresno's El Mercado Super, is made with a mix of coconut milk and coconut water for a beverage that is both luxurious and refreshing. Get the recipe for Coconut Horchata »
Crisp spring vegetables pair with a flavorful, vanilla-scented broth in this Provençal classic. Get the recipe for Barigoule of Spring Vegetables »
Carrots are roasted before being topped with crunchy pistachios and a sweet fig vinaigrette in a simple salad from Eli and Max Sussman's Classic Recipes for Modern People (Olive Press, 2015). Get the recipe for Carrot and Pistachio Salad »
With a little fernet, vanilla, and crystalized ginger, pears are the centerpiece of this simple Passover dessert. Get the recipe for Poached Pears »
Mustard seeds transform into tender, caviarlike pearls and impart a subtle nutty perfume to this simple spring root vegetable dish from Chef Corey Lee. Hakurei Turnips with Mustard Broth
Sweet golden raisins, red pepper flakes, and toasted pine nuts balance the bitterness of broccoli rabe in a side dish adapted from Anna Watson Carl's cookbook The Yellow Table. It makes an excellent accompaniment to grilled salmon, pork tenderloin, or meatballs with tomato sauce. Broccoli Rabe with Pine Nuts & Golden Raisins »
Braising—with a healthy dose of soy—is one of our favorite ways to bring out the texture and flavor of winter squash. Get the recipe for Soy-Braised Kabocha Squash »
Inspired by the briny flavors of veal piccata, this elegant side dish is simplicity itself: blanched green beans tossed in a vinaigrette of capers, bright lemon, and a beautiful olive oil. Green Beans with Lemon and Capers »
Pungent raw garlic shines in this no-cook soup adapted from Claudia Roden's The Food of Spain (Ecco, 2011). Get the recipe for Almond and Garlic Soup (Ajo Blanco) »
This Lebanese dish of beans braised in olive oil is traditionally made with romanos, but fava beans make a great substitute. Get the recipe for Loubieh bil Zeit (Romano Beans with Tomatoes) »
In this zesty dish, fried chana dal adds an earthy crunch to the rice, which is delicious alongside rich vegetable curries. Get the recipe for Indian Lime Rice »
This fresh side is a kaleidoscopic combination of fava and romano beans, garbanzos, cranberry beans, and green and yellow wax beans. Get the recipe for Summer Bean Salad »
These flavorful mashed potatoes are spiced with mustard seeds, fresh curry leaves, turmeric, and ginger and mixed with peas. Get the recipe for South Indian Masala Potatoes (Aloo Masala) »
Daikon—a type of large white radish with a peppery, earthy flavor—has long been a staple of Indian cooking. In this simple vegetarian curry dish from cookbook author Smita Chandra, daikon is enhanced with an aromatic blend of coriander, cumin, turmeric, and other spices. Get the recipe for Smita Chandra's Daikon Curry »
Indian culinary expert Madhur Jaffrey experienced a version of this tarka—a combination of fried spices and aromatics stirred into a soupy dal—while visiting the South Indian city of Hyderabad. It is soured with tamarind and seasoned with curry leaves and mustard seeds. Get the recipe for Hyderabadi-Style Lentil Stew (Khatti Dal) »
Puy lentils from France's Haute-Loire region are celebrated for their robust, earthy flavor, which shines in this lively salad from Pelle Lundberg, a home cook in Vickleby, Sweden. The lentils, tossed with cherry tomatoes sautéed in butter and olive oil, flavored with rosemary and thyme, and then dressed in balsamic, make a festive vegetarian main course or a robust side dish for a Swedish midsummer lunch. Get the recipe for Puy Lentil Salad (Sallad på Puylinser) »
Beets, asparagus, eggplant, cauliflower, and fennel are slathered in olive oil and grilled, then tossed with lemon juice and zest to make this warm, smoky grilled salad. Grilled Vegetable Salad (Sallad på Rostade Grönsaker) »
If you can't find choy sum, whole baby bok choy makes a fine substitute in this recipes. Get the recipe for Asian Greens with Garlic Sauce »
Tender artichoke hearts and fava beans pair beautifully in this simple Greek side dish. Get the recipe for Artichokes and Fava Beans (Aginares Me Koukia) »
Creamy, mild eggplant pairs with briny capers, floral basil, and a drizzle of balsamic reduction for a knockout appetizer or side dish. Get the recipe for Pan-Fried Eggplant with Balsamic, Basil, and Capers »
This 19th-century American recipe for rice pilaf from the Denver, Colorado, restaurant The Fort draws sweetness from dried fruit, earthiness from black quinoa and pine nuts, and crunch and color from bell pepper. Get the recipe for Fort Rice Pilaf »
Squash blossoms bring color and a light texture to this fresh vegetable stew. It's great served with warm corn tortillas. Get the recipe for Squash Blossom Sauté (Guiso de Flor de Calabaza)
Grilled sweet corn, plus fresh edamame in place of the traditional limas, elevates this light summer salad. Get the recipe for Summer Succotash Salad »
Tender fried eggplant sandwiches pesto-like walnut sauce in this appetizer recipe. Get the recipe for Fried Eggplant with Walnut Sauce (Badridzhani Nigvsit) »
A typical street snack in Algeria, these thick, flaky crepes are stuffed with a jammy tomato-based filling. Get the recipe for Algerian Crepes (Mahjouba) »
Pairing pistou, an herb sauce made with fresh basil, with tender spring vegetables makes for a bright-tasting seasonal entree. Get the recipe for Vegetable Ragout with Pesto (Ragout De Legumes Au Pistou) »
Almost any vegetable can be substituted for spinach in this vegetarian appetizer sprinkled with pomegranate seeds. In Georgia, roasted beet and green bean versions are common. Get the recipe for Spinach and Walnut Salad (Pkhali) »
Though it is typically made with root vegetables, come spring, Heena Patel likes to put a bright seasonal spin on the southern Gujarati vegetable dish undhiyu. Get the recipe for Gujarati Spring Vegetables »