Recipes
Whole Roasted Cauliflower with Tahini, Yogurt, and Pomegranate
The most decadent meatless main we can think of.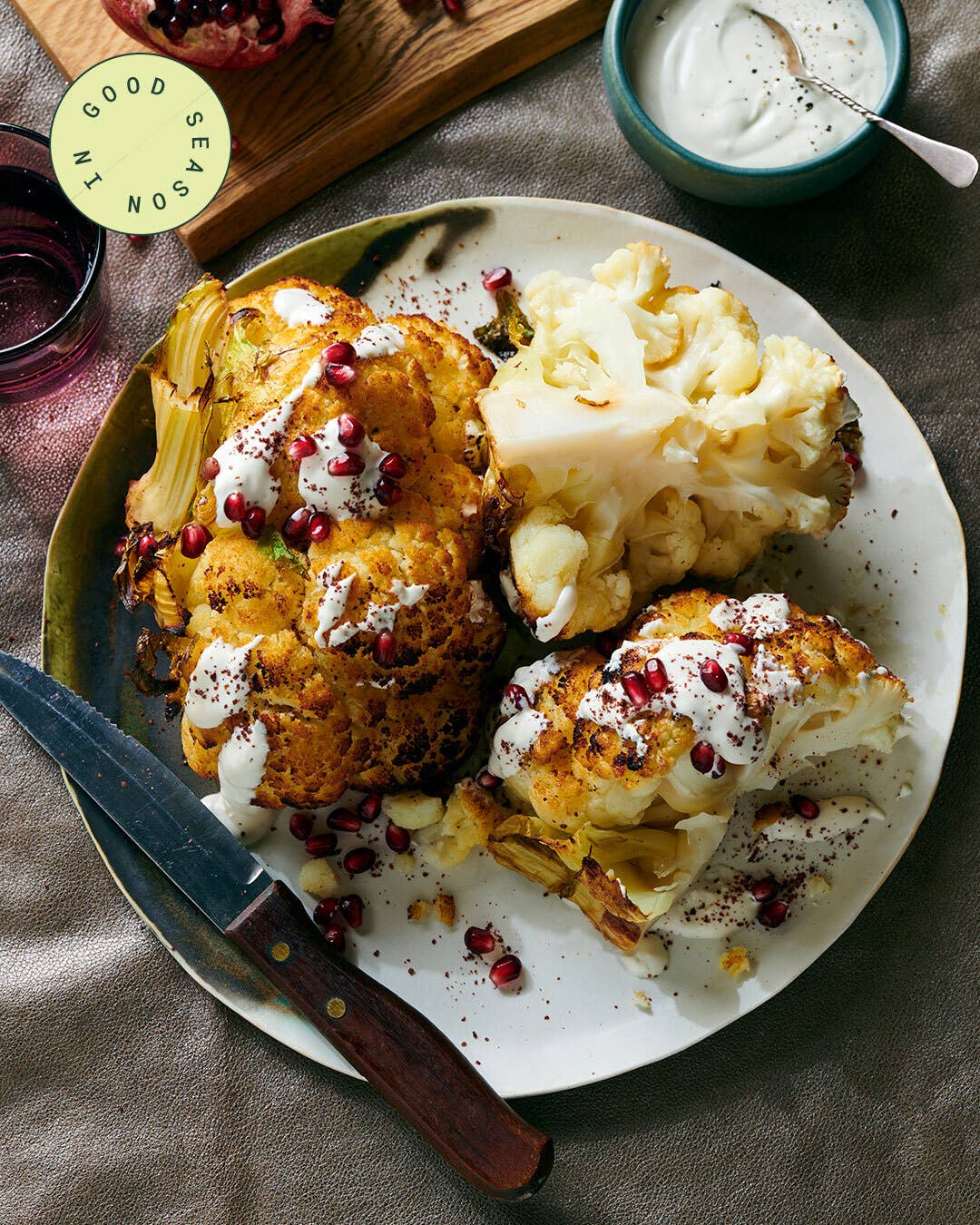 Welcome to SAVEUR's column on making the most of local produce according to contributing editor Fatima Khawaja. Here you'll find creative, unfussy meal ideas plus plenty of cooking advice—like what to do with that bumper crop of zucchini or how to store delicate heirloom tomatoes. Follow along, and you'll learn how to turn the season's bounty into easy plant-based meals.
The most tedious part of cooking cauliflower is cutting and trimming the florets—so don't. This recipe, inspired by Middle Eastern cuisine with its yogurt-tahini sauce and pomegranate seeds, is a whole-head affair that makes a stunning centerpiece for any meal, whether you're vegetarian or not.
Ingredients
1 head cauliflower (2 lb.), stem trimmed flush with the head
Kosher salt and freshly ground black pepper
1 cup plain full-fat Greek yogurt
⅓ cup tahini
3 Tbsp. fresh lemon juice
1 tsp. finely grated garlic cloves
¼ cup extra-virgin olive oil
½ cup pomegranate seeds
1 tsp. ground sumac
Instructions
Step 1
Bring a large pot of generously-salted water to a boil. Using a spider skimmer or two spoons, carefully lower the cauliflower into the pot and boil, turning the head halfway through cooking, until just tender, 12–15 minutes. Transfer to a parchment-lined baking sheet and, when cool enough to handle, pat dry with paper towels.
Step 2
Meanwhile, in a small bowl, whisk together the yogurt, tahini, lemon juice, garlic and enough water to thin the sauce to drizzling consistency (2–3 tablespoons). Season with salt and black pepper to taste.
Step 3
Position a rack in the center of the oven and preheat to 450ºF. Rub the oil all over the cauliflower, then bake until deep golden and charred in spots, about 20 minutes. Cut it in half lengthwise, then transfer to a large platter. Top evenly with the reserved sauce, the pomegranate seeds, and sumac and serve hot or warm.