Saffron Rice with Partridges and Amontillado Sherry (Arroz con Perdiz)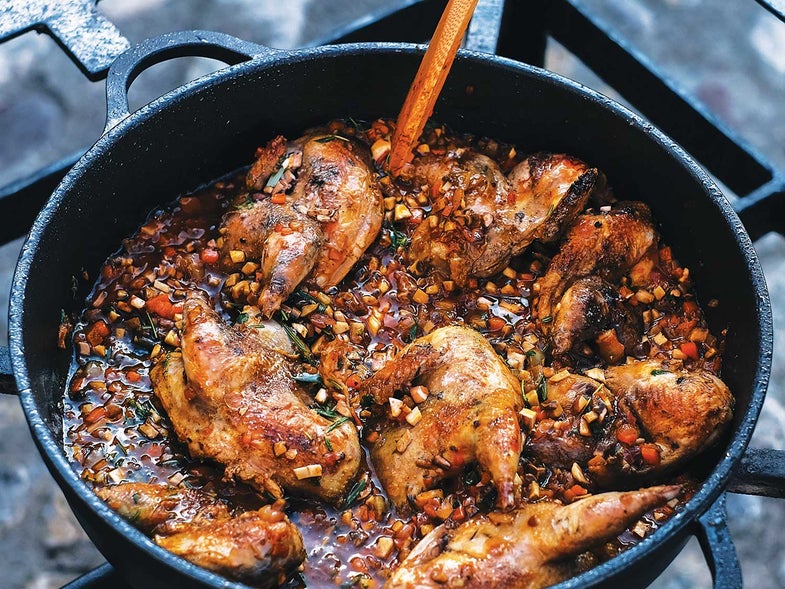 This regional dish uses the same rice and many of the same techniques as paella—and whatever wild gamebirds are in season. Jan Peterson, owner of the Fernando de Castilla bodega and a collaborator with Equipo Navazos, cooks his on a campero, an outdoor gas range popular in the Spanish country­side. "It's unthinkable to make arroz con perdiz without amon­tillado," Peterson says. A generous amount mixed with the cooking stock lends a light sweetness to the rice. If you can find some, a mix of Iberian ham shank pieces with marrow and salt-cured pork bones intensifies the stock's flavor. Serve with amontillado, oloroso, or palo cortado.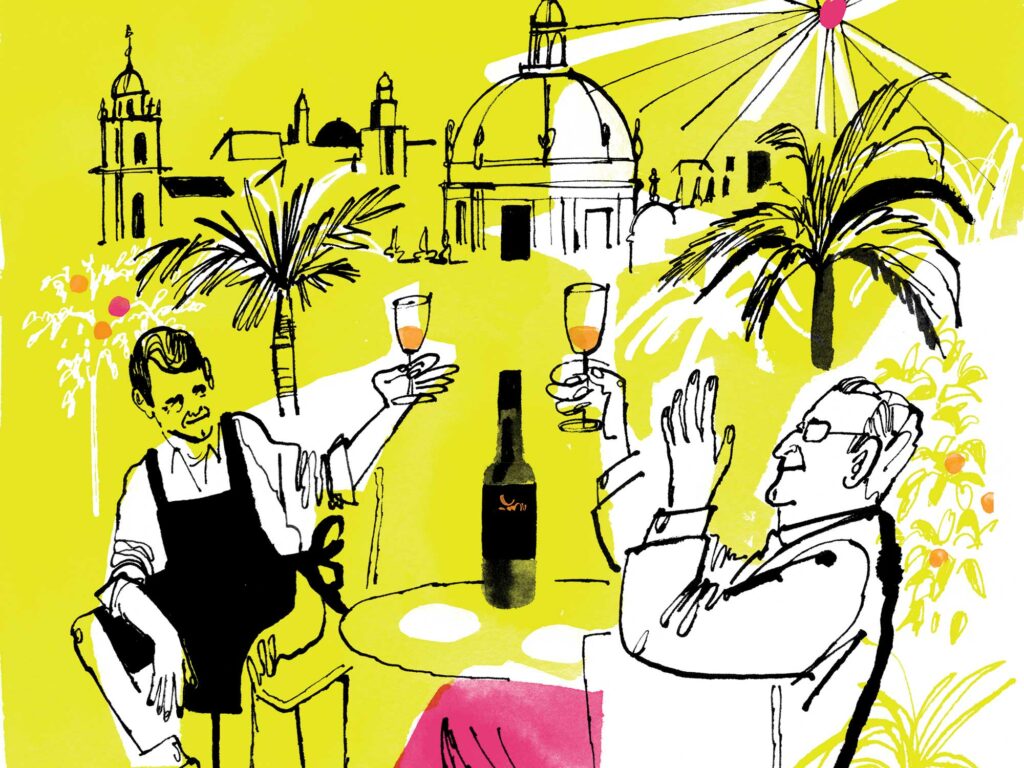 In Jerez, a sherry maker and a criminologist have embarked on a quest to find the oldest, most potent casks of amontillado (and discover why it just makes food taste better).
Featured in: Sherry Goes With Everything »
What You Will Need
Yield: serves 8
Time: 3 hours 25 minutes
Ingredients
For the stock:
8 partridge (5–6 lb. total), pheasants, or Cornish game hens
2 1⁄2 lb. pork bones with marrow
10 whole black peppercorns
2 bay leaves
2 large garlic cloves
1 medium carrot (3½ oz.)
1 stalk celery, halved
1 medium onion (8 oz.), halved
1 large turnip (5 oz.), halved
For the rice:
1 1⁄2 tsp. kosher salt, divided
1⁄4 cup plus 1 Tbsp. olive oil, divided
1 large carrot, finely diced (¾ cup)
1 medium onion (8 oz.), finely diced (1½ cups)
1 cup tomato purée
1 portobello mushroom, finely diced (1⅓ cups)
1 cup amontillado sherry
2 fresh bay leaves
1 tsp. saffron
1⁄2 tsp. dried thyme
3⁄4 tsp. minced fresh rosemary
3⁄4 tsp. chopped fresh thyme
2 1⁄4 cups (1 lb. 2 oz.) bomba rice (arroz bomba)
Freshly ground black pepper
Instructions
Prepare the birds: Using a sharp knife, halve the birds by cutting away the breasts from each side of the backbone while keeping the thighs and legs attached to the breast pieces.
Make the stock: Place 2 of the removed backbones in a large pot, then add the pork bones, peppercorns, bay leaves, garlic, carrot, celery, onion, and turnip. (Discard the remaining partridge bones or keep for another use.) Add 10 cups water, and bring to a boil over medium-high heat. Immediately reduce to a simmer and cook, skimming the foam and any grease off the top occasionally, until the stock is rich and flavorful, 1½–2 hours. Strain and set aside. (You should have about 7 cups stock total.)
Prepare the rice: Pat the partridge pieces dry and season all over with 1 teaspoon salt. In a 15-inch cast-iron or heavy-bottomed skillet, heat 3 tablespoons olive oil over medium-high heat. Once hot, add the partridge halves skin side up and let cook until well seared on one side, about 7 minutes. Flip and season with black pepper. Cook, rotating as needed, until the skin is well browned and crispy, 8–10 minutes.
Remove the birds to a large plate and set aside. Lower the heat to medium. Add the remaining 2 tablespoons olive oil, the carrot, onion, and ¼ teaspoon salt. Cook, stirring occasionally, until the onion is very soft and all the vegetables are slightly browned, about 10 minutes. Stir in the tomato purée, mushrooms, and ¼ teaspoon salt and raise the heat to medium-high; let cook until the tomato is simmering and some of the liquid evaporates, about 2 minutes. Stir in the amontillado, bay leaves, saffron, dried thyme, and three-quarters each of the fresh rosemary and thyme (reserve the rest for garnish). Add the partridge pieces back to the pot skin side up. Add the stock, covering the partridge about three-quarters of the way with liquid. Bring to a low boil, then reduce to a simmer. Cover partially and let cook until the meat is tender, 45 minutes to 1 hour. Remove the lid and add the rice, stirring to distribute it evenly around the pan. Simmer, rotating the pan on the heat source and adding small amounts of water as needed, until the rice is tender, 18–22 minutes. There should be a thin layer of sauce around the rice, but it shouldn't be soupy. Garnish with the reserved herbs. Portion onto individual plates and serve.