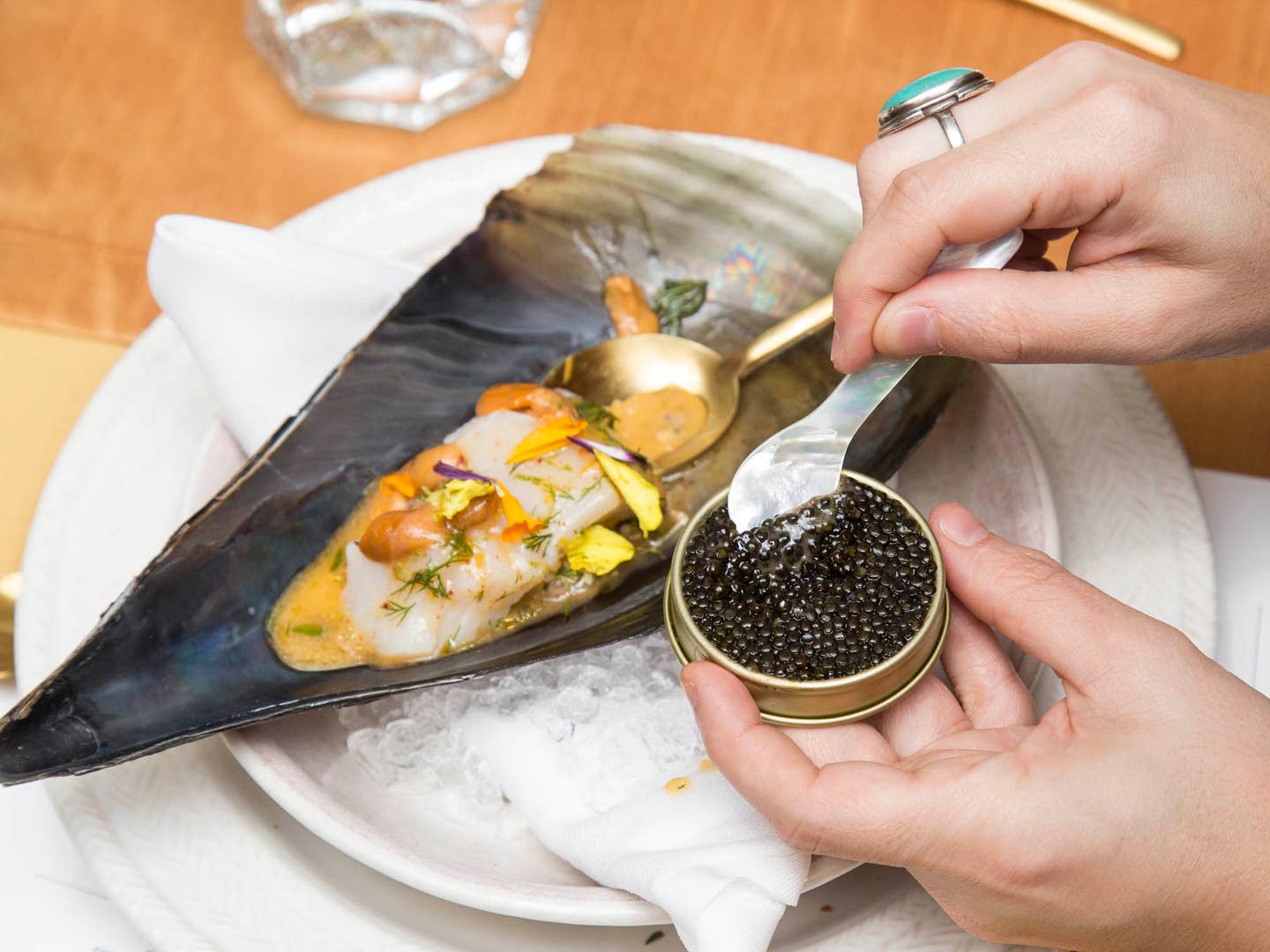 Culture
This Enormous Clam Doubles as Your Dinner Plate
Fabio Trabocchi cooks a SAVEUR Supper and reveals the allure of the Japanese taragai
Fabio Trabocchi spoiled us at dinner last night. The chef's SAVEUR Supper involved everything from caviar and uni to burrata and black truffle: all greatest hits inspired by his suite of restaurants in Washington DC. That uni and caviar repped Fiola Mare; del Mar was spoken for with enormous carabineros and—inexplicably delicious—cod tripe. Casa Luca's course was all about dessert: a fudgy slab of chocolate with a crispety-crunchety torrone gelato on top.
But the rarest treat of all wasn't the uni or calvisius oscietra in the first-course crudo: It was the clam that formed the base—an enormous one that looked like an oversized scallop but with the meaty, muscular flavor of sea bass or swordfish—like no other bivalve we've ever tasted, or even seen.
It was a taragai clam, a specialty from Japan that's nearly impossible to find outside the country except at high-end restaurants that fly it in. Eric Ripert plays with them from time to time at Le Bernadin in New York, and Trabocchi gave the flesh, which shares scallops' clean, mellow vibe but with a firmer texture, the sashimi treatment, topping it with tongues of uni for a potent dose of brine and some caviar because why the hell not. Several of us fought for seconds.
Sure, the geoduck is larger, but the taragai is far more elegant. It's a delight to eat raw, for one, and then there's the shell: A massive, jewel-like thing that you'd expect to see adorning the coffee table of a globe-trotting gallery owner. When cooking with taragais, chefs like Trabocchi often opt for using it as a plate, and considering it's two to three times the size of a scallop shell, it works perfectly.
Taragai clams are rare sights, but if you're trawling, say, Tokyo's Tsukiji fish market, give them a gander. And if you're served one, ask about keeping the shell for your next dinner at home.
See more scenes from our supper below.