Make Your Kitchen a Fun Factory of Cookie Dough with the Best Cookie Presses
It's time to press for success.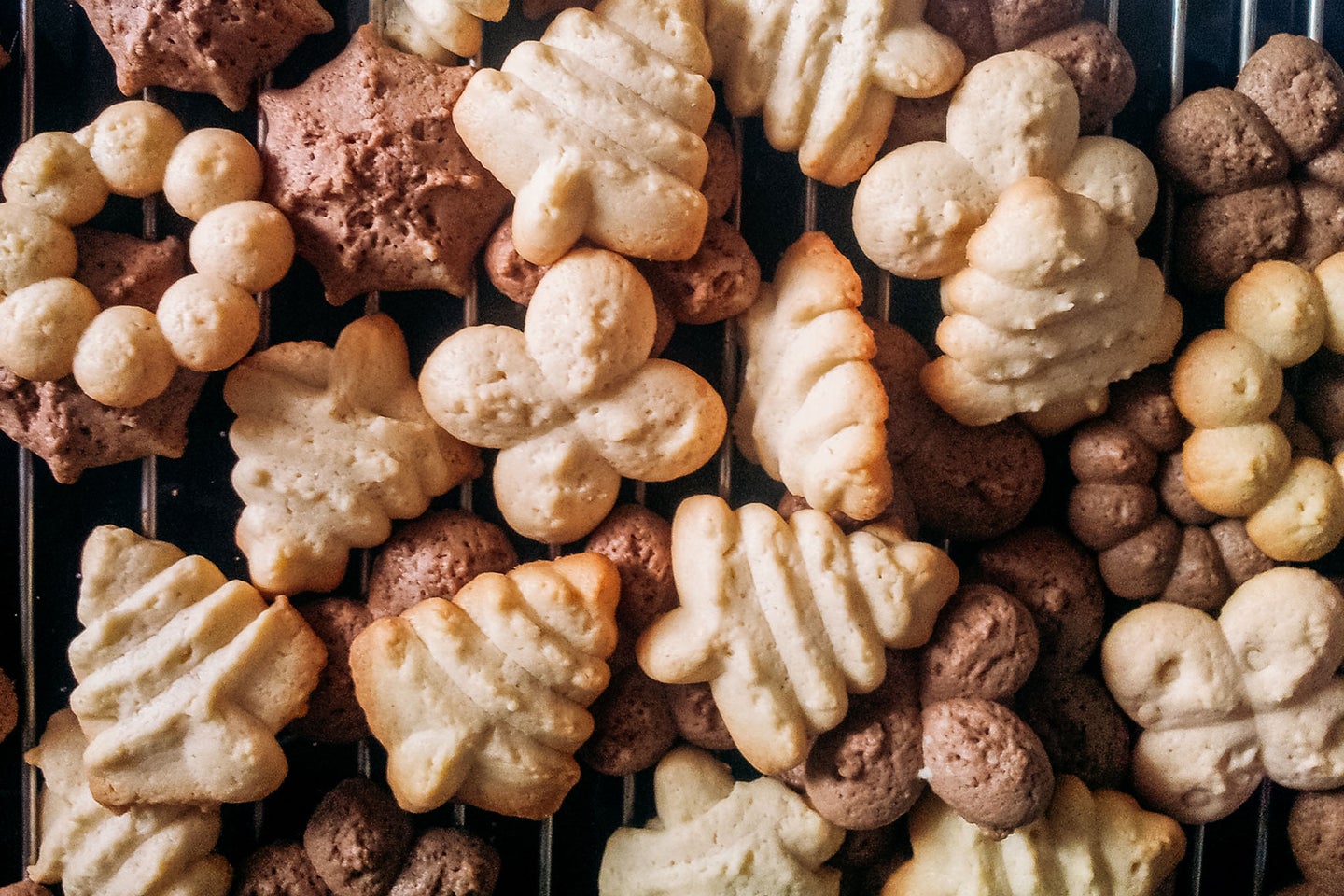 We may earn revenue from the products available on this page and participate in affiliate programs.
If you hope to fill up cookie jars with buttery, crumbly treats of all sizes for holiday celebrations and beyond, then it's high time to invest in a cookie press. Then it's time to get piping: The classic spritz dough is ideal for the job, with its specifically soft texture that's easily dispensed. 
What's more, the humble sweets are steeped in history. With ties to Germany (the German word spritzen loosely translates to "squirt"), Scandinavia, and the Netherlands, spritz cookies rely on butter, sugar, eggs, and flour for their rich flavor and whimsical shapes. Food historians believe the cookie press originated in the 16th century, but the one many bakers conjure when hearing the words 'spritz cookies' was unveiled by the Aluminum Goods Manufacturing Company of Wisconsin sometime between 1930 and 1935. Called the Mirro Cookie Press, Midwesterners—primarily Dutch, Scandinavian, and German immigrants—welcomed the cookie press with open arms and pre-heated ovens. But they weren't the only bakers impacted by the wider adoption of cookie presses. Southerners, too, embraced the machine, which made for easier cheese straws, crackers, and canapé fillings (yes, like deviled eggs). And the handheld appliance is still regularly used today, a reliable workhorse in any baker's tool kit. 
The best cookie presses, simply put, make the kitchen a fun factory of dough—here are the ones worthy of consideration. 
Features to Keep in Mind
Cookie presses provide bakers with a hand-held alternative to a piping bag and decorative tip. A good cookie press delivers consistently-shaped cookies with definition, is comfortable to use, and sturdy enough to see its way through dozens and dozens of sweet and savory pipings. It should also be easy to take apart, clean, and reassemble. Cookie presses are notoriously hungry, meaning a good press has to be refilled with dough often and easily. Look for a press that can go the distance; despite a higher price point, serious bakers with many cookie miles to pipe should consider a model with some heft. The expense will be worth the investment. Lighter-weight models certainly serve their purpose, whether if you're watching your budget or are just baking a few dozen cookies, so consider what best suits your needs before buying.
Manual vs. Electric Cookie Presses 
In general, a cookie press is operated by filling a hollow tube with dough and extruding it through a decorative die-cut disk at the bottom of the press. By turning or squeezing a piston-driven handle at the top, the dough is extruded through the disc. Room temperature dough ranging between 65 and 75 degrees Fahrenheit works best. 
Capacity
The larger the tube, the larger the dough capacity; presses vary and can hold between (approximately) 3/4 cup and as much as 1 1/4 cups of dough. 
Die-Cut Discs
Sturdy metal discs are considered superior to plastic versions, which have a tendency to bend. Look for discs made of stainless steel, which have sharp, clean cuts. Anything with overly intricate details will be trickier to clean, and you want consistent, well-defined cookies. 
Certain shapes are better for certain cookies; for instance, the "wash-board" or "ribbon" style disc is well suited for cookies being dipped in melted chocolate. A star tip can pipe continuous strips that can then be cut, perfect for cheese straws. Holiday shapes such as trees, wreaths, and snowflakes grab the spotlight during the months of November and December, but most manufacturers offer year-round design options as well.
Shape Versatility
Look for discs that offer more than holiday shape options and are suitable for savory items. For example, spring-themed cookies are best piped through a flower disc. Most presses will include a recipe booklet or provide a recipe on the box. Traditional doughs (chocolate, vanilla, spice, gingerbread) can be embellished with sugars, sprinkles, and melted chocolate. Add-ins such as nuts or chocolate chips are generally too cumbersome to fit through a slender die-cut disc unless very finely ground. Gel-type food coloring, freeze-dried/pulverized fruit, and instant espresso powder can be added to your dough before piping to enhance color and flavor.  
Maintenance
Always read the manufacturer's recommendations for care and cleaning. Hand-washing is preferable, particularly the small, die-cut discs, and might contribute to the longevity of the product. Some cookie presses can take a spin through the dishwasher, but it depends on the model. No matter what, make sure everything is washed and thoroughly dried before storing. Even the tiniest remnants of dough or pools of water can negatively impact the press.
Our Top Picks
Easy to use and a breeze to clean, Oxo's sturdy press has a see-through dough canister. A convenient storage case houses 12 stainless steel discs. Testers like the non-slip base, which keeps the press steady on the cookie sheet while you dispense cookie dough. The handle keeps things comfortable; squeezing dozens of spritz cookies doesn't feel like a chore and clean-up is a snap. Reliable recipes are included and for additional holiday merriment, consider purchasing the set.
This budget-friendly offering from the baking enthusiasts at Wilton has a soft-grip, easy squeeze lever, a plastic barrel, and 12 metal discs to inspire your cookie fantasies. This is lighter weight than some of the other brands we tried, but for the price, it has its fans. Thicker batters struggled in this press, and refrigerated dough also balked, so it's best to use this model with freshly-made, room temperature dough. For casual bakers, this model will do the trick.
Crafted in Italy out of heavy anodized aluminum, this cookie press is indeed splurge-worthy, but so well worth it. Made by a company dedicated to superior pasta making machines and extruders (as well as using sustainable and health-conscious manufacturing processes), Marcato's expertise is evident when you remove this handsome gadget from its box. Attention to detail is evident in its sturdiness; the difference is night and day over other models made from plastic and despite its heft, it is comfortable to use. Twenty discs encourage year-round creativity, with plenty of holiday options. The handle provides good leverage and the adjustable knob allows you to choose from two sizes of cookies, small and large. Make sure to hand-wash and dry the cookie press thoroughly, taking care to remove any stowaway dough. Read the enclosed booklet from cover to cover before use, and follow the directive to never place this machine in the dishwasher. 
An excellent alternative to cookie presses, stamps easily create intricate designs with minimal fuss and are useful for bakers who struggle with repetitive squeezing. These sturdy cast aluminum cookie stamps are American-made and will embellish your favorite made-from-scratch cookie doughs. Use a pastry brush and oil (or nonstick spray) to lightly oil the stamp and prevent sticking. They're hand-wash only, but take care not to submerge the handles in water. An array of choices make these a great gift for any baker who wants to streamline the cookie decorating process—and, to boot, they boast a lifetime warranty.
Housed in a convenient and well-organized storage box, this easy-to maneuver-press has a comfortable stainless steel trigger, 14 aluminum discs that spark plenty of creativity, and a clear barrel to keep an eye on your dough amount. The overall feeling in the hand is somewhat less substantial than a press made of metal, but users applaud its smoothly-piped dough and clear details. The kit includes discs suitable for creating cheese straws or cute animal shapes with ease, plus a squeeze bottle that's hungry for decorative icing. The coupler attachment and decorating tips are a plus for crafty types, and I've even used them for filling small tart shells. Instructions say the disassembled press is dishwasher safe, but that and the discs are better washed by hand. While it's not as sturdy as an all-metal counterpart, this press makes a great gift for any passionate cookie maker or decorator.
This long-handled cookie press utilizes a rotary plunger mechanism, making it comfortable to pipe long strips of decorative dough. Unlike cookie presses that rely on individual discs to shape dough into single cookies, the Nana Anna press utilizes a single sliding plate that affixes to the bottom of the press. Turning the handle propels the dough, which is extruded through one of five traditional designs. It's ideal for working with thicker doughs and piping out long strips (think cheese straws) that can be twisted into braids, swirls, or ribbons. Easy to put together and just as effortless to disassemble, this is a more old-school, less high-tech choice that conjures a grandmother's generously filled cookie tin.
How We Tested
All of our picks were tested using strictly-from-scratch doughs, made according to the recipes provided by the manufacturer. Classic sugar cookie dough and peanut butter dough were used with the cookie stamps. Additionally, we spoke with serious home bakers spanning multi-generations, commercial bakers, and knowledgeable retailers. Among them is Mariella Esposito, a mainstay at Fante's Kitchen Shop since 1970. One of America's oldest and most distinguished resources for cookware, Fante's was established in 1906 in the heart of Philadelphia's historic South 9th Street Italian Market. The store is a baker's dream. When asked if sales of cookie presses have dwindled over the years, Mariella assured me that the demand hasn't changed. "We test our products, and carry several cookie presses," she explained. Apparently, electric models weren't reliable and didn't make the cut—the store only sells manual versions, giving high points to ones crafted out of metal, claiming they'll last forever. 
3 Pro Tips for Better Cookie Dough
Under-beating the butter and sugar mixture and over-beating once the flour is incorporated is a common cause of greasy, tough, or hard-to-pipe dough. Take care to cream the butter and sugar until very light and fluffy; add the egg and beat until completely incorporated. It is best to add the flour by hand, using a large rubber spatula or a wooden spoon, mixing just until the dough is homogenous.
Good quality vanilla extract (or preferably the seeds from a vanilla bean) enhances the flavor of the dough. Some bakers opt for almond extract, but make sure to use it conservatively because too much will overpower other flavors.
Make sure the dough is rolled into a log of consistent thickness before loading it into the barrel of the press. Freshly made dough pipes more easily than dough that has been refrigerated. Should you make the dough ahead of time and refrigerate it, allow it to sit at room temperature until malleable; it should be soft, but not meltingly so.  
Ask the Experts
Q: Why is my cookie dough sticking to the cookie press? 
If the dough is too soft, it has a tendency to stick to the press. Refrigerate the dough briefly, just until it is room temperature. The cookie press should be clean and dry before using. Make sure to pipe the cookies onto a cold, ungreased baking sheet. 
Q: Should I wash a cookie press with warm water? 
Disassemble the cookie press and hand-wash it and the discs in warm, soapy water; rinse and dry thoroughly.