Crispy on Top, Gooey in the Middle—The Best Lasagna Pans Get it Right Every Time
Go from oven to table with ease.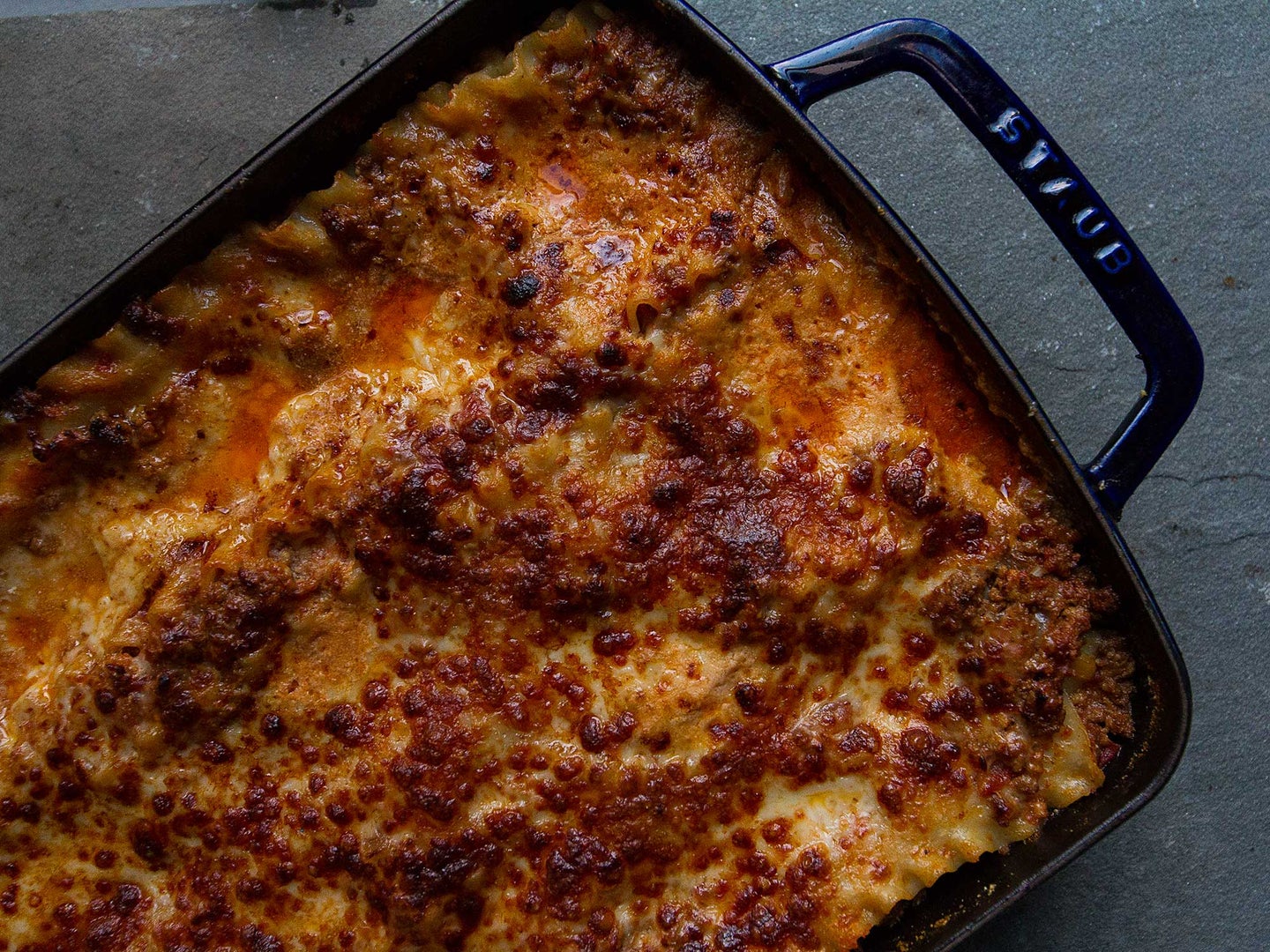 Few dishes elicit oohs and ahhs quite like a bubbling, homemade lasagna served fresh from the oven. Getting there requires quality ingredients, a solid recipe, and—while it might seem that any piece of rectangular bakeware will do—a true lasagna pan. Designed for cooking the classic layered pasta dish, the right pan will make for easier preparation, even cooking, and neater presentation when you dig out the cheesy goodness for plating.
What makes it different from, say, a roasting pan? Size, for one thing. Although the terms are often used interchangeably, a proper lasagna pan measures at least 9 x 13 inches with 2 to 3 inches of depth, which is ideal for at least three layers of noodles, filling, and sauce. Angela Skogen, owner at Cooks on Main in Williston, North Dakota, recommends a larger option: "Once you've boiled your noodles, you shouldn't have to cut them to prepare the dish," she says. "With a bigger pan, you don't have to fill it all the way—but you can." She encourages upsizing to 15 x 11 or 18 x 13 pans; after all, lasagna makes delicious leftovers.
Another bonus to this recipe-specific bakeware: A quality lasagna pan will cook all layers evenly, so you won't end up with burnt edges or undercooked bits. Pro tip from Skogen: Make a loose foil tent for your lasagna for the first two-thirds of cooking time, then "take the foil off at the end to get a nice crunchy top without over-browning." Shop our guide to the six best lasagna pans and discover Skogen's tricks to perfect your go-to recipe.
Features to Keep in Mind When Shopping for a Lasagna Pan
Material
Most supermarkets sell flimsy, disposable foil lasagna pans, which are fine if you're making a dish for a potluck dinner. But as you peruse the best lasagna pans, you'll find models made of metal, glass, and ceramic—all with pros and cons.
Metal is the most durable option, as it is not prone to cracking or chipping, but while metal (especially aluminum) heats up quickly, it cools down fast as well.
Glass pans are good for casseroles like lasagna because once glass heats up, it stays warm longer. This means you can remove the lasagna from the oven, let it rest so the layers set, and serve it from the pan at the ideal temperature.
Ceramic is the material of choice for recipe developer and food stylist Jennifer Ophir. "I want something oven-to-table friendly, and ceramic is often presentable, even beautiful," she explains. "After cooking, lasagna needs to rest in its pan for a good 20 to 30 minutes, and ceramic distributes heat evenly and retains that heat very well."
Pan Shape
Rectangular pans are the classic choice for lasagna, and offer a snug fit for long lasagna noodles. In a pinch you can cook lasagna in a square or round pan, you'll just have to trim or overlap the noodles. You can also make a nontraditional lasagna, like one that uses zucchini or butternut squash slices instead of pasta. Purists may balk, so be prepared!
Pan Dimensions
Dry (uncooked) lasagna noodles are typically about 9 to 10 inches long and 2 to 3 inches wide, so a standard lasagna pan of 9 x 13 inches is specifically sized to fit the width of three noodles without overlapping. Depth ranges from 2 to 3 inches, sometimes more—and the choice is yours. "I like my lasagnas tall, with multiple layers, so I look for at least 3 inches of depth," Ophir says. "A pan that's too shallow is one of my pet peeves."
Our Top Picks
Nestled in the quaint town of Marcigny, in Burgundy, France, Emile Henry has been making quality ceramic ovenware since 1850. Crafted with all-natural, high-fired Burgundy clay, this pan has great heat diffusion and heat retention properties, which means your lasagna will cook evenly and stay warm longer. The pan measures 9 x 13, and is just shy of 3 inches tall. It's safe to use in the broiler and the microwave; you can also freeze your lasagna right in the pan. Scratch-resistant and dishwasher safe, the Emile Henry boasts handles for easy carrying into and out of the oven, and it looks as good as it performs: classic shape and a choice of five colors for a handsome presence on your table.
For under $30, this coated carbon steel pan is durable, (relatively) scratch resistant and, at 10 x 15 x 3 inches in size, it can hold a mighty hefty lasagna. Its blue granite ceramic non-stick baking surface is designed for easy release, so lasagna will come out smoothly for serving, without clinging to the bottom or sides of the pan—which also makes for easy cleanup.  Gentle hand-washing is recommended, however, and avoid using metal or cutting your lasagna directly in the pan, which can scratch the surface.
Alsace, France, is known for both craftsmanship and cuisine—and Staub's cookware continues that reputation. Though pricey, this cast iron pan with a black matte finish is highly versatile; a true kitchen workhorse ideal for searing, roasting, and caramelizing food. In addition to lovely lasagna, it can turn out a crispy-skinned chicken and perfectly burnished veggies. Its uniquely rough texture is the secret to golden-brown exteriors. It can go in the broiler up to 500 degrees Fahrenheit and it's dishwasher safe. Measuring approximately 20 x 11 x 3.5 inches and weighing almost 14 pounds, it's definitely a big deal!
If you like a lot of lasagna, this versatile baking dish—16 x 10 x 4 inches—is an ideal choice. These dimensions give ample room for plenty of gooey layers, and transparent tempered glass makes it easy to monitor your dish's progress in the oven. The plastic snap-on lid makes it easy to store leftovers or bring your creation to a gathering. Chances are this deep Pyrex pan will be your go-to for many baking and roasting recipes beyond lasagna. Plus, it's microwave and dishwasher safe for reheating and cleaning up without fuss. Note: Tempered glass is not broiler safe, and unlike ceramic, you must give the dish time to cool before transferring from oven to freezer.
Since 1925, Le Creuset has been crafting stunning cookware that can perform capably for generations. Sturdy and elegant, Le Creuset's roaster and lasagna pan delivers excellent heat distribution and retention for even cooking . The nonstick enameled surface, which doesn't require seasoning before use, makes for easy serving and cleanup. The pan is heavy at just over 10 pounds, but loop handles let you get a good grip, even when wearing oven mitts. At 16.7 x 10.7 x 3.3 inches, there's plenty of room for an extra large lasagna—indulge!
The gently rounded edges and corners of this pan were specifically designed for lasagna, making it easy to slip a spatula underneath for serving. It measures an ample 12 x 15 x 2 3/4  inches, and its convenient fitted-plastic lid makes storage as well as transport a breeze, should you be taking your lasagna to grace someone else's table. Durable stainless-steel construction provides even heating and the pan won't react with acidic foods like tomatoes—a plus in a lasagna pan!—This All-Clad option is broiler safe to 500 degrees Fahrenheit, resists corrosion, and requires little maintenance, though gentle care is recommended and steel implements should be avoided.
Ask the Experts
Can you cook lasagna in a stainless-steel pan?
Yes. "A stainless-steel lasagna pan will cook fast and hot, so it's a great choice if your family loves a crunchy top," says Skogen.
Do you need to grease the bottom of a lasagna pan?
There's no need. "Most lasagna recipes start with a thin layer of sauce, so the bottom layer has something to cook in," according to Ophir. "The dish has a lot of moisture." However, a spray or thin layer of olive oil to grease the pan "doesn't hurt, and might minimize cleanup," says Skogen.
How deep should a lasagna pan be?
Two inches minimum—but 3 or more is better to give ample space for lots of layers. "Who wants drippy tomato-y, cheesy goodness in their oven? I want that on my plate!" Ophir points out.
Every product is independently selected and vetted by editors. Things you buy through our links may earn us a commission.