Shopping & Reviews
7 Bottles of the Best Red Wine Vinegar for Marinades, Reductions, and Dressings
Let's make salad happy hours a thing.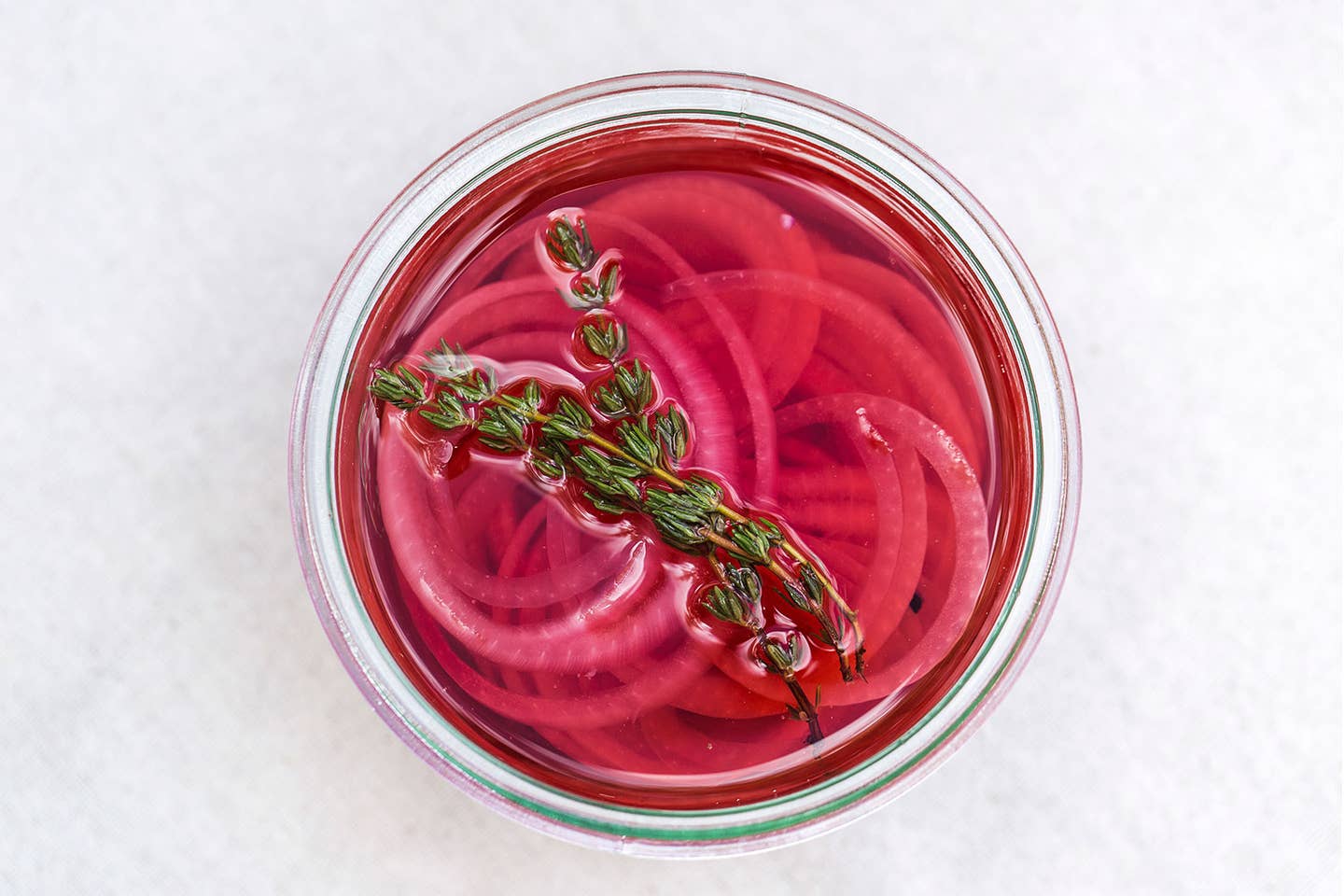 Whether you're making a salad dressing, marinating beef, or even pickling a vegetable, red wine vinegar is an undeniable pantry staple. Its bold, fruity, sometimes sweet, and unmistakably tangy taste lends itself to some of our favorite dishes, and it can be as versatile as it is potent. Navigating the world of red wine vinegar, however, can be quite daunting. There are literally hundreds of mainstream options, all with varying degrees of flavor complexity, acidity, and—perhaps most important of all—price. But we've taken the guesswork out of grocery shopping and narrowed down a list to seven of the best red wine vinegars you can find on the market, separated into helpful categories so you can find a brand that's right for you, your cuisine of choice, and your budget.
Best Overall:
Why We Chose It: It's tart but not overwhelming, with subtle hints of sandalwood from the aging process—everything you want in a red wine vinegar and more.
---
A strong but palatable flavor
Aged traditionally in wooden barrels
Affordable and versatile
---
Might be considered too oaky
Cap bends easily
Colavita's red wine vinegar earns high marks across the board in price, versatility, and balanced flavor, making it our top pick overall. The company also boasts an incredible array of olive oils, so you're well equipped to make a dressing that will turn that boring lunch salad into a mealtime staple. Colavita is also easy to find, both online and in grocery stores, making it affordable and accessible. The brand is proudly non-GMO and free of preservatives, making it pure, authentic, and your best bet for consistency in quality. You seriously can't go wrong!
Volume: 16.9 oz. | Country of Origin: Italy
Best Value
Why We Chose It: At only 13 cents per fluid ounce (if bought in bulk), this highly affordable option will save you cash without forcing you to sacrifice on quality.
---
Unfiltered and unpasteurized
Very inexpensive
BPA-free bottle
---
A little too light
Unfiltered texture
The packaging may be unassuming, but this popular option has become a household name, especially among those who prefer their vinegars on the lighter side. Pompeian's low acidity makes it ideal for a finishing note in sauces and on roasted vegetables. It also tastes great on its own on spinach salads, or paired with a starch like potatoes or pasta to cut down the heaviness. No matter the purpose, you'll want to buy these bottles in bulk—it's the most inexpensive selection on this list.
Volume: 16 oz. | Country of Origin: Italy
Best Splurge
Why We Chose It: Aside from its stunning bottle, Pommery red wine vinegar proves that it's worth the splurge with higher acidity content and wonderfully oaky aftertaste.
---
High acidity
Beautiful sandstone bottle design
Lovely aroma
---
Price
Bottle susceptible to cracks during shipping
Despite its hefty price point, we're saying "oui" to Pommery's red wax-capped crock that will surely turn into a countertop collectible. The super-strong acidity is supported by a more complex and earthy taste than its less-expensive counterparts, making it a fantastic dip for fresh seafood, or at least a more interesting base for a classic mignonette. Customers also rave about Pommery's line of mustards—grab a bottle at checkout to create a dressing that will really knock your socks off.
Volume: 16.9 oz. | Country of Origin: France
Best Organic
Why We Chose It: The Greek grape agiorgitiko has a distinct flavor that will make this option stand out in the best way possible.
---
A little goes a long way
Certified DPO
A very distinct flavor
---
Difficult to purchase individually
Long-neck bottles are hard to store
Small bottle
Gone are the days of Greek wines getting a bad reputation. This Greek red lends itself wonderfully to this full-bodied vinegar that is essentially a love letter to the agiorgitiko grape—chock-full of flavonoids (an antioxidant known for its health benefits) and native to the region. Notes of black cherry and plum make this uniquely fruity, while hints of cinnamon and clove add a subdued spice that elevates its flavor. Use this in Mediterranean dishes like cucumber or bean salads to let it shine in its most authentic form.
Volume: 6.8 oz. | Country of Origin: Greece
Best Versatility
Why we chose it: If you're vinegar-averse, this option is less of an assault to your taste buds, making it an ideal choice for any type of cuisine.
---
Very balanced and smooth
Unfiltered and a darker red
---
Small bottle
Separation can occur
We hadn't heard of this brand until we saw that its rave reviews on Amazon, and it more than delivered. The taste is smooth and balanced, and the color is beautiful—a lovely accompaniment to dishes with lighter ingredients like jicama, fennel, or butter lettuce. Despite its six percent acidity, it's also extremely palatable and easy to consume, making it approachable for anyone who may not be a fan of excess tartness.
Volume: 8.45 oz. | Country of Origin: Italy
Best Locally Sourced
Why We Chose It: As part of the renowned Stonewall Kitchen's portfolio, Napa Valley Naturals lives up to the quality we've grown to expect from the brand.
---
Supports California farmers
Part of Stonewall Kitchen brand, which is consistent in quality
Beautiful red color
---
A little too fruity and wine-forward
Napa Valley Naturals really packs a punch, thanks to it being unpasteurized like red wines. This allows for the grape to really penetrate the liquid and create a bold taste that is high on fruit and wine, and low on subtlety. While this certainly makes it less versatile, we think it will put any other iteration to shame in a summer berry salad or any dish with lots of cheese. It demands to be the star, and rightfully so—the flavor is fantastic and one of our all-time favorites.
Volume: 12.7 oz. | Country of Origin: USA
How We Chose These Products
After careful research, we selected nearly two dozen of the most reviewed and highly rated products you could find, as well as taking SAVEUR's editorial team's recommendations (the ones they're cooking with most often!) into consideration.
We then put all bottles to the ultimate taste test, ensuring we had representation from different regions, price points, and acidity levels. While it is recommended that any vinegar is diluted in water or turned into a dressing before consuming, we sipped straight from the source to really taste the nuances of each product. We also had a spit bucket handy, much like a wine tasting, as to not overwhelm the palate (or our stomachs!).
Note: These were not paired with any foods, and it is important to note that many may have made the cut if prepared with a meal. Some of the best red wine vinegars are produced to enhance a dish and not take center stage.
Features to Keep in Mind When Shopping for Red Wine Vinegar
Like wine, red wine vinegar will take on the taste of its grape varietal, as well as the vessel that carries it. In most cases, tradition demands for wooden barrels to age the liquid until it matures. This will typically impart an oakiness into the red wine vinegar's bouquet and flavor profile, making many options as complex as the red wine they're made from. If you're a fan of a specific type of red wine like pinot noir or cabernet sauvignon, opt for a bottle made from these grapes. It's likely that you'll enjoy its vinegar version, as well!
Most red wine vinegars are produced where red wine itself is grown and manufactured, so regions like Italy, France, Greece, and the United States are most common. Look for your favorite red grape varietals and regions, and start from there.
It takes approximately two months for a quality red wine vinegar to reach maturity and be sold en masse. The longer a red wine vinegar ages, the less acidic it will be when bottled and distributed. Be sure to read the label's ingredient list for additives. There shouldn't be anything beyond red wine vinegar and naturally occurring sulfites.
Acidity level plays the biggest role in a red wine vinegar's versatility. While most will range in levels from five to eight percent, a higher level is better for pickling vegetables and preserving foods, while a lower level is better for quick marinades that won't "cook" or dry out a protein. Since most salad dressings will require you to mix in an oil and mustard, the acidity level doesn't matter as much, but keep in mind that a higher acidity level will yield a brighter and crisper taste that can hold up to bulkier ingredients like kale, nuts, and avocado.
Q: Is there a substitute for red wine vinegar?
While there is an obvious color difference between red and white wine vinegars, there really isn't too drastic of a taste differentiation. Expect red wine vinegar to be slightly sweeter and a bit oakier if aged in wooden barrels.
Apple cider vinegar is a wonderful alternative, but it will be a bit fruitier. You can also opt for a sherry vinegar if you'd like something less acidic and a champagne vinegar if you desire something sweeter. Lemon and lime juice will brighten any dish as a last resort.
Q: How long does red wine vinegar last?
Red wine vinegar can technically last indefinitely if sealed and unopened. Once opened, expect it to remain in prime condition for two to three months in a dark cupboard or pantry, and about a year in the refrigerator. That being said, bacteria-hating vinegar doesn't really spoil—it just becomes dull over time. It's likely you'll finish a bottle before noticing any difference in taste or texture.
Q: Do I have to keep red wine vinegar refrigerated?
You'll want to refrigerate opened red wine vinegar to ensure that its shelf life is extended as long as possible. While it may be okay to leave out for a few months, oxidation can happen, and the red wine vinegar will quickly lose its taste and potency.
No matter which red wine vinegar you choose on this list, you've made a wise decision. It is a pantry staple that rarely disappoints, and is a wonderful addition to dressings, meats, and marinades. Treat each bottle like a wine, and appreciate the subtle differences in aroma and taste. Soon enough, you'll settle on an option that will become a household favorite and an essential ingredient in most of your beloved dishes.