Brined Beauties
23 pickle recipes from around the world.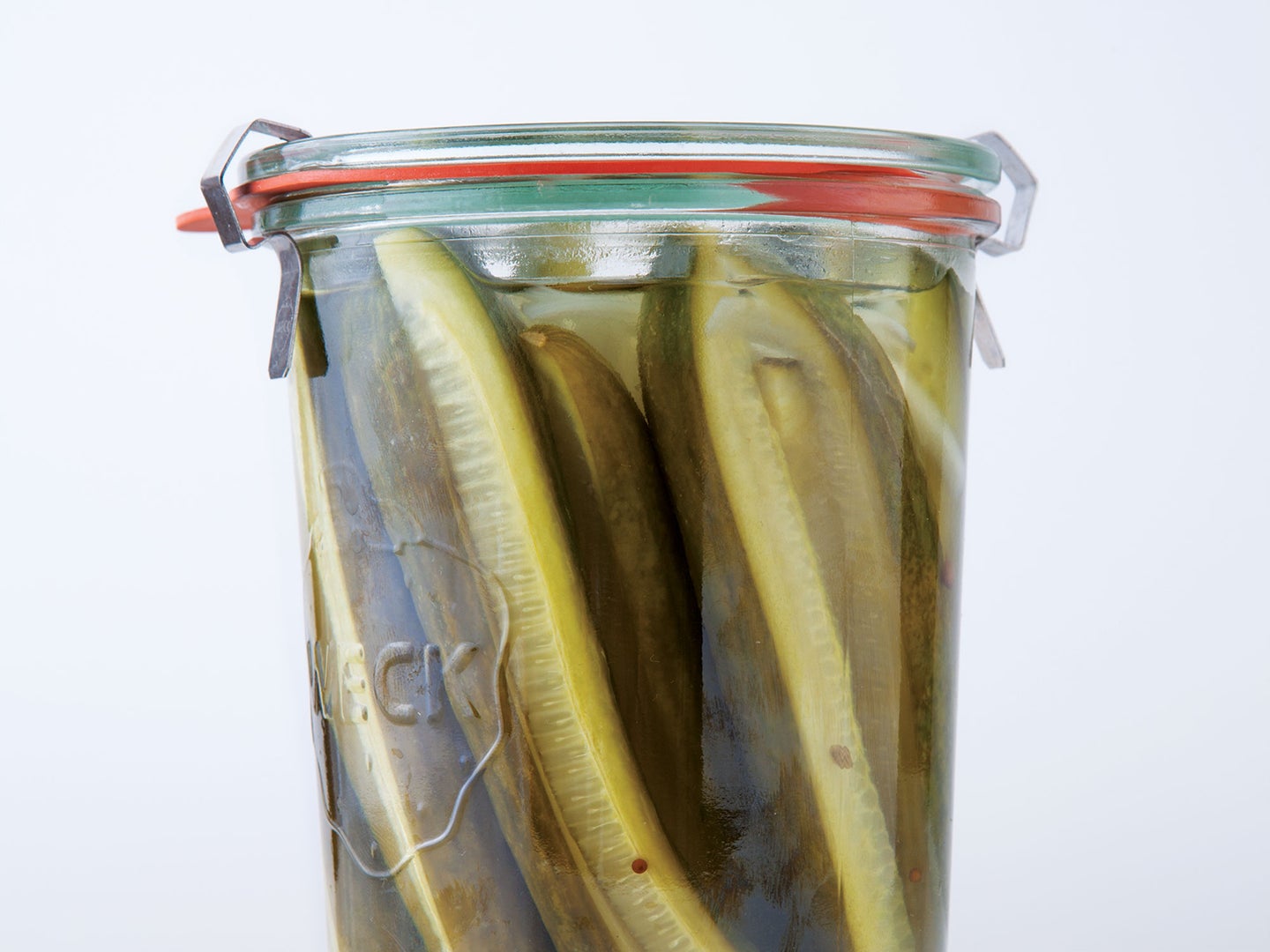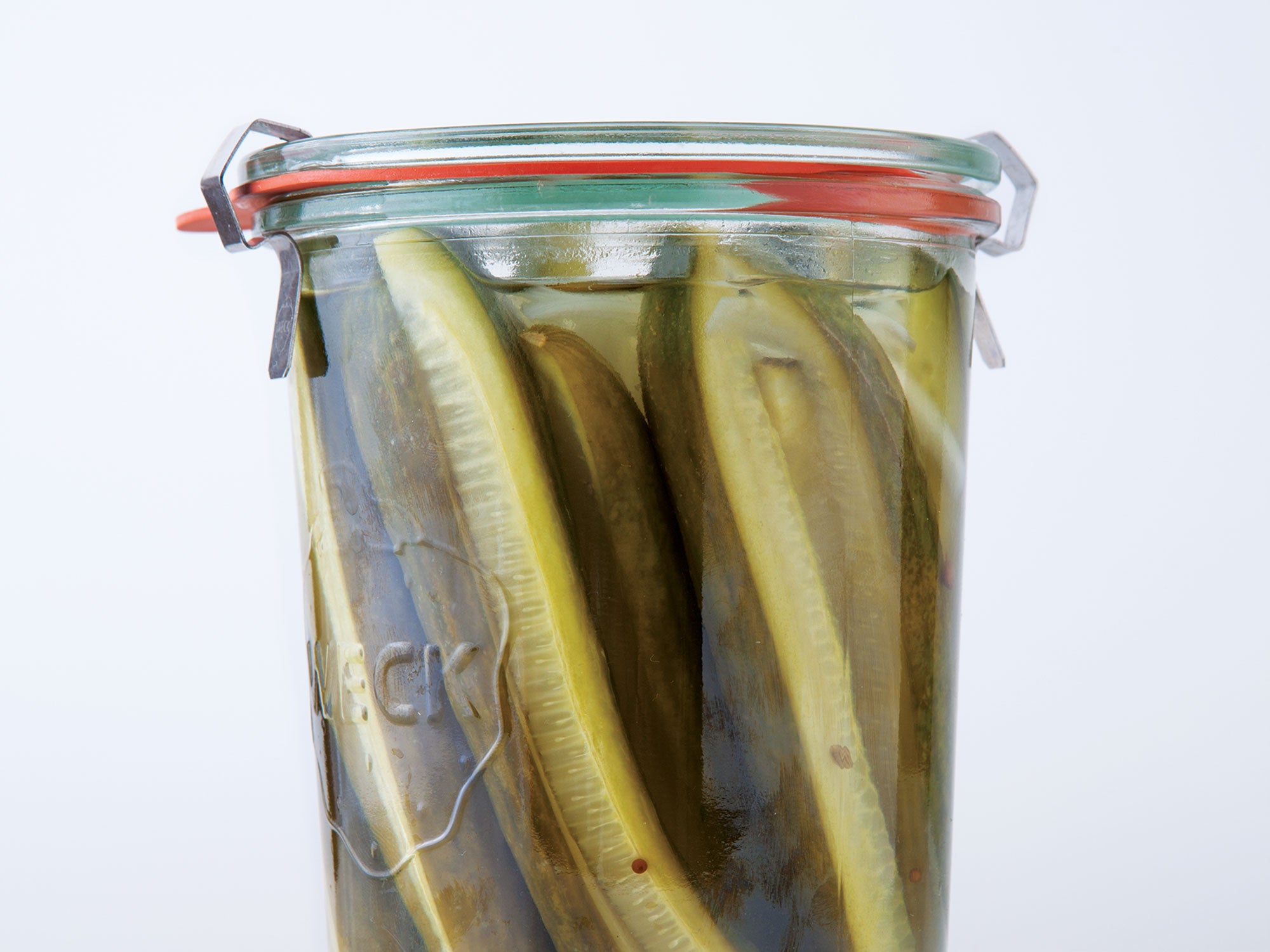 Sour, bright, and crunchy—pickles have an irresistible appeal. They are the perfect accompaniment to heavy, oily foods but are compelling enough to eat on their own as a puckery snack. 
Pickling is also one of the world's oldest food preservation methods. Ancient Mesopotamians are often credited with beginning the tradition, though they were possibly introduced to the technique by visiting Indian travelers who salted or brined cucumbers for the long trip to the Tigris Valley. Back on the Subcontinent, those same vegetables led to a fascination with achars that made use of the region's plethora of spices. 
Since then, pickling traditions have sprung up across the globe. Sauerkraut is enjoyed across the European plains; cabbage kimchi and innumerable other pickled, fermented vegetables are central to Korean cuisine; and chiles are conserved in salt and vinegar brines throughout Latin America.
Your standard pickled fare comes in two varieties: preserved in either salt or vinegar. Japanese shiozuke make for fresh, quick pickles as sea salt draws moisture out from assorted cut vegetables. Dill pickles—whole cucumbers steeped in a spiced salt solution—are a deli classic for a reason, adding crunch and brightness to sandwiches, burgers, and condiments. Brazilian conservas use red wine vinegar to flavor a host of chiles. Iranian torshi emphasizes the sour in pickling and many Persians season their vinegar with garlic and spices.
Whichever method you choose, pickling is an easy way to extend the summer's harvests, but pickles aren't limited to vegetables. Just about anything can be pickled, from fruits like peaches and pineapple to vegetables like okra and onions to proteins like fish, shrimp, and eggs—even pig's feet! 
Here's how the world makes these sour specialties.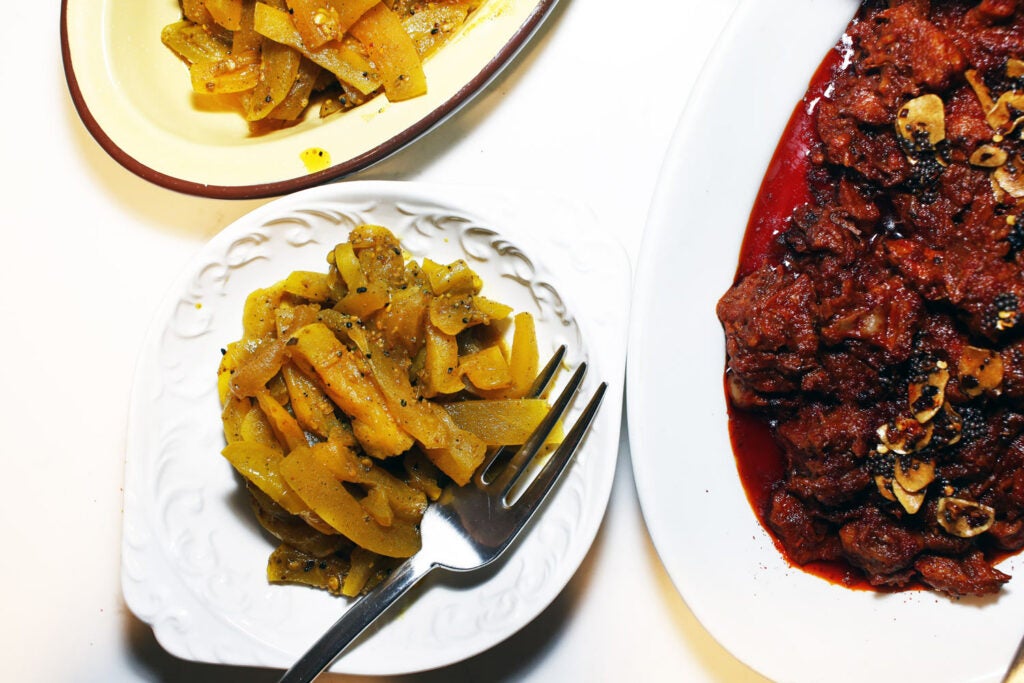 This Indian pickle is best made with green tomatoes that are very firm with no signs of ripening. Get the recipe for Green Tomato and Watermelon Rind Achaar »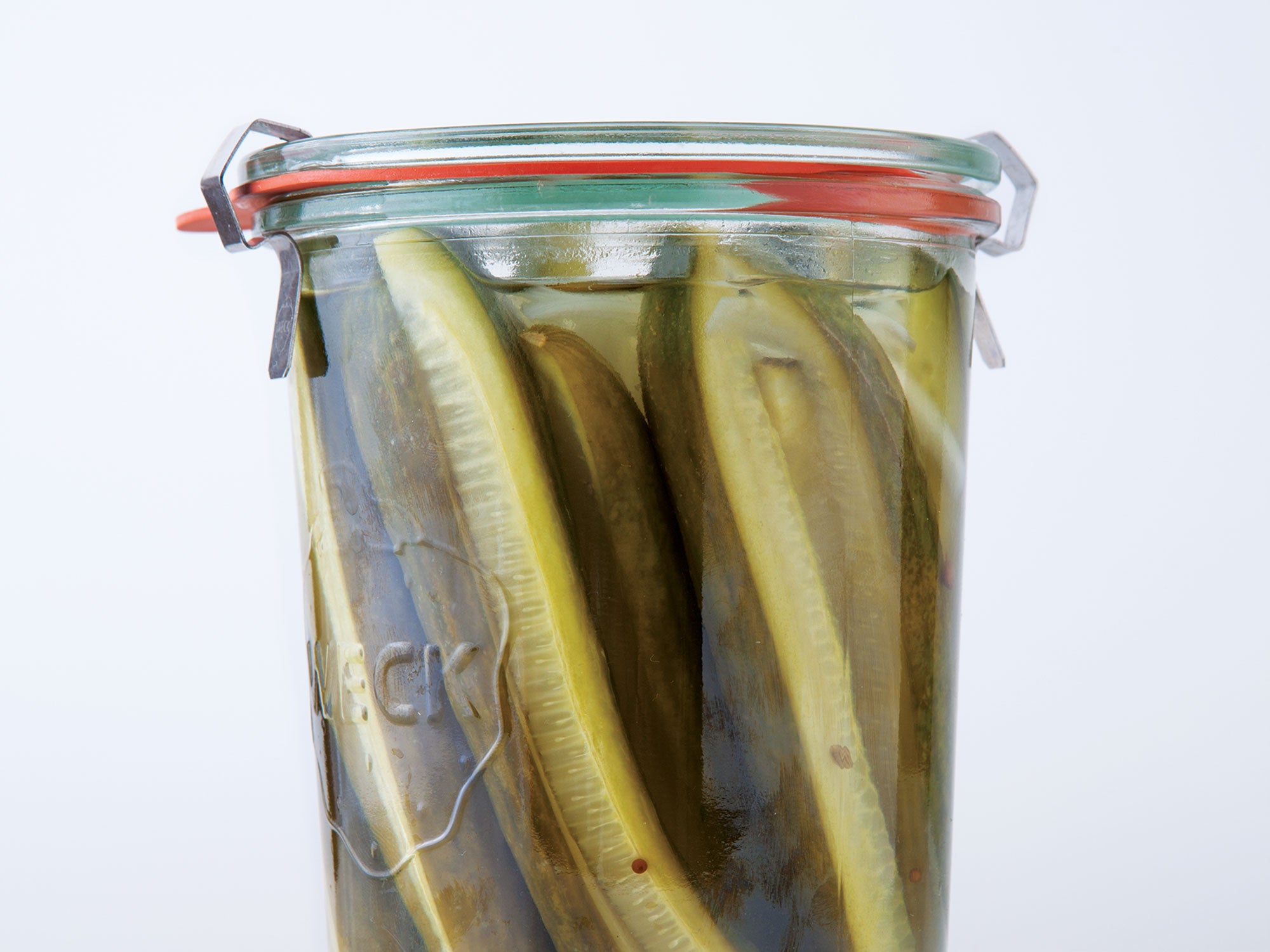 No sandwich plate is complete without pickles⁠—whether it's used as a crunchy topper, a tangy relish or simply served on the side. Get the recipe for D.I.Y. Pickles »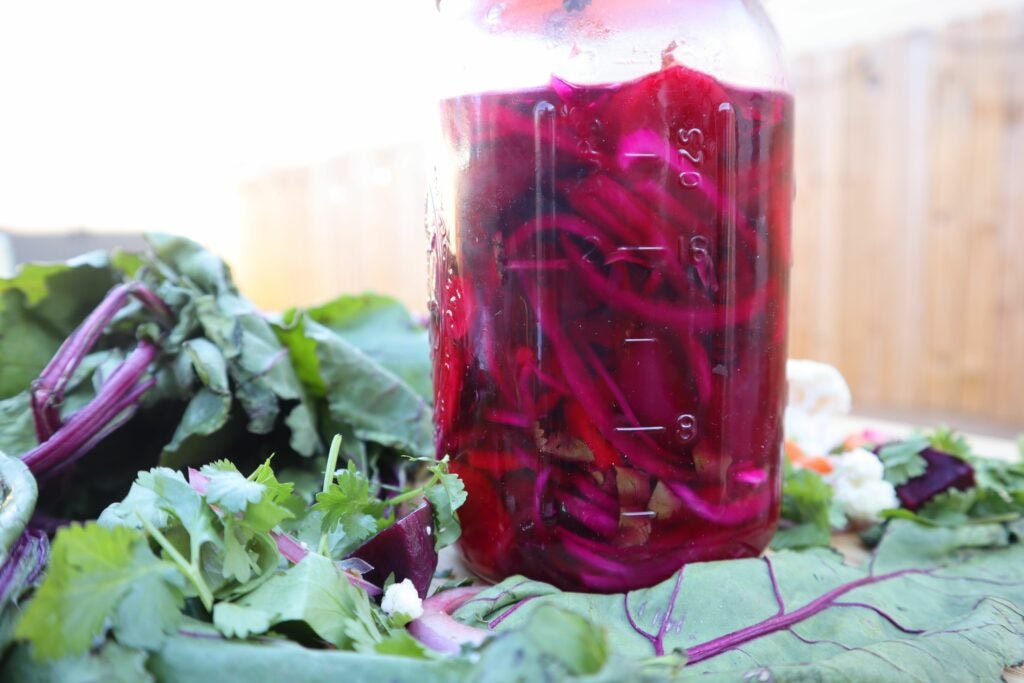 Whether in San Pedro Sula, the Bronx, or New Orleans, any local Honduran baleada spot will have a version of this pungent, Latin American condiment. Used to add bright crunch to all sorts of dishes from breakfast to dinner, the thinly sliced vegetable medley may be either quick-pickled in vinegar or lactofermented over time. Get the recipe for Honduran Encurtido »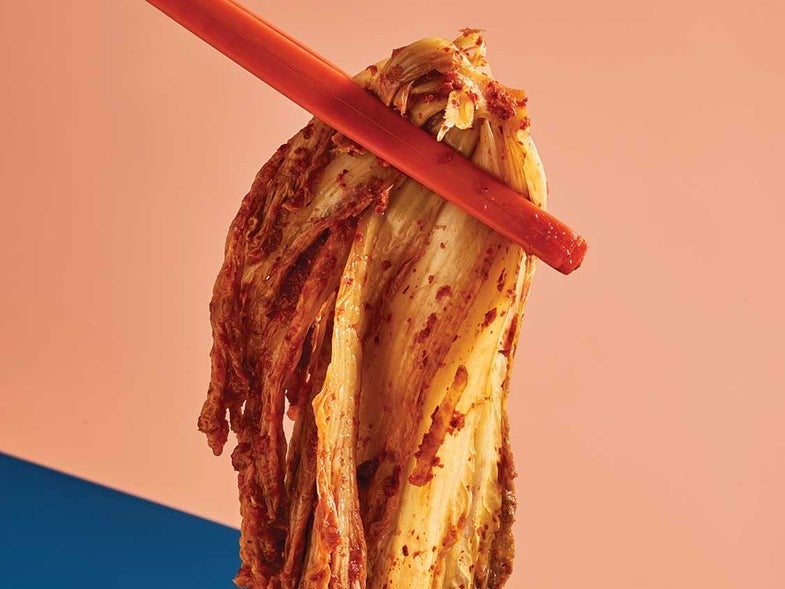 This recipe, from chef Esther Choi's grandmother, calls for a few crucial ingredients. It starts with sweet rice flour, fermented shrimp paste, dried pollack, and plum extract. Get the recipe for Traditional Kimchi »
A quick pickle of cauliflower, peppers, and golden raisins is a simple, perfectly acidic counterpoint to a rich main dish like flank steak. Get the recipe for Quick-Pickled Cauliflower »
This Malaysian-style mixed vegetable pickle is made with a rempah, or spice paste, stirred into the brine for an extra boost of flavor and texture. Get the recipe for Cauliflower, Cabbage, and Carrot Achaar (Malaysian-Style Pickle)»
Pickling takes the natural sweet-tart nature of the cranberry and amplifies it. Get the recipe for Pickled Cranberries »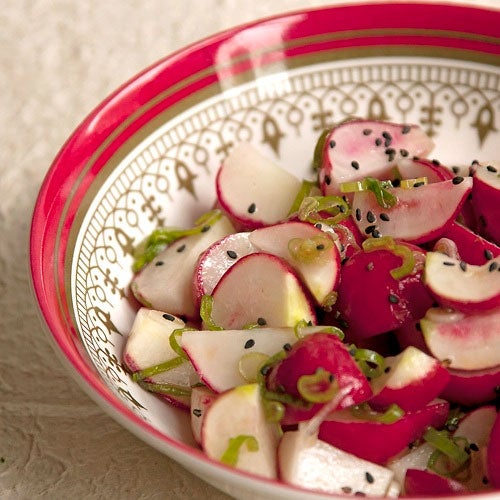 Crisp, spicy radishes get a dose of toasty warmth from sesame oil in this quick pickle, brightened with scallions and sesame seeds. Get the recipe for Pickled Radishes and Green Onion »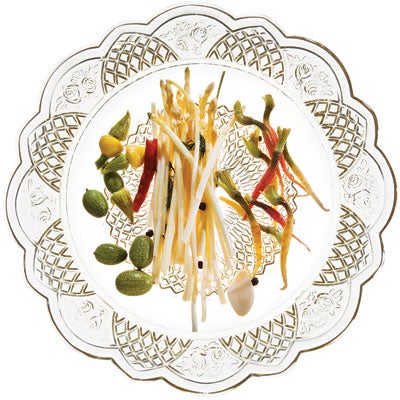 The recipe for this lacto-fermented mixed pickle is flexible: Use whatever vegetables happen to inspire you at the market, and feel free to tweak the seasonings. The benefit of using baby vegetables is not only aesthetic; their small size allows them to cure faster. Get the recipe for Mixed Baby Vegetable Pickles »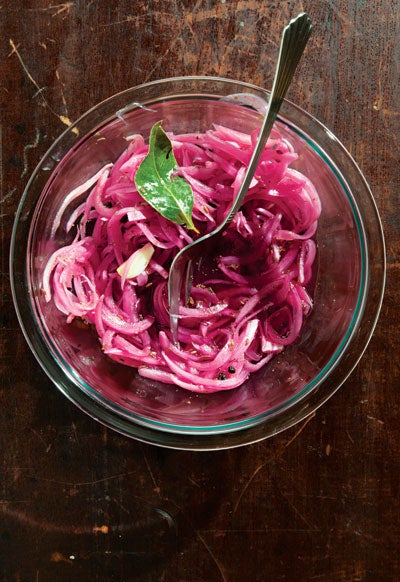 Red onions soak up the flavors of oregano and cumin in this classic pickle relish. Get the recipe for Yucatecan Pickled Red Onions (Escabeche de Cebolla) »
These Brazilian pickled chiles are a classic condiment alongside rice and beans, roast pork, or fish. Get the recipe for Brazilian Pickled Chiles (Conserva de Pimenta) »
Pickling is a great way to preserve ramps, the wild spring onions that overflow at the market for a few weeks each spring. Their garlicky flavor combined with a vinegary kick adds a bright punch to all sorts of dishes. Get the recipe for Pickled Ramps »
Unripe, green bananas pickled in a garlicky brine make a refreshing condiment alongside the roast pork shoulder. Get the recipe for Pickled Bananas (Guineos en Escabechea) »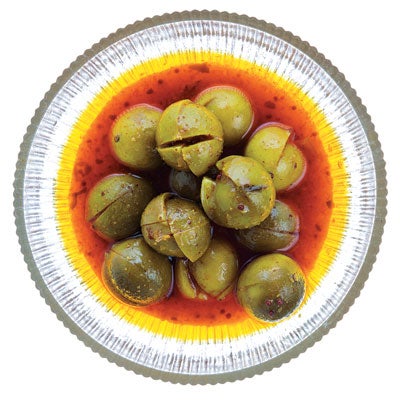 Tangy, tender lime pickles are a flavorful staple of India, a condiment that adds sour, spicy punch to meals. Get the recipe for Indian Lime Pickles »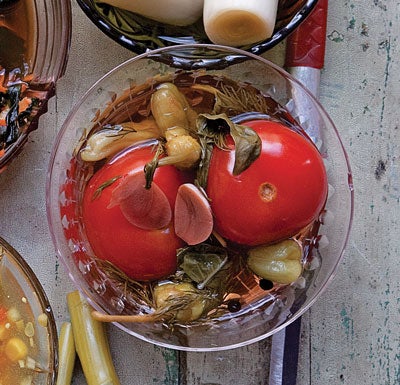 These quick pickles will improve as they sit. Make them ahead and keep them in the fridge for up to two weeks. Get the recipe for Pickled Tomatoes »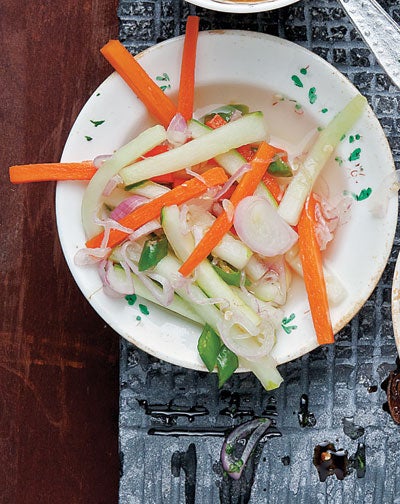 This relish is an easy-to-make version of Indonesian pickle. Get the recipe for Javanese Cucumber and Carrot Pickle (Acar Timun) »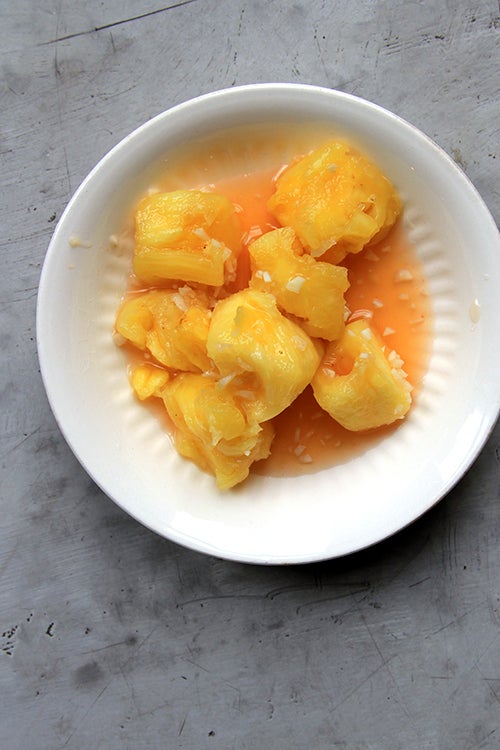 Garlic and Sriracha balance the sweetness of pineapple in this Southeast Asian-inspired pickle; a splash of fish sauce adds a robust savory edge. Get the recipe for Piquant Pickled Pineapple »
A salt and spice cure transforms fresh citrus into tart, briny pickles that perk up many Indian meals. Cookbook author Smita Chandra uses them as a condiment to punch up soft naan flatbreads and steamed white rice. Get the recipe for Spicy Lemon Pickle »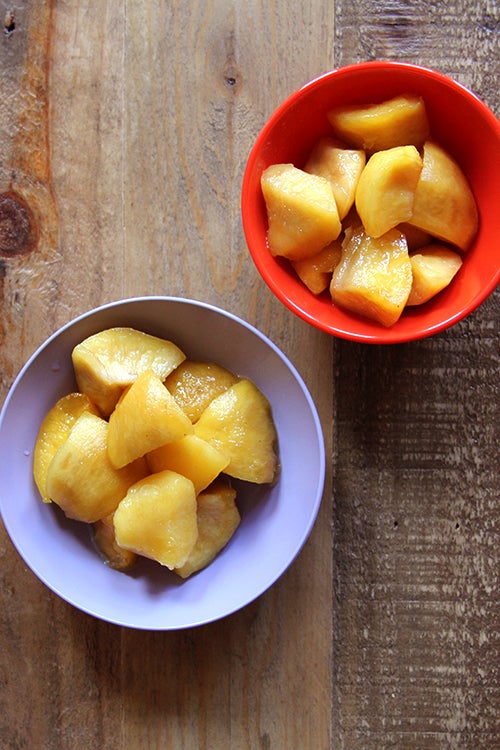 Ripe nectarines and a touch of rosewater transform into a fragrant condiment that's equally good topping ice cream as it is accompanying grilled meat or fish. Get the recipe for Nectarine Murabba with Cardamom, Lemon and Rosewater »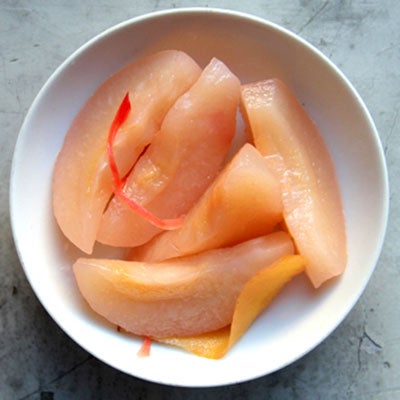 Developed by cookbook author Karen Solomon, this tangy, piquant Asian pear pickle tastes great on its own, on a chicken sandwich, in an arugula salad, or paired with blue cheese. If you can't find Asian pears, any kind of pear can be subbed in here; just look for specimens that are on the small and firm side. Get the recipe for Pickled Asian Pears with Lemon »
Dashi, an enhanced kelp stock with rich umami flavor, is a staple component of Japanese cooking; it has the remarkable effect of accentuating the flavors of anything cooked in it. Here, it adds depth to a pickle brine from award-winning cookbook author Hiroko Shimbo. We use radishes, but any sturdy vegetables, such as peppers, cauliflower, or onions, will do. Get the recipe for Vegetables Pickled in Kelp Vinegar »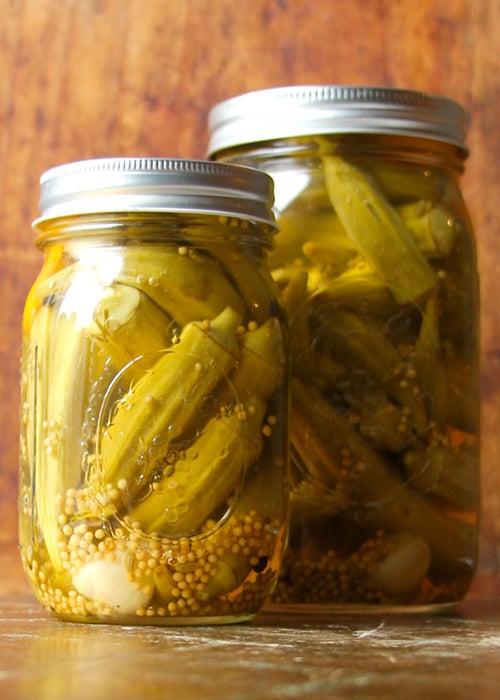 Based on a recipe from Eastern Shore musician William "Pooh" Johnston, these spicy pickles are a delicious accompaniment to summertime meals. Get the recipe for Spicy Okra Pickles »