8 Zesty, Puckering Pickle Recipes From Around the World
Turn your fruits and vegetables into these quick, crunchy condiments that pair with everything from bánh mì to barbecue.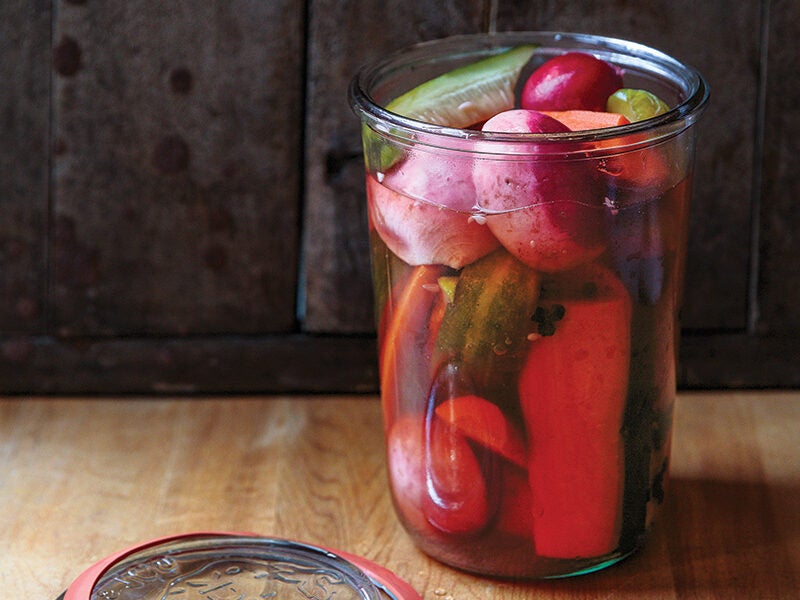 In the satirical Portlandia! "We Can Pickle That" sketch, fictional characters Bryce Shivers and Lisa Eversman mock hipster food culture by pickling bandaids, jewel cases, and dead birds while referencing the beloved 1960s children's book A Pickle for a Nickel. Pickles may cost more than a nickel now, but they remain essential on our hamburgers and bánh mì.
Late summer is prime pickling season. As fruits and vegetables arrive at farm stands and markets, fill your grocery bag with sweet watermelon with thick rinds, crunchy okra pods, bright-hued radishes, tiny chiles, unripe mangoes, and green tomatoes, and you'll be on your way to zesty South Asian achaars and Brazilian conservas. To ward against botulism and spoilage, be sure to use sterilized wide-mouth canning jars (which are great for easy scooping) and to submerge the pickles in a hot-water bath if that step is required.
These are our favorite pickle recipes from the archives—the ones we come back to again and again. If you've inherited your grandmother's silver pickle forks (or snapped up at a yard sale), it's time to bust them out.
Cookbook author Hiroko Shimbo uses a seaweed dashi as a base for this versatile, briny pickle. When radish season ends, move on to sturdy cauliflower or onions. Get the recipe >
Chef Cheetie Kumar boosts the flavor quotient of classic Southern pickled watermelon rinds with spices from her childhood home in Chandigarh, India in this achaar that she serves at Garland in Raleigh, North Carolina. Get the recipe >
This quick pickle only takes one hour to prep, making it a perfect last-minute condiment to accompany noodle dishes both cold and hot. Get the recipe >
Chef Mara Salles serves dozens of homey Brazilian conservas like this punchy chile pickle at her restaurant Tordesilhas in São Paulo. Get the recipe >
Fresh citrus cured with turmeric, cumin, and mustard seed is a tart, briny pairing for steamed white rice or naan, but we also like it with grilled chicken and juicy pork chops. Get the recipe >
PIckled okra is the perfect foil for pulled pork barbecue or fresh shucked oysters. And we also love them dunking them in a brunch-starting Bloody Mary. Get the recipe >
If you can't find daikon at the market, substitute purple turnips in this versatile đồ chua (Vietnamese for sour stuff) recipe from cookbook author Andrea Nguyen. Get the recipe >
Green mangoes simmered with fragrant cardamom and cloves create a tangy condiment we love to pair with everything from Hyderabadi dal to Jamaican jerk. Get the recipe >