Never Go Back to Bottled: Our 15 Best Vinaigrette Recipes
Land your salads and sides a spot on the best-dressed list.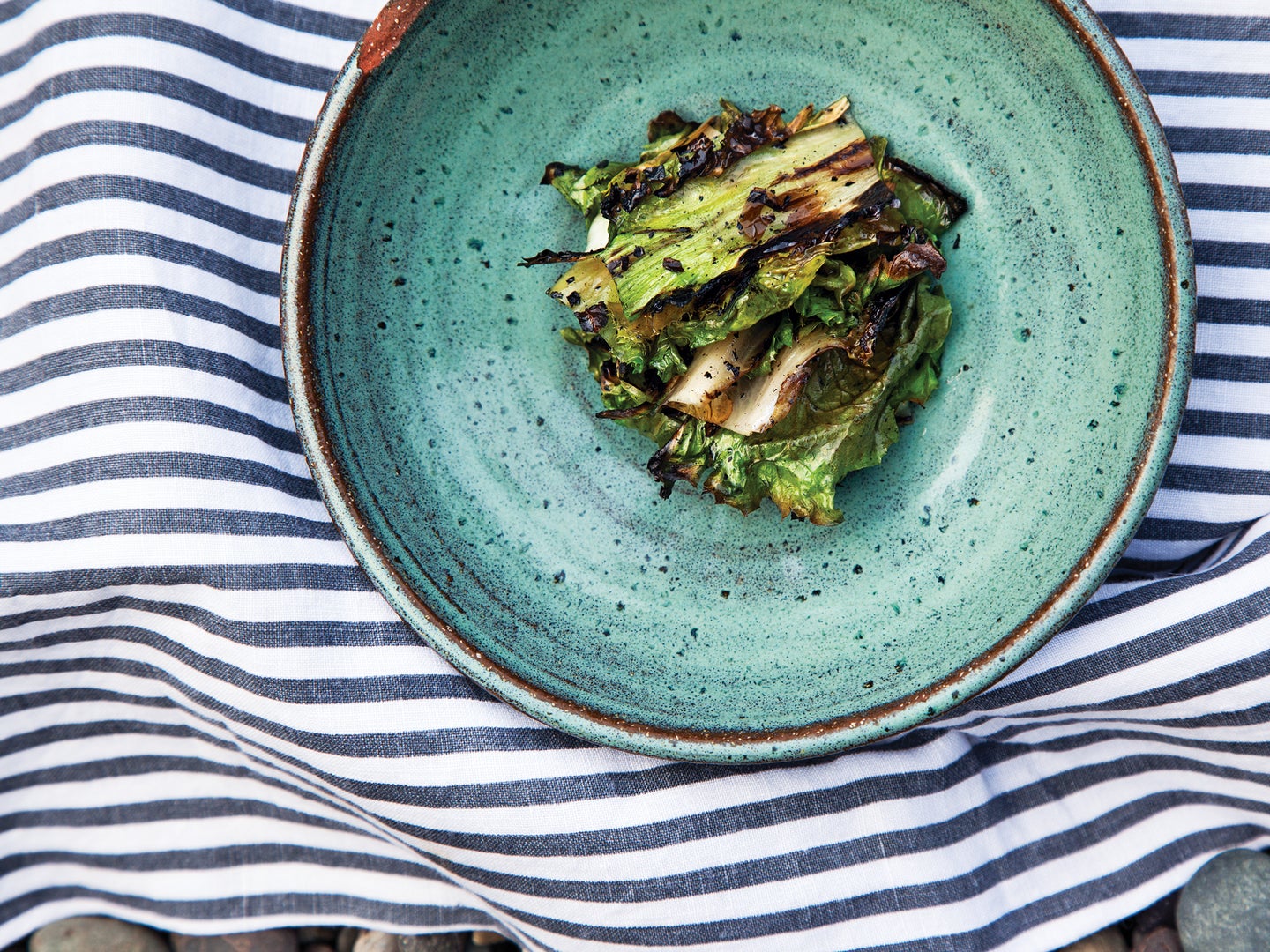 What are the best salads and grilled veggies without a splash of vinaigrette? This tart condiment—at its simplest, a two-ingredient emulsification of oil and vinegar—has the potential to lift the humblest of ingredients to tangy new heights. Grilled eggplant pops when dressed with a glug of fresh basil vinaigrette. Stodgy turnips, roasted to enhance their bitter-sweetness, shine when finished with a smoky bacon version. And earthy endives go the sweet route with a thick, honey dressing.
When making a basic vinaigrette, classically trained chefs are taught to start with a ratio of three parts oil to one part vinegar. For more oomph, a higher ratio of vinegar to oil will lend your dressings a lighter texture but more potently acidic punch. Since this basic formula calls for so few ingredients, quality matters: seek out the best vinegars and freshest oils available to you 
Neutral-flavored cooking oils like canola and grapeseed have a "clean" taste, showcasing the vinegar and any added seasonings, but there's also a time and a place for vinaigrettes made with robust olive and nut oils, or even bacon or duck fat.
When it comes to acidity, save the distilled white vinegar for cleaning. A good vinegar should be just as complex, evocative of the fruits, grains, or wines it's made from. These choice concoctions aren't just for salads. They can also be used to enhance fatty meats, seafood, and even cheeses. Here are our best vinaigrette recipes to up your homemade salad dressing game today.
Sliced, grilled vegetables served in a simple marinade or vinaigrette are a fixture at many Tuscan meals. Get the recipe for Grilled Eggplant With Basil Vinaigrette »
Peppery watercress, nutty sesame seeds, and earthy Korean chile flakes are brought together by an easy lemon vinaigrette in this simple cold-weather salad. Get the recipe for Watercress with Spicy Chile and Sesame Vinaigrette »
Carrots are roasted before being topped with crunchy pistachios and a sweet fig vinaigrette in a simple salad from Eli and Max Sussman's Classic Recipes for Modern People. Get the recipe for Carrot and Pistachio Salad »
Tiny turnips and their greens are roasted until sweet, then slicked with bacon fat and tossed with sherry vinegar in this warming side dish. Get the recipe for Roasted Turnips and Greens with Bacon Vinaigrette »
Wedges of gooey fried Camembert are served with both a sweet wine-spiked raspberry jam and a tart cranberry vinaigrette in this dish. Get the recipe for Fried Camembert with Ham, Melon, and Cranberry Vinaigrette »
Earthy pecans provide a nutty crunch, while Jorgelina Mandarina's riff on salsa criolla—a staple at any Argentine home asado or barbecue stand—adds freshness and peppery heat to plomo squash. Get the recipe for Fire-Roasted Pumpkin with Pecans, Honey, and Jalapeño Dressing »
This easy and elegant mussel recipe comes from chef Hélène Darroze's family in the southwestern French commune of Langon. An herbed vinaigrette spiced with piment d'Espelette brightens the bivalves. Get the recipe for Mussels with Herbed Vinaigrette (Moules Vinaigrette) »
Bitter dandelion greens and sturdy puntarelle (an Italian chicory) stand up to honey-mustard vinaigrette in this assertive spring salad from New York chef Elise Kornack. Get the recipe for Puntarelle and Dandelion Salad with Honey and Olive Vinaigrette »
Pasta salads are essential summer food: they travel well; they're easy to adapt to whatever produce you have on-hand; and they're simple to make in large portions, making them perfect dishes to carry to parties, picnics, and barbecues. Get the recipe for Sausage and Arugula Pasta Salad »
Grilling adds smokiness to summer squash, a flavor that chef Steven Satterfield of Atlanta's Miller Union balances with bright ingredients like vinegar, chile, and honey. Get the recipe for Grilled Squash and Scallions with Chile-Honey Vinaigrette »
A dish as simple as caprese salad demands the best ingredients: Use firm, in-season tomatoes, the freshest burrata, and dress with pristine olive oil and top-quality balsamic vinegar. Get the recipe for Caprese Salad »
A thick honey vinaigrette pairs with pleasingly bitter endives that are steamed, grilled, and marinated in this recipe from Castle Hill Inn in Newport, Rhode Island. Get the recipe for Endive Salad with Bee Pollen Vinaigrette »
Tacolicious owner Sara Deseran first discovered this smoky salad, from Neil Fraser of LA's Redbird, while cooking at the annual Sabores San Miguel festival in Mexico. The trick to getting tender, flavorful octopus is boiling it first, then marinating and grilling it. Get the recipe for Grilled Octopus with Chickpeas, Cherry Tomatoes, and Anchovy Vinaigrette »
At The Willows Inn, chef Blaine Wetzel presents a version of this chopped salad as a composed dish. Tossing the hot, just-grilled escarole and apples with the cold vinaigrette intensifies the flavor of the vinegar. Get the recipe for Charred Escarole Salad »
This dish of crisp haricots verts paired with a quick Dijon vinaigrette makes a simple, easy-to-transport side that's great for picnics or summer barbecues. Get the recipe for Haricots Verts with Dijon Vinaigrette »