Contain Cooking Messes and Keep Countertops Clean with the Best Splatter Screens
Let's hear it for an easy, breezy clean-up.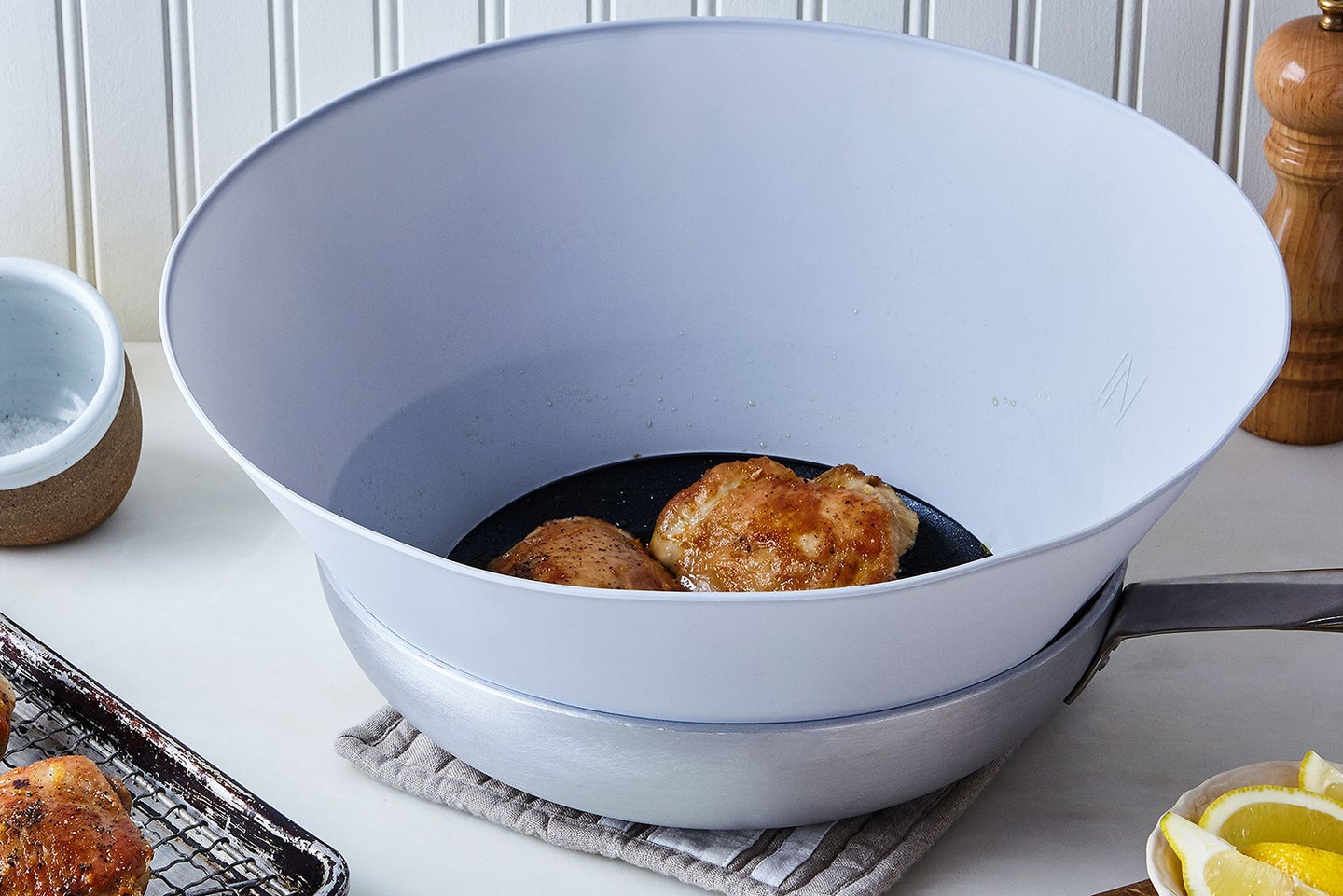 We may earn revenue from the products available on this page and participate in affiliate programs.
As exciting and satisfying as it is to experiment with new stir-fries or pull together a quick seared salmon, the oil used to cook these dishes can scatter all over the stove and beyond—to the backsplash, the countertops, your apron, you name it. And hot messes aren't just tedious to remove from surfaces; they can also give you the kind of nasty burn likely to put a damper on your meal.
Enter the splatter screen, a simple utensil you can place atop sauce pots and sauté pans to trap projectile oil and enthusiastically bubbling liquids. The mesh of a splatter screen is fine enough to contain grease but will still allow steam to escape—and lets you keep an eye on food as it cooks. "Covering a pan when frying is safer and less messy because you reduce the amount of hot oil flying around," attests Fuchsia Dunlop, author of cookbooks The Food of Sichuan, Every Grain of Rice: Simple Chinese Home Cooking, and others. "You don't get burnt, and cleaning up afterwards is much easier."
Not surprisingly, splatter screens have become quite popular, which means there are a lot of choices on the market. Read on for pro advice on what to look for in this tool, plus details on our seven favorites.
Features to Keep in Mind
Size
Ideally, a splatter screen will fit securely over your pan. Too small and it could fall inward onto the food; too large and the overhang could be cumbersome. Some splatter screens feature concentric grooves that let it rest securely on pots and pans of different sizes. Take note of the diameter of your cookware to determine how large your splatter screen should be.
Design
Various types of splatter screens are designed to suit different recipes, and sometimes, they're not technically "screens" at all. If you do a lot of frying and sautéing, select a conventional model with holes large enough to let steam escape (thus preventing moisture build-up in the pan). If you mainly wish to prevent pastas and sauces from boiling over onto the stovetop, choose an option with finer mesh that can double as a lid. For dishes that require constant stirring, look for a product that sits inside rather than on top of the pan—essentially creating a wall around the food that contains mess while still giving you access.
Material
Splatter screens are most often made of either stainless steel or silicone, which both have pros and cons. A stainless steel model will be sturdy, durable, and resistant to rust and corrosion. Many stainless steel models are also dishwasher-safe. The mesh is generally very fine, designed to trap tiny droplets while ensuring that moisture and heat are released. But be careful with steel, as it can get hot to the touch. A silicone splatter screen will likely withstand high heat and offer reliable stain resistance. It's a soft, flexible material, which should also eliminate any concern of scratching nonstick cookware. However, most silicone splatter screens tend to have larger holes and may trap more steam and heat in the pan.
Our Top Picks
This splatter screen will become your favorite sidekick for all things frying, sautéing, and searing. The perforated stainless steel does a great job of containing splatters while still letting steam escape. A series of concentric grooves allows the screen to rest comfortably and securely on different pots and pans of up to 13 inches, so you'll never worry about it sliding off. Cleanup is a quick scrub with warm soapy water, or simply run it through the dishwasher. Before stowing, fold the handle inward to make it even smaller.
For a simple, no-frills option that's easy to use and gets the job done, Dunlop turns to this splatter screen. "In general, I prefer classic, simple kitchen implements, and this is one of them," she says. "It's a sturdy, dishwasher-safe, all-in-one piece without a separate handle—and it's got a loop handle so I can hang it on the backsplash behind my stove," she says. Dunlop reaches for this stainless steel splatter screen often, especially when frying "wet" foods that are "likely to create a lot of spitting fat: marinated meat, poultry, fish, and pot-sticker dumplings, especially," she explains.
Don't get us wrong, we like fried fish. What we don't like? Smelling the aftermath for the next few days. This splatter screen is designed with activated carbon filters, which help to absorb food smells and keep odors from dissipating throughout your home. Though the screen traps splatters and smells, the fine weave allows steam to escape, ensuring your food cooks to the correct consistency and texture.
Stir-fries often demand constant, well, stirring, and a particularly saucy recipe can send liquid spraying onto the stovetop. To the rescue: the Frywall, invented by a home cook stymied by splatter guards that didn't allow access to food while cooking. Instead of a mesh screen that lies on top, this cone-shaped stroke of genius rests inside the pan. It creates a flexible silicone fortress around the food to contain splatters, yet still lets you stir, mix, and flip as needed. Think of it as a tool that makes pots and pans taller, keeping sauce off the stove and food where it belongs. Bonus: The Frywall rolls up into a sleeve for easy storage.
Have you ever turned your back for a few seconds, only for pasta water to boil over and spill its starchiness all over your stovetop? Next time you're making pasta, rice, or sauces, reach for this innovative splatter screen. It keeps sufficient moisture in the pot yet won't trap so much steam that the liquid reaches that point of no return. Made from heavy silicone that can withstand temperatures up to 400 degrees Fahrenheit, this splatter guard essentially doubles as a lid, but one that will save you from racing madly across the kitchen to stop a pot from making a mess.
If cleanup duties made you swear off frying, it's time to revisit the method. This stainless steel mesh splatter screen boasts holes that are large enough to prevent condensation build-up, yet small enough to keep your stovetop and clothing grease-free. "It grabs any liquid that tries to fly out of the pot during cooking, be it hot oil or pasta sauce," says Nik Sharma, author of cookbooks Season: Big Flavors, Beautiful Food and The Flavor Equation: The Science of Great Cooking Explained. Sharma also says the screen's 13-inch size matters: "I like that it covers the width of most of my pots and pans. I like to keep a 1/2-inch overhang on the screen but not more."
Ask the Experts
How do you clean a mesh splatter screen?
A mesh splatter screen may be prone to collecting grease and food particles in its fine holes. Some splatter screens are dishwasher-safe, while others require hand-washing to remove the residue, so be sure to read product descriptions for the manufacturer's directions. "I put mine in the dishwasher," says Dunlop. "But a good scrub with washing-up liquid usually works, too." For extra cleaning power, use a cleaning brush or scrubbing sponge. And when confronted with particularly stubborn debris, mix together some baking soda and dish soap and apply it to the screen. Scrub it in well, then rinse thoroughly and wipe the screen dry with a kitchen towel before stowing it away.
The Last Word
We hear you: Cleaning up after cooking can make you want to order takeout. But messy splatters and oil mist needn't keep you from frying, searing, and making sauce. A quality splatter screen can help contain most spray and droplets—protecting you, your clothing, and your kitchen surfaces. After a great meal, you can spend less time scrubbing the stovetop and wiping the counters, and more time in postprandial relaxation.