Recipes
Skillet-Roasted Squash with Oregano, Mint, and Cheese
Serves

serves 6

Cook

50 minutes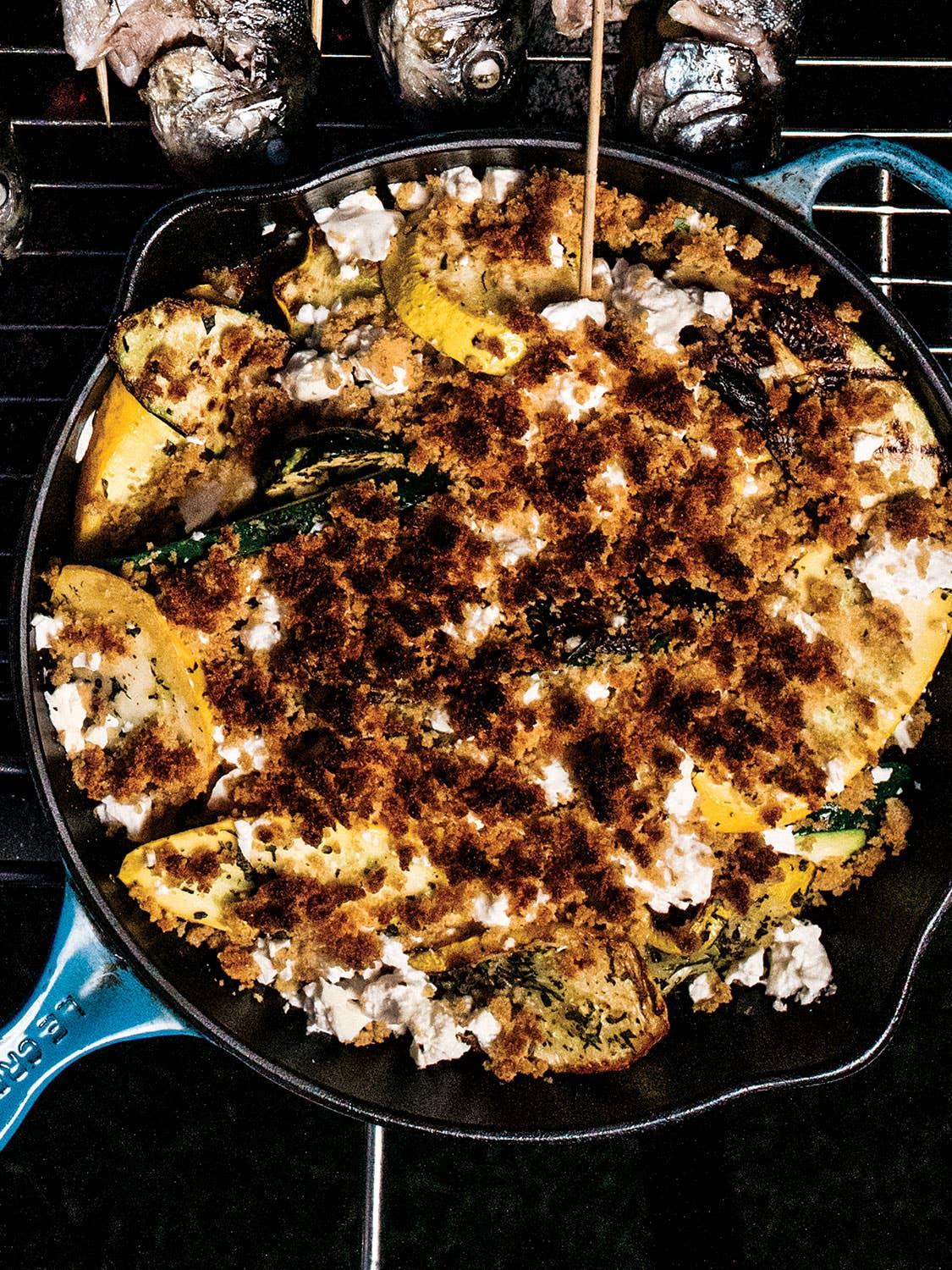 A cast-iron pan and a hot oven are all you need to whip up this easy side dish indoors. If, like Olympia Provisions chef and charcutier Elias Cairo, you're making this dish outside, first char the zucchini and yellow summer squash over a fire, then add the fresh cheese, herbs, and breadcrumbs, cover the pan, and cook it in coals for a bronzed campfire casserole. The results are equally delectable either way.
Ingredients
2 medium yellow squash (1 lb. total), sliced ⅓-inch-thick
2 medium zucchini (1 lb. total), sliced ⅓-inch-thick
½ cups extra-virgin olive oil, divided, plus more for drizzling
2 tsp. finely chopped fresh oregano
1 tsp. finely chopped fresh mint
½ cups fresh sheep's-milk cheese, feta, or mozzarella, crumbled or shredded
½ tsp. chile flakes, or more to taste
Kosher salt
½ cups dried breadcrumbs
Instructions
Step 1
Set a rack in the center of the oven and ­preheat to 450°F. In a large bowl, add the yellow squash and zucchini. Drizzle with ¼ cup of the olive oil and toss to coat.
Step 2
Heat a large cast-iron skillet over ­medium-high heat, then add one-third of the vegetables. Cook until the pieces are evenly browned, about 3 minutes per side. Transfer to a large bowl and repeat with the remaining vegetables in two more batches.
Step 3
Remove the skillet from the heat. To the ­vegetables, add the oregano, mint, and cheese. Season with the chile flakes and salt to taste. Toss well to combine, and return the squash mixture to the skillet.
Step 4
In a small bowl, add the breadcrumbs and the remaining 1⁄4 cup olive oil. Stir to combine, then sprinkle the crumbs evenly over the squash mixture. Bake until the crumbs are browned and crispy, the squash is very tender, and the cheese is bronzed and bubbly, 15–18 minutes.
Step 5
Remove the pan and let cool at room ­temperature for 5 minutes, then drizzle with additional olive oil, if desired. Serve hot or at room temperature.