Recipes
Sour Raspberry Floats with Marshmallow Crème
Serves

makes 8 floats

Cook

40 minutes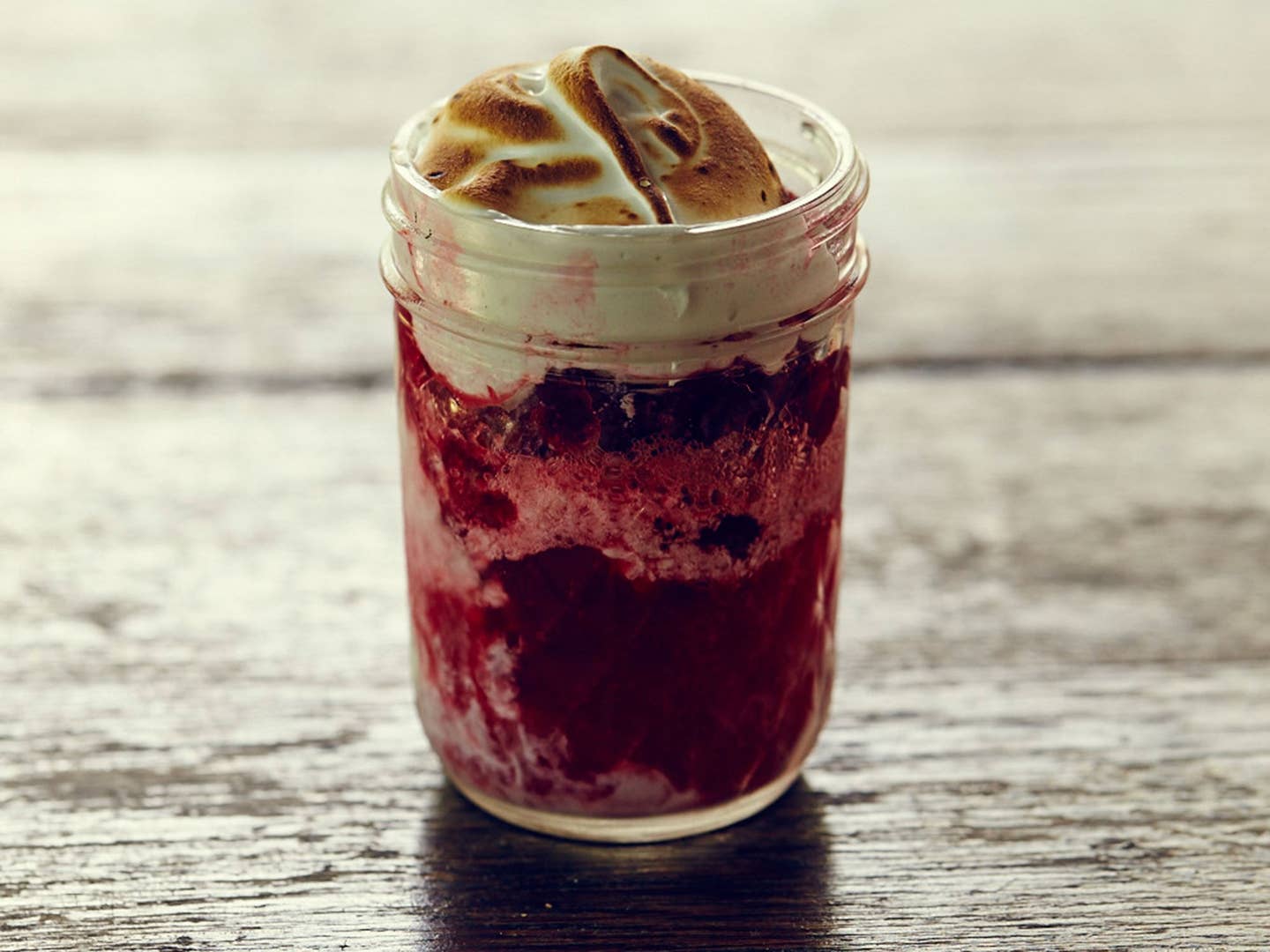 For the fermented juice in these floats, frozen raspberries work best because they're pasteurized, which will prevent any off-flavors or bacteria from occurring in the juice. The vinegar in the marshmallow crème adds a pleasant tanginess to cut its sweetness. Note: Allow 5 days for fermentation.
Ingredients
10 oz. frozen raspberries, thawed
1 cup sugar
1 tbsp. fresh lemon juice
2 cups fresh raspberries (8 oz.)
2 egg whites
1 tbsp. white wine vinegar
1⁄2 tsp. vanilla extract
1⁄4 tsp. cream of tartar
1⁄4 tsp. kosher salt
Vanilla ice cream, for serving
Instructions
Step 1
One week before you plan to serve the floats, make the sour raspberry juice: In a bowl, stir the thawed raspberries with 1⁄3 cup of the sugar and 2 cups boiling water until the sugar dissolves. Let stand until cooled to room temperature, about 30 minutes.
Step 2
Pour the raspberries and liquid through a fine sieve set over a bowl and stir, without pressing the berries, until drained. Discard the spent raspberries or save for another use. Stir the lemon juice into the raspberry juice and cover with plastic wrap. Let stand at room temperature until fizzy and fermented, 5 days.
Step 3
Uncover the raspberry juice and pour it through a fine sieve lined with cheesecloth into small pitcher. Cover with plastic wrap and refrigerate until ready to use. In a separate bowl, toss the fresh raspberries with 3 tablespoons of the sugar and let stand, stirring occasionally, until the berries break down and the sugar dissolves, about 2 hours. Cover with plastic wrap and refrigerate until ready to use.
Step 4
Make the marshmallow crème: In a large metal bowl, whisk the remaining 1⁄2 cup sugar with the egg whites and then place the bowl over a pan of simmering water. Whisk the egg whites and sugar constantly until the sugar dissolves and the whites are hot to the touch, about 3 minutes; an instant-read thermometer inserted into the whites should read 140°. Remove the bowl from the pan and add the vinegar, vanilla, cream of tartar, and salt. Using a hand mixer, whisk the whites and sugar until cool to the touch and stiff peaks form, 8 to 10 minutes
Step 5
To serve, fill eight 8-ounce jars or glasses halfway with ice cream and then spoon the macerated fresh raspberries over. Pour about 1⁄3 cup raspberry juice into each float and then cover with a large dollop of marshmallow crème. Serve immediately or use a kitchen torch to brown the top of the marshmallow crème.