Sponsored Post
Introducing Your Favorite In-Home Pizzaiolo: You
Well, you and your Ooni Volt, the only electric oven that can fire up pizzas both indoors and out.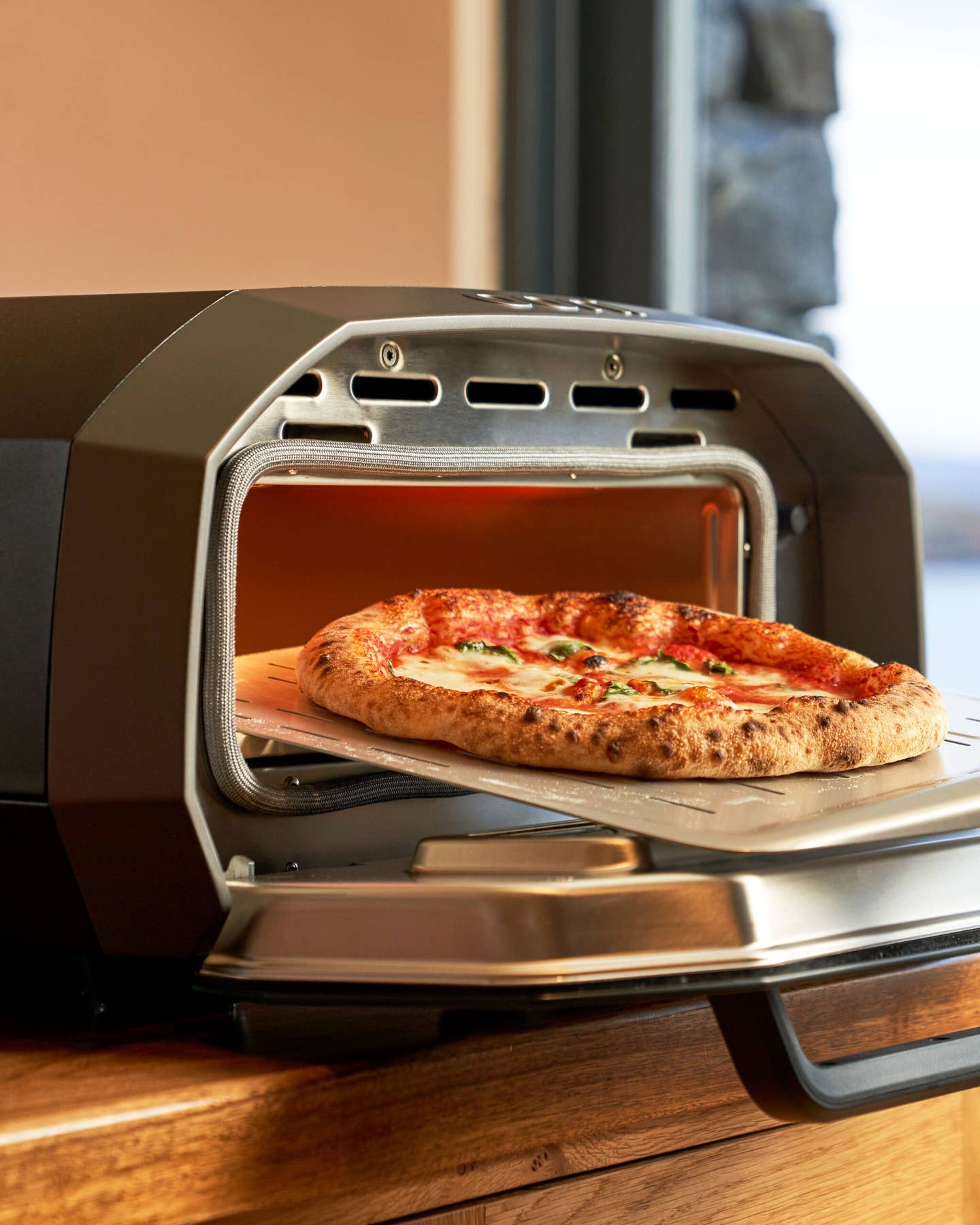 There's nothing like a pizza hot from the oven—the cheese still bubbling atop a puffy, blistered crust. Until recently, that kind of pizza perfection was limited to restaurants with seasoned pizzaiolos and wood-burning ovens. My homemade pies were lackluster at best; conventional ovens, I learned, don't get ripping-hot enough to achieve that crispy, chewy crust.
But a year ago, Ooni's gas-fueled oven changed the game at my house—as it did for many cooks across the country. Suddenly I had the power to turn out beautiful pizzas on my back patio in record time. What was once a lost cause became an obsession as I perfected my dough's hydration levels and fermentation time, and experimented with sauces and toppings.
There was only one hitch—subjecting myself to whatever extreme weather had landed on my doorstep didn't always appeal. Enter the Ooni Volt 12, the first indoor pizza oven of its kind. It hit the market this spring and has quickly become my go-to rain-or-shine pizza partner.
At first glance, the Volt 12 resembles Ooni's other products, with its black casing and gray accents. However, the Volt 12 has a triple-paned borosilicate glass door with a handle that remains cool to the touch—even when the inside of the oven is a roaring 850 degrees Fahrenheit. I found that the door (and the entire oven) is so well insulated that very little heat escapes at all, making it welcome in small kitchens prone to overheating.
The Volt 12 is also exceptionally precise. Whereas flames require close monitoring and are harder to control, the Volt 12's electric heating coils are regulated via a temperature dial (we love a dial!). Additionally, there are adjustable heating elements both above and below the pizza stone. Whether I'm going full leopard on a Neapolitan pie or channeling my favorite New York pizzeria, the ability to turn things up or down mid-bake helps prevent soggy bottoms and charred tops.
Then there's the stone. Forget preheating for an hour (while your house preheats, too): The Ooni Volt 12 reaches its maximum temperature within 20 minutes and quickly comes back up to temperature between pizzas. I also found the 13-inch stone to be quite roomy for my needs; a deep-dish pan fits easily inside. Its generous size offered more wiggle room when rotating the pizza as well, something that has to be performed with urgency and precision when cooking with an open flame. (Unfortunately, pizza-turning is a skill you'll have to master on your own, regardless of how fantastic your pizza oven is.)
The built-in timer is also a welcome tool, particularly when I'm cooking on my second glass of wine, or when there's commotion (cinders are not a crowd-pleasing topping at a pizza party, it turns out). Equally helpful is the oven light, which helps me watch the pizza's progress, and the ability to instantly change the temperature or balance the heating elements.
Overall, the Volt 12 accomplishes everything it sets out to do, and more. Not only is it a perfect oven for indoor cooking—it is weather-resistant and portable (it even has handles), so it can come along on adventures—as long as there's a plug. There's also no chance of running out of propane or wood at an inopportune time, a particular type of agony that will stop pizza night in its tracks.
As I've realized over the last few months, a well-made pizza oven is an investment that pays off—in pizza, family fun, and happiness.