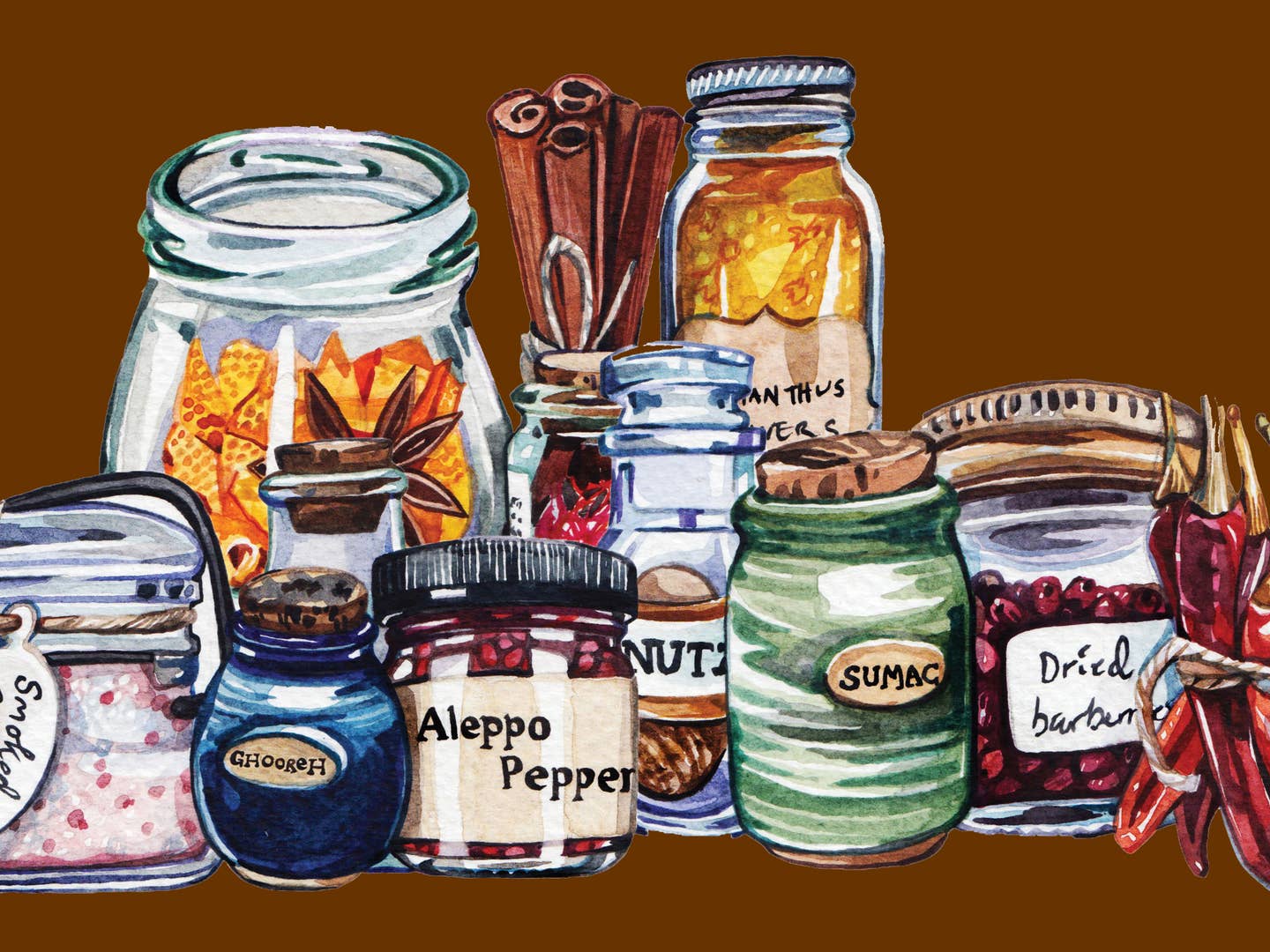 Techniques
Start Dinner with Your Spice Rack
The most interesting flavors in your kitchen are going stale right now; why not put them to good use?
"I'm going stale," it whispered. "Use me."
I am an admitted hoarder of spices. Some people amass shoe collections. I fill my pantry with all manner of enticing, fragrant spices, even—and sometimes especially—the ones I have no particular plan to use. On a recent trip to Kalustyan's, that most wondrous taste bazaar on the east side of Manhattan, I picked out a few items I was looking for (Iranian saffron, Aleppo pepper) and a bunch I wasn't. Who could resist a little bag of baharat, a Middle Eastern spice blend with a whisper of sweetness? Who knew when I'd need some osmanthus, flowers of an East Asian evergreen shrub?
The truth is my spice-buying habit isn't much of a vice. Even that splurge on Iranian saffron set me back only $20. The return on investment is this: the promise of more enchanting dinners at home with my family. The mere presence in my spice drawer of a bit of powdered anardana (dried pomegranate seeds) or shichimi togarashi (typically orange peel, black and white sesame seeds, cayenne, ginger, Sichuan peppercorns, and nori) offers the chance that a mundane meal might take an interesting, transporting turn.
Much as I would like to cook the way they do in magazine photo spreads—a feast conjuring faraway lands, a steamy tagine, exquisitely mismatched linens—the truth is that life often gets in the way. These days I'm more likely to sprinkle that shichimi togarashi on a bowl of popcorn than prepare an authentic Japanese meal.
When I do find time to cook, that trove of spices is there, ready to point me in the direction of far-flung inspiration. Rather than work backward from a dish or a cuisine, I often start with the flavor and build a meal around an unfamiliar (and often neglected) citizen of my spice drawer.
Heidi Swanson's latest book, Near & Far, offered a tempting and accessible rendition of aloo bhaji. Yellow mustard seeds and fenugreek were called for, and, needless to say, I had both at the ready. It went beautifully with lassis flavored with some of my Iranian saffron. On a roll, my husband and I turned to grilled Vietnamese pork balls, part of an elaborate vermicelli dish that called for powder made with toasted sticky rice, kaffir lime leaves, and lemongrass.
My sulking sumac sent me looking through the encyclopedic tome Spice: Flavors of the Eastern Mediterranean by Boston chef Ana Sortun. The book is divided by ingredient groupings. There's a section on "The Three C's: Cumin, Coriander, and Cardamom," another called "Sumac, Citrus, and Fennel Seed."
When friends dropped by I made Sortun's lamejun, a flatbread I topped with sumac-and-za'atar-spiced ground chicken, pistachios, and roasted peppers, followed by scallops sprinkled with her "fish spice"—a name that does not even begin to live up to the depth of flavor it delivers. To make the blend, you start with the zest of three oranges, toasted in the oven overnight with only the pilot light burning. The dry zest goes into the grinder with sumac—a whole quarter cup!—fennel seeds, and Aleppo pepper. Paired with lemony couscous, it was sunshine on a plate.
The bonus of all this good eating is that once I've experimented with new spices it becomes easier to work them into my weekly cooking routine. It turns out my finicky toddler really likes saffron lassis. And a dash of that fish spice uplifts an everyday, pedestrian tuna salad.
More than that: Each time I clear one little jar out of my spice drawer, there's room for another new spice to move in, another adventure to be had.