The 2019 SAVEUR Gift Guide: Bottles We Love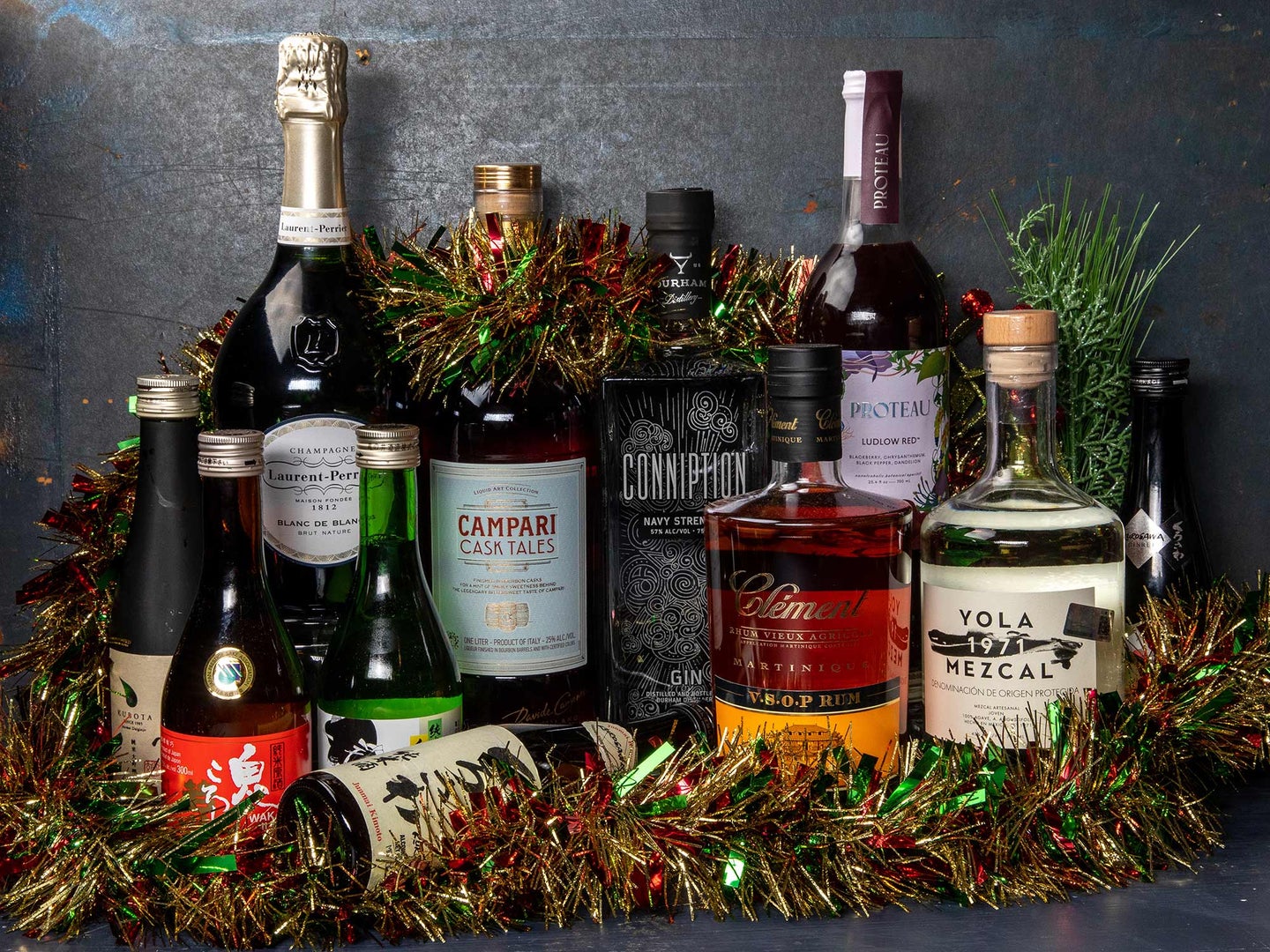 From fancy bubbles to fireside sippers, here are ten gift ideas that are sure to delight the serious drinks nerd in your life.
Hampden Estate Pure Single Jamaican Rum
Rum gets much of its flavor from fermentation, when yeast turns cane sugar into alcohol. This phase is a lot like baking bread. And if most rums are sterile white Wonder Bread, the wild rums from Jamaica's Hampden Estate are more like a naturally-leavened crusty, tangy sourdough. The distillery uses long, slow, naturally-occurring fermentation, and yeasty, funky flavors jump out of the bottle, even after years in barrel. –Chris Cohen, senior editor
Jacquesson 741 Champagne
Most Champagne makers will tell you their non-vintage product never changes—that they are able to blend to a consistent house style year after year. Venerable house Jacquesson takes an opposite tack, clearly labeling each year's non-vintage release. (741 is based on the 2013 vintage.) Following along is fascinating, and it always tastes incredible. –C.C.
Campari Cask Tales
Whether I'm in a Negroni or Boulevardier phase, I always have Campari on my bar cart. So I was super excited when the bourbon-barrel-finished Campari Cask Tales was released last year, in honor of founder Davide Campari's 150th birthday. The only catch was that the bottle wasn't available in the U.S.—until now. Snap one up this holiday season and save yourself a future plane ticket to Italy. –Frances Kim, digital editor
Durham Distillery Conniption Navy-Strength Gin
When I'm making that aforementioned Negroni at home, I like to experiment with different gins. My latest go-to is Durham Distillery's Conniption navy-strength gin; it's bright, earthy, and impossibly smooth, making it a stellar base for Negronis yes, but also martinis, gimlets, and so much more. –F.K.
Proteau
An excellent option for the zero-proof people in your life, Proteau is a new nonalcoholic drink from John deBary, the former bar director of Momofuku in New York. Combining blackberry juice, fig vinegar, and all kinds of botanical extracts, from rose and hibiscus to licorice and black pepper, it's as rich and complex as a well-made cocktail—and the same hue as wine. While the aperitif is meant to be enjoyed on its own, chilled, it's also great with a splash of soda water, as a spritz. –F.K.
Forthave Spirits Coffee Liqueur
In collaboration with Cafe Integral, Forthave Spirits uses a cold brew extraction and a ground bean maceration to make this coffee liqueur, the latest botanical spirit in their "Color" series. It's the perfect cross between an after-dinner drink and a cup of coffee, and absolutely fantastic drizzled over vanilla ice cream. –D.J. Costantino, associate digital editor
Tippsy Sake Box Subscription
Do you have a sake-lover in your life who wants to learn more about it? Or do you have a hard time finding interesting, high-quality sakes at your local liquor store? Tippsy is here for you. The massive online sake shop has launched a monthly tasting box program. For $59/month, they'll ship a selection of three 10-ounce bottles, along with tasting notes, serving and pairing suggestions, and QR codes to help you find and re-order any bottles you fall in love with. Sign up on a month-to-month basis, or pre-order discounted 3-, 6-, or 12-month packages. –Kat Craddock, test kitchen director
Clément Rhum Agricole V.S.O.P.
Rhum agricole—rum distilled from sugarcane juice on the French Caribbean islands—tends to have a more delicate, grassy flavor than commercial, molasses-based rums. (Last year, our senior editor Chris Cohen visited Martinique to find some of the island's best bottles.) This complex, sippable expression from Clément is aged for four years in a combination of new French oak and bourbon barrels. With lots of chocolate and creamy caramel up front and a faintly savory, green finish, this is the ideal gift for anyone who prefers to drink their dessert. –K.C.
Laurent-Perrier Blanc de Blancs Brut Nature
This new, non-vintage cuvée from Laurent-Perrier is made with 100% Chardonnay. While brut nature Champagnes (i.e. no sugar added) can tend toward jarring, the high, citrusy notes in this pretty wine are mellowed by a soft creaminess that gives it a custardy, lemon-curd finish. One of my favorite wines of the year. –K.C.
Yola Mezcal
If you're looking for a gift you can feel good about this holiday season, pick up a bottle of Yola Mezcal. Refreshing, smooth, and not overly smoky, the spirit is handcrafted and bottled by women in Oaxaca. By only hiring women, the brand promotes economic independence for the women in its community. –Stefanie McNamara, Communications Director