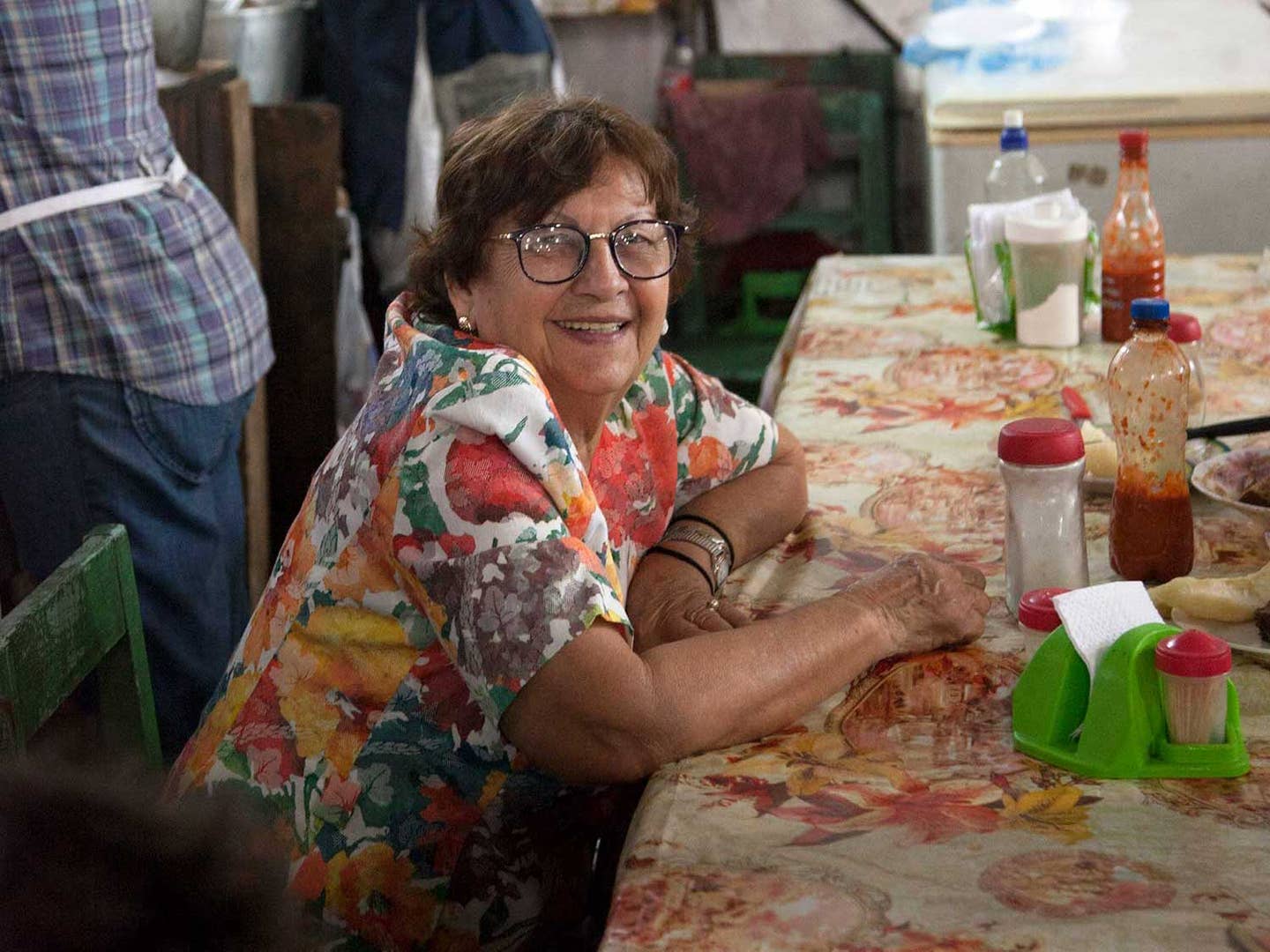 Culture
Lunch with a Paraguayan National Treasure
Culinary historian Graciela Martínez champions the landlocked South American country's unsung cooking traditions.
I could barely keep pace with 76-year-old Graciela Martínez as we hustled through the Mercado Municipal Cuatro in Paraguay's capital city, Asunción. I was with the author, poet, and culinary historian on a research mission into Paraguayan cuisine for my forthcoming The Latin American Cookbook (Phaidon, Fall 2021). She chatted briefly in Guaraní, her country's official language, with a woman selling queso Paraguay, an emblematic, mildly acidic cheese, before darting through a maze of butcher stalls where puffed-out intestines hung overhead like balloons. My guide explained how medicinal herbs and botanicals like burrito and batatilla root are incorporated into tereré—a cold and refreshing maté drink—then took me to lunch at her favorite comedor, market stall #33, where she introduced me to her friend, Doña María, who has cooked there for decades.
Martínez has been instrumental in helping Paraguayans better understand the breadth of their cuisine, a fusion of Spanish and Guaraní ingredients, which differs greatly from those of neighboring Argentina and Brazil, where Italian, Portuguese, and other European influences are more prevalent. Her encyclopedic, 300-recipe book Poytáva—named for the Guaraní word for nourishment and still only available in Paraguay—is the culmination of more than three decades of research into the landlocked South American country's foodways. In it, she documents how indigenous and Spanish cuisines came together during colonization in the 17th and 18th centuries, and how when food became scarce during the catastrophic Paraguayan War (1864-1870), comforting dishes like kivevé, made from the reddish pulp of andaí squash, were stretched with highly caloric, shelf-stable ingredients to stave off hunger.
She's also a fierce champion for Paraguay's native biodiversity—from the fish of the Paraná River Basin to the wild fruits of the semi-arid Chaco region—as well as the country's indigenous cooking techniques. Over our lunch—steaming bowls of pira caldo, a nutritious fish soup typically made with small river catfish called mandi'y or the larger and more threatened surubí—the septuagenarian historian described how the tatakua, a clay, beehive-shaped oven uses residual heat from the embers of a wood fire to bake chipas, a wide category of cheesy breads found throughout Paraguay and in parts of northeast Argentina and southern Brazil. "Cooking on the tatakua is very special," she explained. "It's unlike any other clay oven."
Martínez even explained the winding etymology of vorí vorí, small spherical dumplings of corn flour and cheese, usually served in a chicken broth. The name is derived from the Spanish word bolita, or "little ball." In Guaraní, that's pronounced vorita, and the word was eventually affectionately shortened to just vorí. Ever the poet, neither the beauty of Paraguay's language nor its cuisine are lost on her. Later that day, she unexpectedly sang—or more like rapped—a recipe for the dish in Guaraní, using a vocal technique called tangara traditionally used by the Guaraní to share cultural knowledge. The rhyming words, she later told me, explained the recipe's instructions, like how to test a kernel of boiled corn with your teeth to see if it was ready for "the gentle wind to help dry," and then how, "with agile arms and rhythmic strokes, it will be flour." To her, the history of Paraguayan food means little if the poetry is left out.