Recipes
Kivevé (Paraguayan Squash Purée)
A soothing corn and squash porridge, enriched with creamy Paraguayan cheese.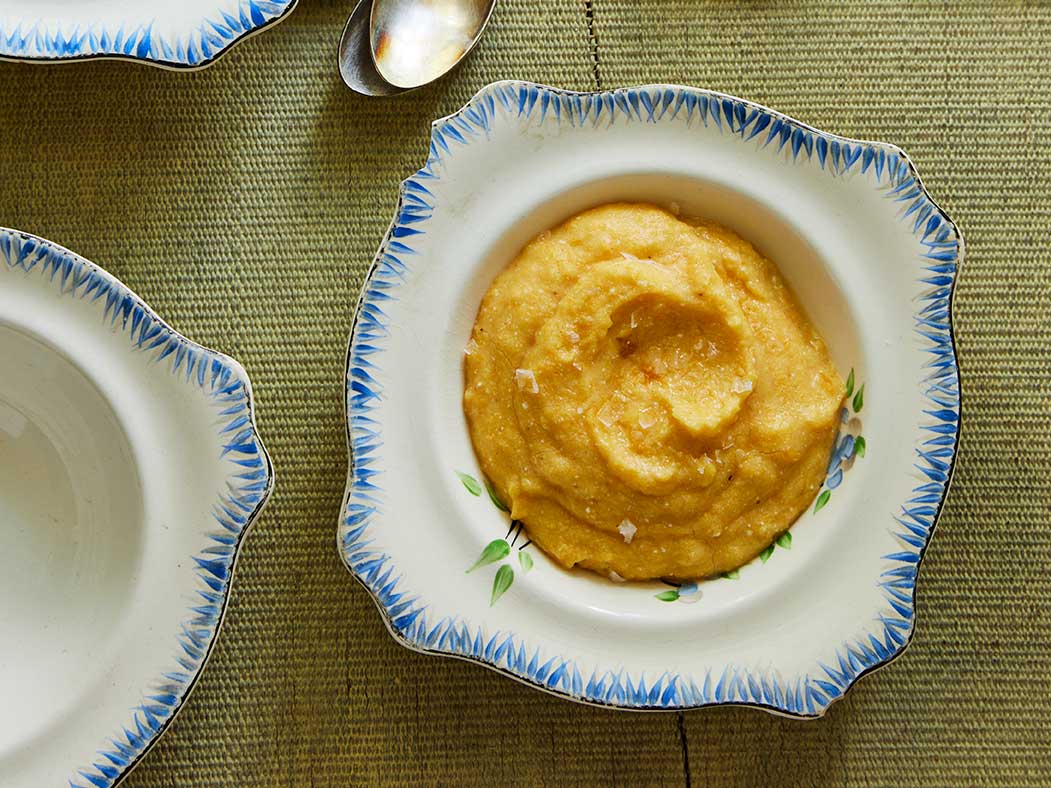 Also spelled quibebé, kivevé is a squash and cornmeal purée made in parts of Argentina, Brazil, and Paraguay. The name is derived from the Guaraní term for a reddish color, which refers to the hue of the dish's star ingredient, andaí. A hard winter squash with deep orange flesh, andaí is a genetic cousin to butternut and calabaza, either of which may be used in its place.
This recipe, adapted from Graciela Martinez, calls for fresh queso Paraguay; the soft, mildly acidic cheese is used frequently in traditional recipes, many of which were created in the 19th century, when Paraguay was recovering from war and home cooks needed to stretch their infrequent meals with inexpensive calories and protein. According to Martinez, other fresh white cheeses like whole milk ricotta or farmer's cheese make for a good substitute in this dish, which can be served as a hearty side or even as a semi-sweet dessert.
Ingredients
2 1⁄4 lb. andaí squash (or substitute butternut or calabaza), peeled and cut in 1-in. cubes (8 cups)
1 cup whole milk
3 Tbsp. corn oil
2 Tbsp. sugar
1 1⁄4 tsp. kosher salt, plus more to taste
2 cups (10 oz.) fine yellow yellow cornmeal
7 oz. (1 cup) queso Paraguay (or substitute whole milk ricotta)
Instructions
Step 1
In a large pot over medium-high heat, combine the squash and 3 cups cold water. Bring to a boil, then lower the heat to simmer and cook until the squash is tender when poked with a fork, 6-8 minutes.
Step 2
Use a slotted spoon to transfer the squash to a heatproof bowl, reserving the cooking liquid. Using a potato masher or fork, mash the squash to a smooth paste, then return the pulp to the pot along with the reserved cooking liquid. Set over medium-low heat and, using a wooden spoon, stir in the milk, oil, sugar, and salt, then gradually sprinkle in the cornmeal while stirring continuously. Cook, stirring continuously, until the mixture is thickened to the consistency of a soft polenta, 12–15 minutes. If the preparation becomes too thick, thin with ¼-½ cup additional hot water. Remove from heat, stir in the cheese until combined. Season to taste with additional salt as needed and serve.