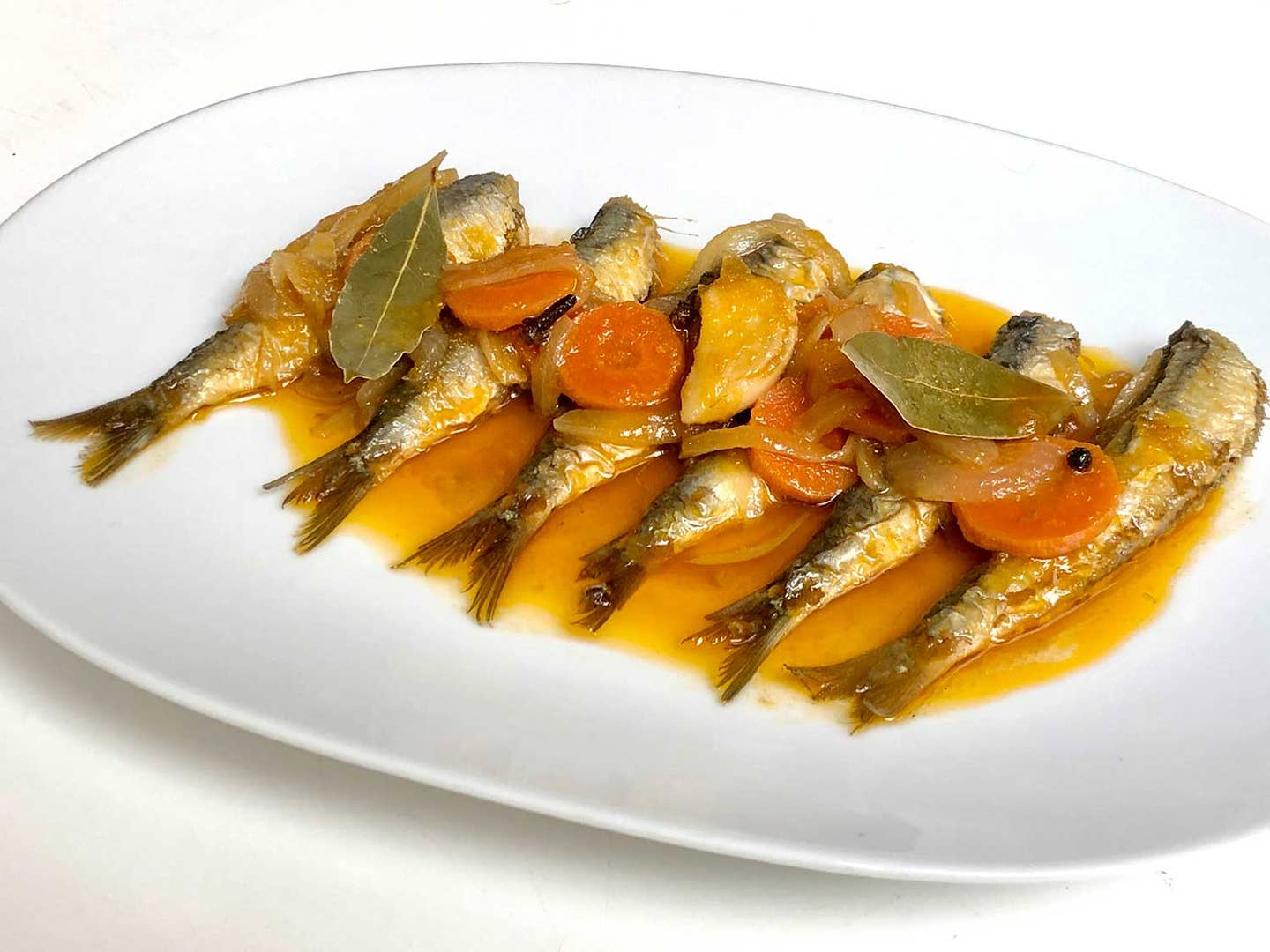 Culture
Spanish Escabeche Is Endlessly Adaptable
Vinegar-soaked meat, fish, and vegetables: Escabeche is the low-effort, high-reward cooking technique you need in your everyday arsenal.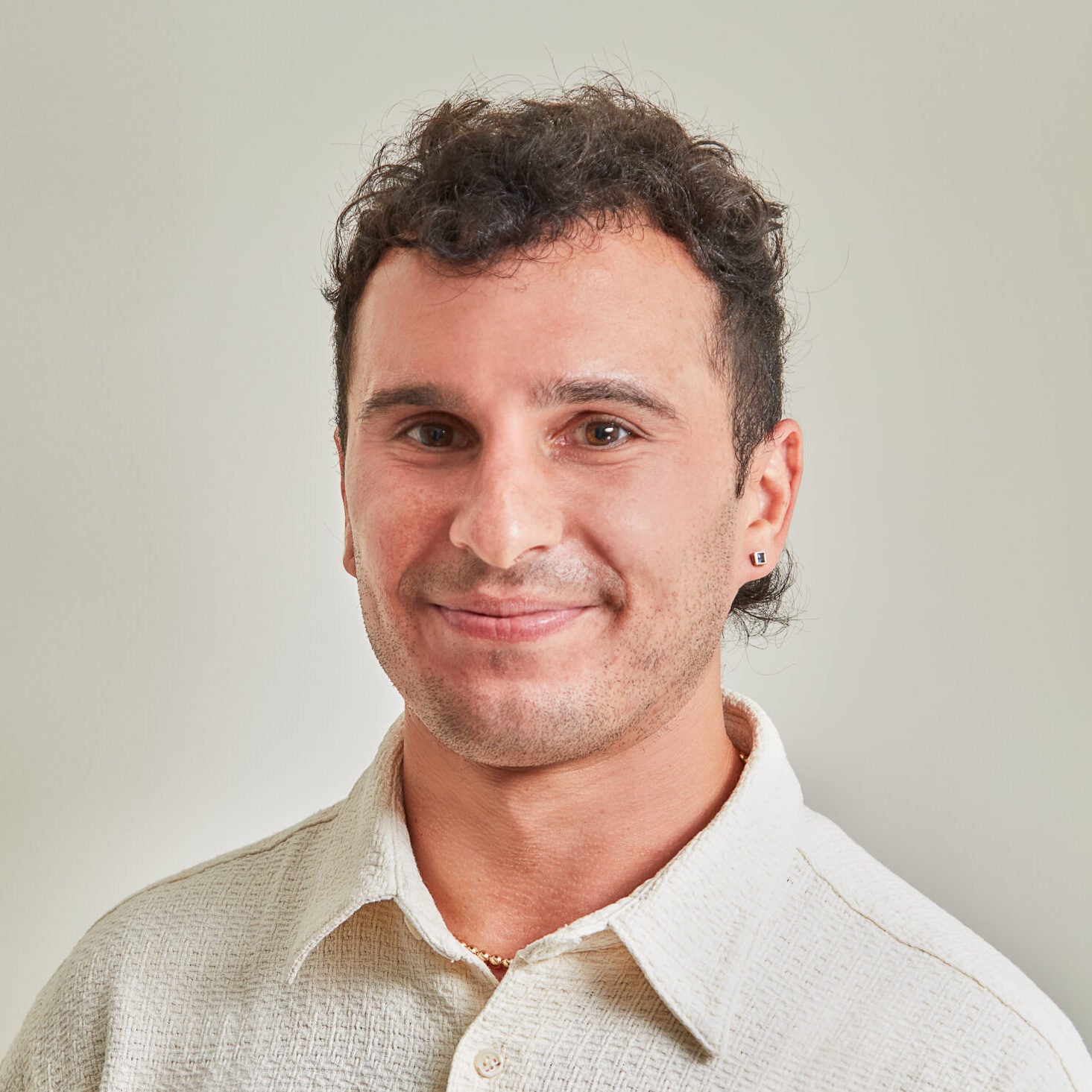 ---
People have been gobbling up vinegar-cooked meats and fish for millennia on the Iberian Peninsula, making escabeche one of the oldest dishes enjoyed in Spain today. Chicken, mussels, rabbit, sardines—virtually any protein (or vegetable) benefits from a long soak in spicy, garlicky vinegar and olive oil, and once you master the basic technique, you'll be escabeche-ing just about everything in your fridge.
Think of escabeche as reverse-marination. The acid bath comes after the main ingredient is cooked, tenderizing it without letting a drop of flavorful marinade go to waste. The process is simple: Fry your meat or fish in abundant olive oil; then simmer it in a stovetop vinaigrette—usually equal parts vinegar, wine, and olive oil, plus aromatics like bay and paprika—until the flesh is cooked through; then let it hang out, submerged in the liquid, overnight in the fridge.
The result is tangy, juicy meat that can be flaked into salads and pastas, sliced onto sandwiches, or simply eaten straight from the brine with a hunk of crackly baguette to sop up the plentiful juices.
Not long ago, escabeche was distinctly untrendy in Spain, the type of thing you might have eaten for lunch at grandma's house but seldom saw on buzzy restaurant menus. But recently, riding the tailwinds of ceviche's popularity in cities like Madrid, Barcelona, and San Sebastián—the methods are close relatives with the same root word—escabeche is getting a second look. "More and more, Spaniards are rediscovering the flavors of their childhood and seeking them out in restaurants, and escabeche is one of those," said Carlos Valentí, chef and co-owner of Hermanos Vinagre, an escabeche-focused restaurant that opened two locations in Madrid in the last year. "Mussels in escabeche and anchovies in vinegar served with potato chips—everybody grew up eating this stuff with their grandparents. As chefs, we're building on that tradition by playing with vinegar types and aromatics."
According to Valentí, the more potent the ingredient you're escabeche-ing, the stronger in flavor your vinegar should be. For poultry, vegetables, and shellfish, that means white-wine or cider vinegar; game meats and oily fish, on the other hand, can stand up to deeper, darker vinegars like red wine or sherry. A glass of dry white wine, poured in along with the vinegar, sands down the acid's rough edges and adds a welcome hint of sweetness.
Beyond fiddling with vinegar types and marinade ratios to heighten or dull the acidity, it's a thrill to experiment with the aromatics, using the vinegar mixture as a blank canvas. In Spain, the most ubiquitous escabeche add-ins are bay leaves, garlic, peppercorns, and pimentón (smoky paprika), but depending on the region and the cook, you might also come across cloves, cinnamon sticks, cumin, citrus peels, and vegetables like onions, carrots, asparagus, and artichokes. In parts of Latin America such as Costa Rica and El Salvador, escabeches are often made with vegetables alone and served as pickles. Other escabeche offshoots include Jamaican escovitch, Italian savoro, and Japanese nanbanzuke, which was likely a 16th-century Portuguese import.
Valentí often breaks with Spanish tradition altogether, escabeche-ing torchons of foie gras and whole wheels of cheese; smoking certain meats and fish instead of frying them; and whipping leftover escabeche liquid into thick, punchy emulsions. And no one is calling foul. Unlike, say, a classic paella valenciana, there are no hard-and-fast rules to making escabeche.
It's unclear who made the first escabeche, but there are clues. The oldest known recipe for the dish (as yet unnamed) is found in the cookbook Apicius, written in Latin by an unknown author around the 4th century AD. It instructs that one can extend the shelf life of fried anchovies by "pouring hot vinegar over them." Another, more widespread theory argues that escabeche originated in ancient Persia, not Rome, and traveled to the Iberian Peninsula during the Islamic period beginning in the 8th century. After all, escabeche's root word is the Persian sikbāj, a medieval meat-and-vinegar stew. Almudena Villegas Becerril, Spanish food historian and author of the soon-to-be-published Culinary Aspects of Ancient Rome, argues that the Persian hypothesis is a "historical falsehood," since the Romans, and perhaps even the Phoenicians, were preserving food in vinegar in Iberia long before the Moors arrived. "There are verified references to people making what we now call escabeche in the Roman Empire as early as the 1st century AD," she said. "If only Spaniards knew how many dishes we make today that date back 3,000 or 4,000 years! Bread, flan, torrijas, fried eggs—these foods have been enjoyed [in Iberia] since antiquity."
Escabeche is one of many Spanish delicacies—such as salt-cured jamón ibérico, anchovies, and cheese in oil—that has persisted through the centuries for its preserving powers as well as its deliciousness. "These are dishes for which, historically, form has followed function," said Anya von Bremzen, author of The New Spanish Table, adding that escabeche is a "genius confit-pickle combo" that strikes the perfect balance between fat and acid, flavor, and hardiness. "I even turn to escabeche when I've cooked a lot of something, like octopus or quail or chicken, and want it to last. Submerging it in vinaigrette buys me an extra few days," she said.
Indeed, a delightful perk of escabeches is that they improve with age for a week or more, making them a practical, versatile fridge staple. A vat of escabeche is money in the bank, at the ready for solo suppers in sweatpants, impromptu get-togethers with friends, and every occasion in-between.