The 2019 SAVEUR Kitchen Tools Gift Guide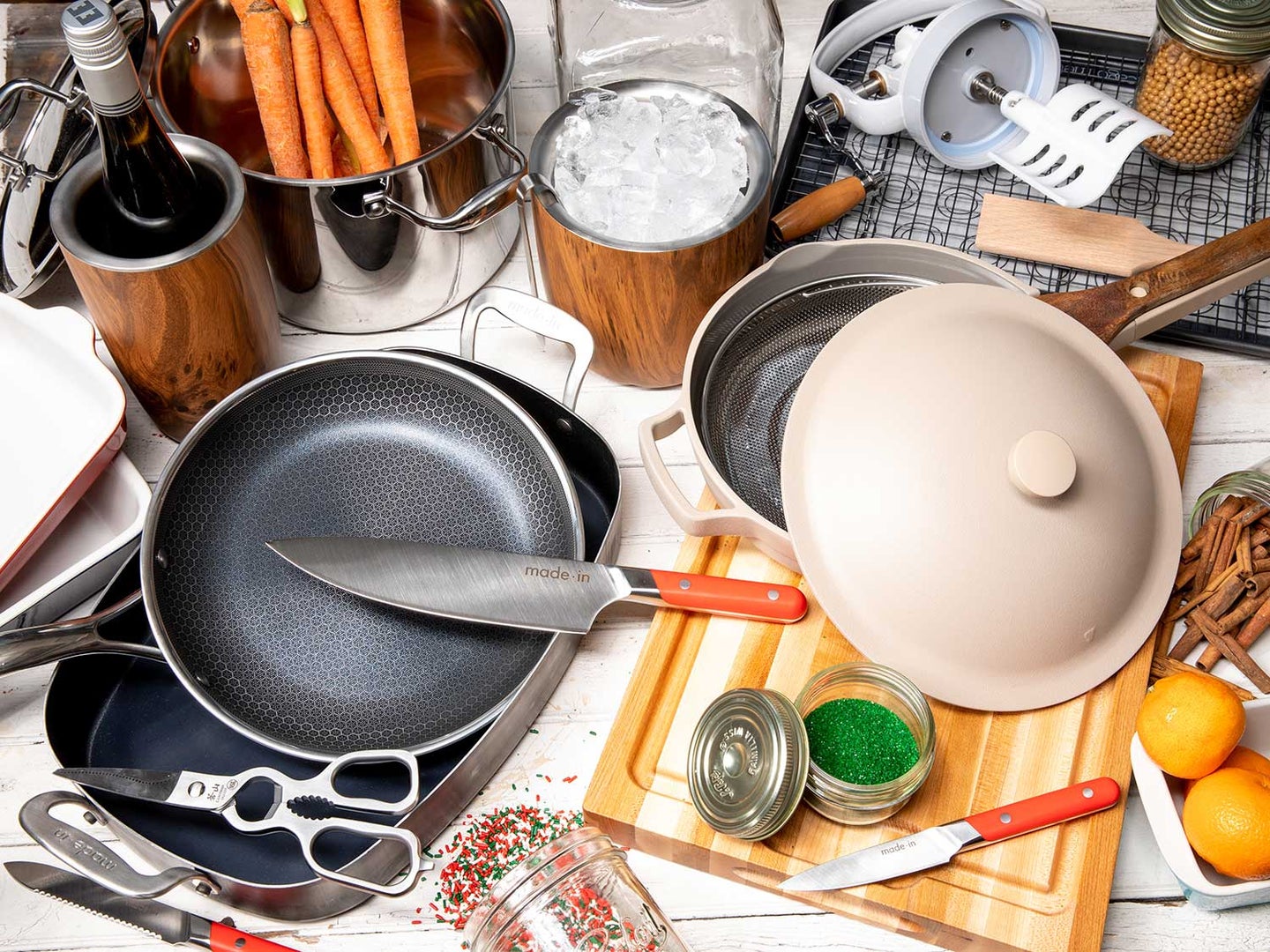 We may earn revenue from the products available on this page and participate in affiliate programs.
We see a lot of culinary tools and gadgets come through our test kitchen every year. Here are a few of our favorite gift ideas for kitchen gear—whether you're shopping for the tech-focused cook in the family, or helping a recent grad stock their first kitchen.
Made In Knife Set with Board
The direct-to-consumer cookware disruptors over at Made In worked with a fifth-generation knife-maker in Thiers, France to design these gorgeous blades. Ditch your whole subpar arsenal and replace it with a three-piece set, which comes with an oversized cutting board made from reclaimed American maple. –Kat Craddock, test kitchen director
Smithey Cast-Iron Skillet
The curved edges of this cast-iron skillet are ideal for shaping French-style rolled omelettes, swirling crèpe batter into a thin layer, and sliding jiggly, over-easy eggs directly onto your breakfast plate—no spatula required. The satiny-smooth interior finish—when seasoned properly—will have you swearing off coated nonstick pans for life. –K.C.
Chicago Metallic Pan, Rack, and Mat Set
A sturdy rimmed baking sheet, a cooling rack, and a nonstick silicone baking mat will make holiday cookie duty a stress-free pleasure. Thankfully, Chicago Metallic now sells these essentials as an affordable three-piece set. –K.C.
Brandless Stockpot
This year the sustainability-focused e-commerce company Brandless started dipping their toes in the world of kitchenware. This gorgeous eight-quart stainless-steel stock pot can stand up to many of its high-end counterparts, and at $99, it just might be the best deal of the year. –K.C.
S'well Teak Wine Chiller and Ice Bucket
My home bar sits atop a treasured mid-century modern gentleman's chest and S'well's new teak-patterned ice bucket (and matching wine chiller) will fit right in. –K.C.
Churncraft Butter Churn
If you're shopping for a dairy nerd like me, or particularly crafty children, or startup hobby farmers, consider springing for this very fancy butter churn. It comes with useful tips for making cultured butter, a silicone mat for holding the churn steady, and a set of ribbed, wooden paddles for pressing and shaping fresh butter. –K.C.
Made In Carbon-Steel Roasting Pan
This French-made carbon-steel roasting pan from Made In is lighter than cast iron, heats up quickly, and retains heat for superior stovetop-to-oven cooking. Season according the the manufacturer's instructions to prevent rusting, and this riveted beauty will last a lifetime—and only improve with use. –K.C.
Carthage Co. Baking Dish Set
Carthage Co. sources its beautiful ceramic dishes and bakeware from Tunisia and sells them online, direct-to-consumer. The result? A better profit for producers and a better price for consumers. This vibrant set of baking dishes will bring a welcome pop of color to your holiday table. –K.C.
Hexclad Hybrid Nonstick Skillet
This techy new nonstick skillet from Hexclad uses "hybrid" non-stick and stainless-steel technology for what is supposedly a significantly longer-lasting nonstick finish. I've been cooking with mine for only a few weeks, so the jury is still out on longevity, but its even heat, balance, and comfortable handle have quickly made it my go-to for stir-fries and scrambled eggs. The functional geometric steel pattern give my kitchen the touch of cyberpunk style I didn't know it needed. –K.C.
Le Parfait French Terrine Jars
Use these French "terrine jars" from Le Parfait like you would standard ring-and-disk style jars. The straight sides make it easy to remove charcuteries like paté and rillettes, as well as jams and jellies, and they're pretty enough for all your packing up homemade holiday treats. –K.C.
Togiharu Two-Sided Sharpening Stone
Using this sharpening stone takes a bit more effort than the latest as-seen-on-TV gadget, but the end result is worth it—in the right hands it will turn even the dullest knife into something out of "Kill Bill." –C.C.
ThermoPop Digital Thermometer
While we stand behind the ThermaPen for the quickest and most accurate temperature readings, not everyone needs a pro-grade meat thermometer. But everyone should have a great one, and the ThermoPop, which comes in a wide array of fun colors, will ensure that you'll never second-guess whether that chicken is done again. –D.J. Costantino, associate digital editor
Our Place Sauté Pan
Like its name suggests, the Always pan from Our Place, a new direct-to-consumer startup from Malala Fund co-founder Shiza Shahid, is a real kitchen workhorse. It's made out of cast aluminum for even heat, and has a ceramic nonstick interior and matte silicone finish for easy cleanup. The pan also comes with a domed lid, a steamer basket, and for the pièce de résistance, a wooden spatula that cleverly nests inside the handle. Plus, no matter what color you choose, it's handsome enough to leave out on the stovetop. –Frances Kim, digital editor
Le Creuset Star Wars Dutch Oven
This Dutch oven from a galaxy far, far away is perfect for commanding any culinary adventure. An exclusive collaboration between Le Creuset and Williams-Sonoma, the pot is enameled in a glossy black finish and embossed with Darth Vader's menacing mask. Meanwhile, the underside of the lid is cast with Le Creuset's iconic "France" label translated into Aurebesh, an alphabet used in the Star Wars universe. –Thomas Payne, photo director
The Black German Kitchen Knives
For the chef in your life who also likes their tools to be beautiful, there's Black German Kitchen Knives. Designed by master knife makers in Solingen to be the ideal blend of Western ergonomics and Japanese precision, these knives prioritize technical performance and low maintenance over traditional aesthetics, and are finished with impressively resilient black POM thermoplastic scales. –T.P.