Techniques
A Bitters Bottle Adds Order And Beauty To a Home Bar
Upgrade your bitters collection with this genius storage hack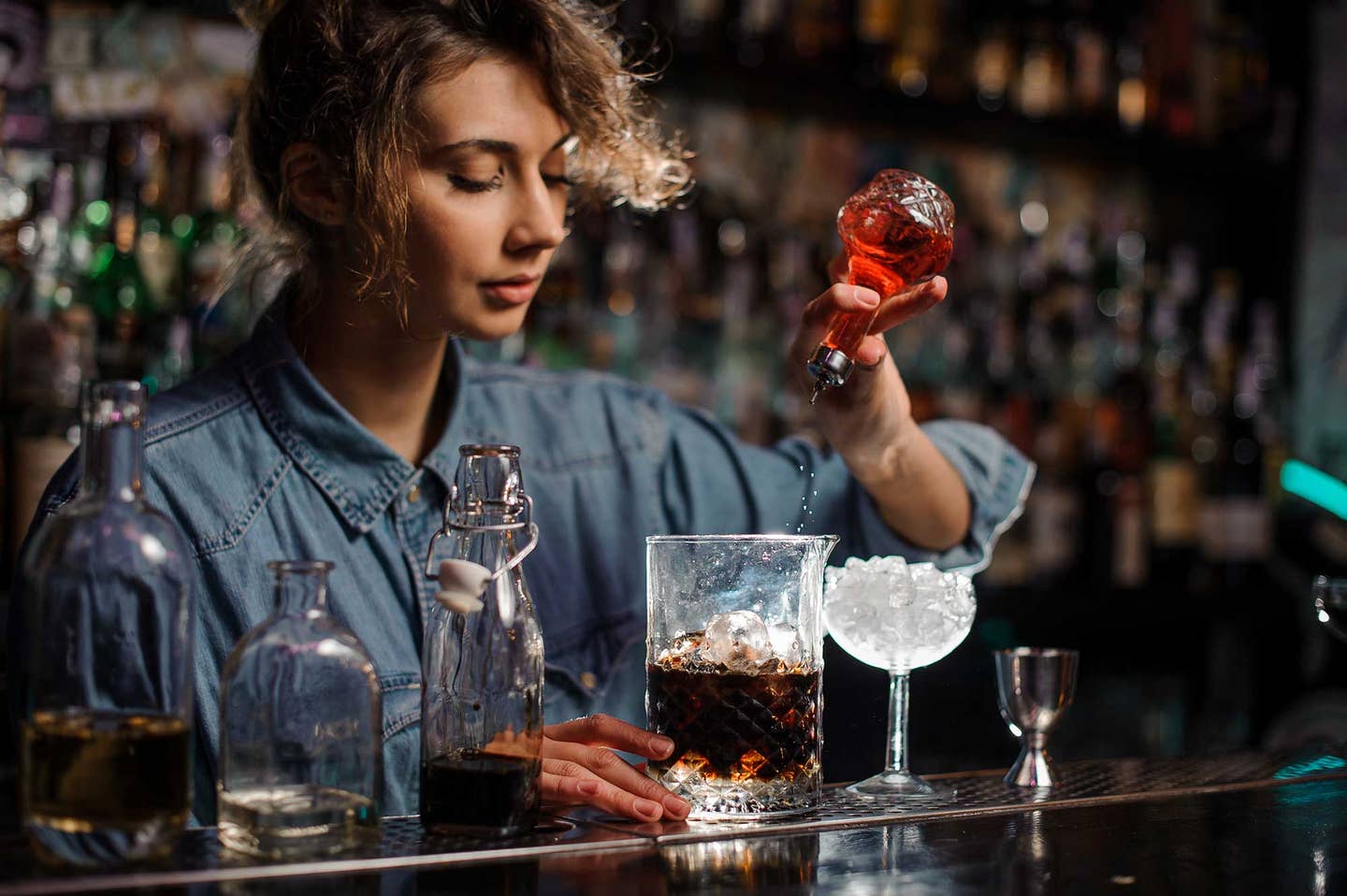 Using special bottles for your bitters, tinctures, and solutions is an aesthetic power move, but there's more to it than just appearances. Sondre Kasin, Principal Bartender at award-winning New York City Korean hotspot Cote and its subterranean cocktail bar, Undercote, underscores the functionality of this tool: "Of course, there's the beauty of design, but bitters bottles or dasher bottles are all about consistency––when you're making cocktails at home, usually you're following a recipe, and when a recipe calls for dashes, in that context it's referring to the quantity that comes from a dasher and not the size of a dash that comes from the standard topper on an Angostura or Peychaud's bottle, for example." According to Kasin, the dash that comes from this packaging is typically about twice as big as what a dasher offers. The beauty of the smaller dash quantity is that it allows for more precision and room for adjustment in a drink—you can't subtract, but you can always add.
According to Kasin, dasher bottles come with a practical added bonus: no mess. "With original packaging, bitters can tend to go in unexpected directions, whereas with dasher bottles, there's little mess as the liquid will go in the exact direction you intend," he notes, adding that bitters can stain quite intensely. So spare your tablecloth and clothing and shop these choice dasher bottles in bulk.
Industry Favorite
This classic dasher bottle features a stainless steel threaded top. This style offers more security than a cork topper (and they're more easily washable than cork), so if you're going to be dashing frequently, this might be the best option for you. We also appreciate the wide weighted bottom, designed to keep stability on your bar.
Old-school Pick
Store your bitters collection like a pro and give your home bar an apothecary vibe. Inspired by the bitters and tinctures of an old pharmacie-turned-cocktail bar on Rue Jean-Pierre Timbaud in Paris, this beveled and cork-topped dasher bottle comes in a lovely box perfect for gifting.
Elegant Pick
This nicely weighted, elegant dasher bottle by LINALL evokes the perfume trays of a bygone era. If you're looking for something both decorative and functional, this handmade and lead-free cork-topped glass bottle is the way to go.