Recipes
Chicago-Style Italian Beef Sandwiches
Skip the airfare and slow-cook your way right at home to this Windy City original.
Serves

makes 4 sandwiches

Cook

1 hour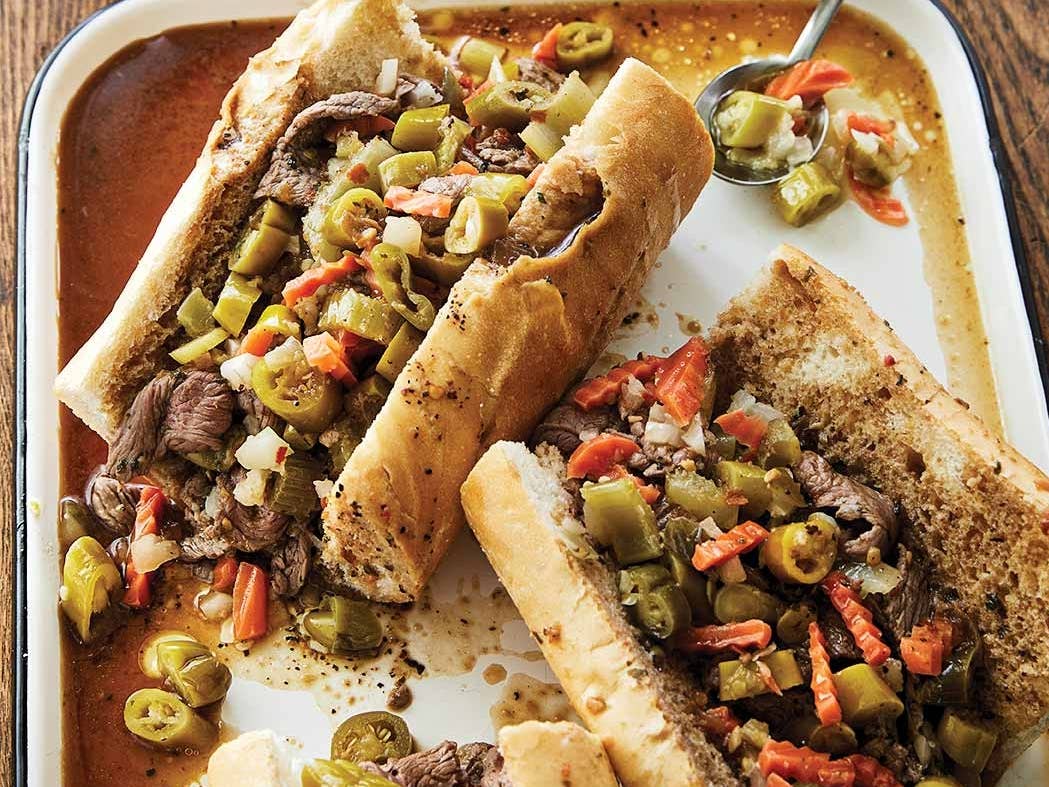 When Chicago native Erin Scottberg was searching for an at-home version of this beef sandwich, a high-school ­classmate responded to her plea with a photo of a stained index card titled "Italian Beef—Aunt Tammy." Our adaptation of the family recipe calls for sirloin, thinly sliced in advance by your butcher, then quickly poached in an aromatic broth.
Ingredients
2 Tbsp. rendered beef fat (or olive oil)
1⁄4 cup finely chopped yellow onion
3 large garlic cloves, minced (about 1 Tbsp.)
6 cups low-sodium beef stock
2 0.7-oz. packets Italian salad-dressing mix
1 tsp. dried basil
1 tsp. freshly ground black pepper, plus more as needed
1 tsp. chile flakes
1 tsp. dried oregano
1 tsp. dried parsley
2-3 tsp. Worcestershire sauce (optional)
4 Italian- or French-style rolls (about 6 in. long)
2 lb. boneless sirloin steak, thinly sliced on the bias
2 cups hot giardiniera relish, drained
Instructions
Step 1
In a medium pot, over medium heat, cook the beef fat (or olive oil) until it shimmers, then add the onion and cook, stirring frequently, until translucent and softened, 3-5 minutes. Add the garlic and cook until fragrant, 30 seconds more, then add the beef stock, Italian salad-­dressing mix, basil, black pepper, chile flakes, oregano, and parsley. Bring to a boil, then lower heat and simmer until reduced by a third, 30-40 minutes. Season to taste with the ­Worcestershire sauce, if using, and maintain a low simmer.
Step 2
Meanwhile, split the rolls in half lengthwise, leaving one side intact, and place on a large rimmed baking sheet; set aside.
Step 3
Pull the steak slices apart and divide into 4 equal batches. Working with 1 batch at a time, use tongs to dunk the meat into the juice, swirling gently to quickly poach the meat, 1-2 minutes, before nestling the batch inside one of the split rolls. Repeat with the other 3 steak batches and rolls. To serve "wet," ladle a generous amount of juice over the beef. To serve "dipped," use tongs to quickly dunk the entire sandwich into the juice. To make a sandwich "hot," top the beef with giardiniera to taste.