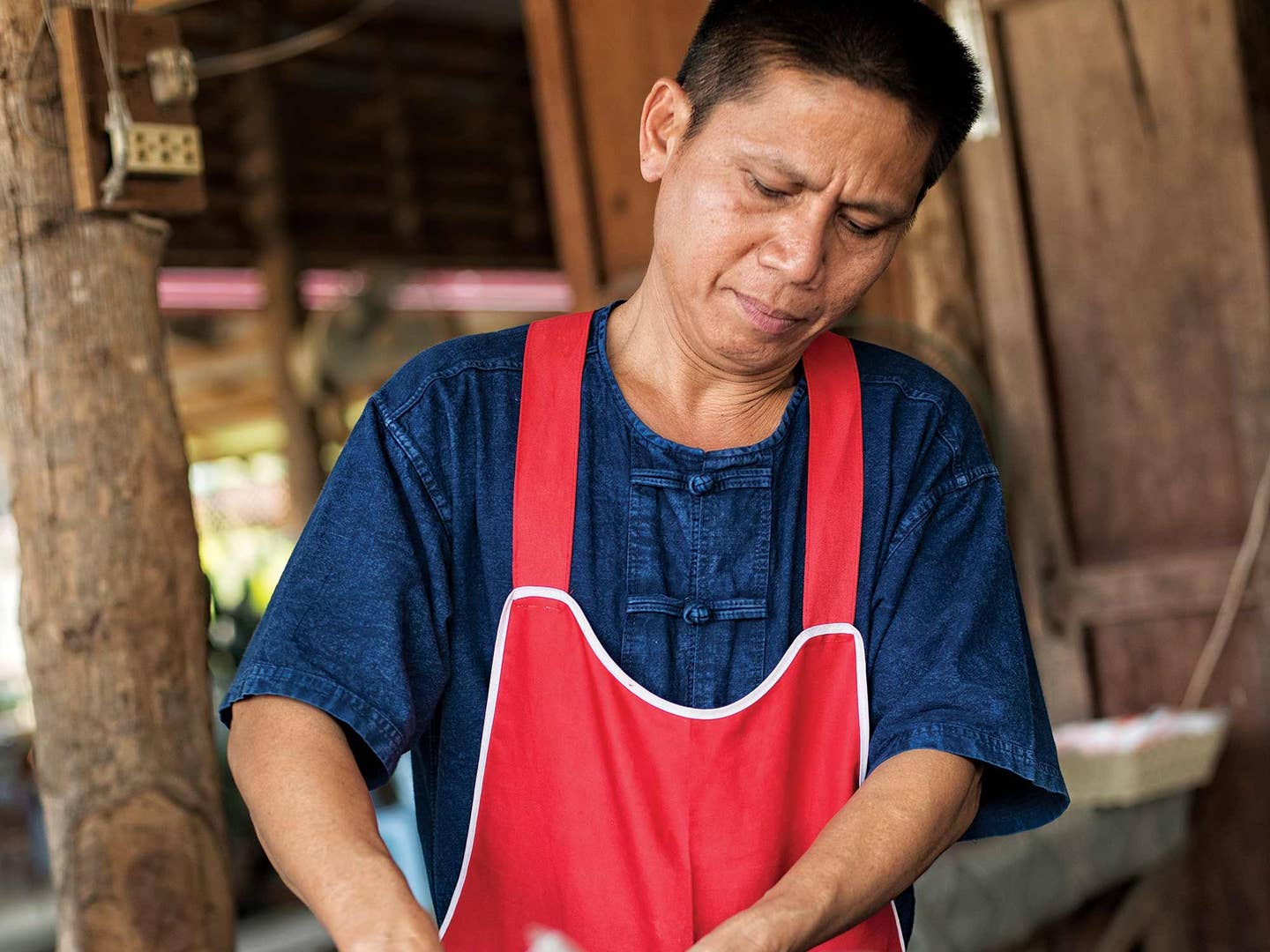 Shopping & Reviews
The 2020 Saveur 100: 51-63
The best sandwich you've never heard of, food 'zines we love, and forget chef's whites—we're all about these indgo smocks.
51. Who in Their Right Mind Invented Chef's Whites?
It's a sharp look—until you've spent a few hours on the line. Thai cooks prefer a more practical uniform. This indigo-dyed ­cotton work shirt, called seua maw hawm, camouflages splatters, softens with age, and is recently available stateside, for $20, thanks to Fantastic Food Search.
52. Proof That Print is Far From Dead
You are now entering the pages of Grlsquash ($15 per issue; grlsquash.com). Buckle your seat belt. What reads like the fever dream of a food-obsessed art student—a monochromatic tableau of a ­crockpot overflowing with tacos, illustrations of pastries that have sprouted legs and watchful eyes, a literary accounting of grilled cheese from a British comic strip to Good Housekeeping—may leave you wondering who, exactly, is ­behind the wheel.
That would be 28-year-old Madison Trapkin, a freelance food writer who founded this quarterly feminist zine two years ago while a gastronomy grad student at Boston University. "I wanted to create a platform for all women, regardless of profession, to ­explore our experiences with food," Trapkin explains. The arresting visuals are interspersed with personal, highly political pieces on subjects such as sexual harassment while working the line, or a poem reflecting on food insecurity. As Trapkin once put it, "Art makes the more difficult topics ­easier to ­digest." —Korsha Wilson
53. A Tequila with Terroir
Used to be, most tequila producers blended the juice of agaves grown in multiple locations. That changed in 2008, when Ocho Tequila adopted the wine-industry ­concept of terroir. Today, the Jalisco-based distillery offers a number of tequilas, each made with plants grown on a single rancho, and thus distinguished by the land's specific qualities. I encountered one of them, Tequila Ocho La Latilla Añejo, at last year's Valle Food and Wine Festival in Baja California. La Latilla tasted like chocolate, vanilla, mint, dried figs, and more—all in perfect balance. As ethereal as cognac and as assertive as single-malt scotch, this tequila stopped me in my tracks. I've since sipped other Ochos, each so superb and viscerally original that I don't plan to stop until I've tried them all. —Colman Andrews
54. Hottest Mess East of the Mississippi
Bill Murray. Michelle Obama. Mavis Staples. The best people hail from Chicago, which has also blessed the world with deep-dish pizza and dragged-through-the-garden hot dogs. For whatever reason, though, one of the city's most spectacular culinary creations has yet to achieve wide acclaim. The Italian beef sandwich consists of thinly sliced roast beef, sweet or hot peppers, and occasionally mozzarella, served on a sturdy roll. The main variable involves the meat's cooking liquid, or "juice." (Never call it au jus.) Some Chicagoans prefer their Italian beef "wet," with juice ladled on top. Others specify "dry," with the juice shaken off the meat before it's added to the roll. I order mine "dipped" and "hot," meaning the whole sandwich is dunked into the juice, then topped with spicy giardiniera peppers. It's a meal best eaten with lots of paper towels while listening to Pat and Ron call the Cubs game on WSCR 670 AM. —Erin Scottberg
Marble's mighty nice, should money allow. Butcher block? Cheap, effort­lessly chic…and prone to ­water-logged ­buckling. Poured-concrete ­counters are cool, I guess, for people willing to pay exorbitant labor fees to install a common material. This was the conundrum I faced in 2013 while embarking upon a major kitchen renovation. Inspiration struck, as it so often does, at an antiques shop—this time in the form of a zinc-topped farm table. A surface able to withstand decades of hard agricultural use? Surely, it could handle anything I might dish out. Seven years after wrapping sheets of plywood in this sexy sheet metal ($163 for a 3-foot-by-10-foot 22-gauge sheet; rotometal.com), I can report that the zinc has aged beautifully, taking on the character of whatever touches it in an ever-shifting, almost poetic way. Regrets? I have not a one. —Sarah Gray Miller
Known to his fans as the Florida Fruit Geek, Craig Hepworth is, well, geeky about fruit in Florida. And he refuses to hide that light under a bushel. Through his blog, Instagram and Twitter feeds, and YouTube channel, the Marion County farmer celebrates the Sunshine State's odder tropical bounty. Curious about casimiroa's history? Wanna learn how to grow loquats? Maybe you're wondering if a mulberry tree might thrive in your zone. Hepworth has answers. "I love to connect with people and share information," the 51-year-old enthuses. But when he used to go on and on about fruit IRL, the reaction often involved eye-rolling. "Online, people with similar interests actually want to hear what I have to say." Herewith, his words regarding the flavors of five ­unusual ­varieties (all available at miamifruit.org). —Monica Michael Willis
57. Not Business as Usual
The toughest barrier for would-be food entrepreneurs who are women, of color, or, harder still, women of color? Access. To financing. To professional kitchen space. To legal assistance. La Cocina, the food-business ­incubator that focuses on minority start-ups in the San Francisco Bay Area, has been addressing these inequities head-on since its inception 15 years ago. To date, the nonprofit organization has birthed more than 55 culinary enterprises. The application process can be rigorous, but it is not fraught with the usual biases. La Cocina is now taking on another stumbling block: access to real estate. La Cocina Municipal Marketplace, a 7,000-square-foot space that will be the country's first women-led food hall, is scheduled to open in the Tenderloin next year. Saveur invited six of the program's graduates to reflect on their La Cocina experience and offer up their own Saveur 100 entries... read more.