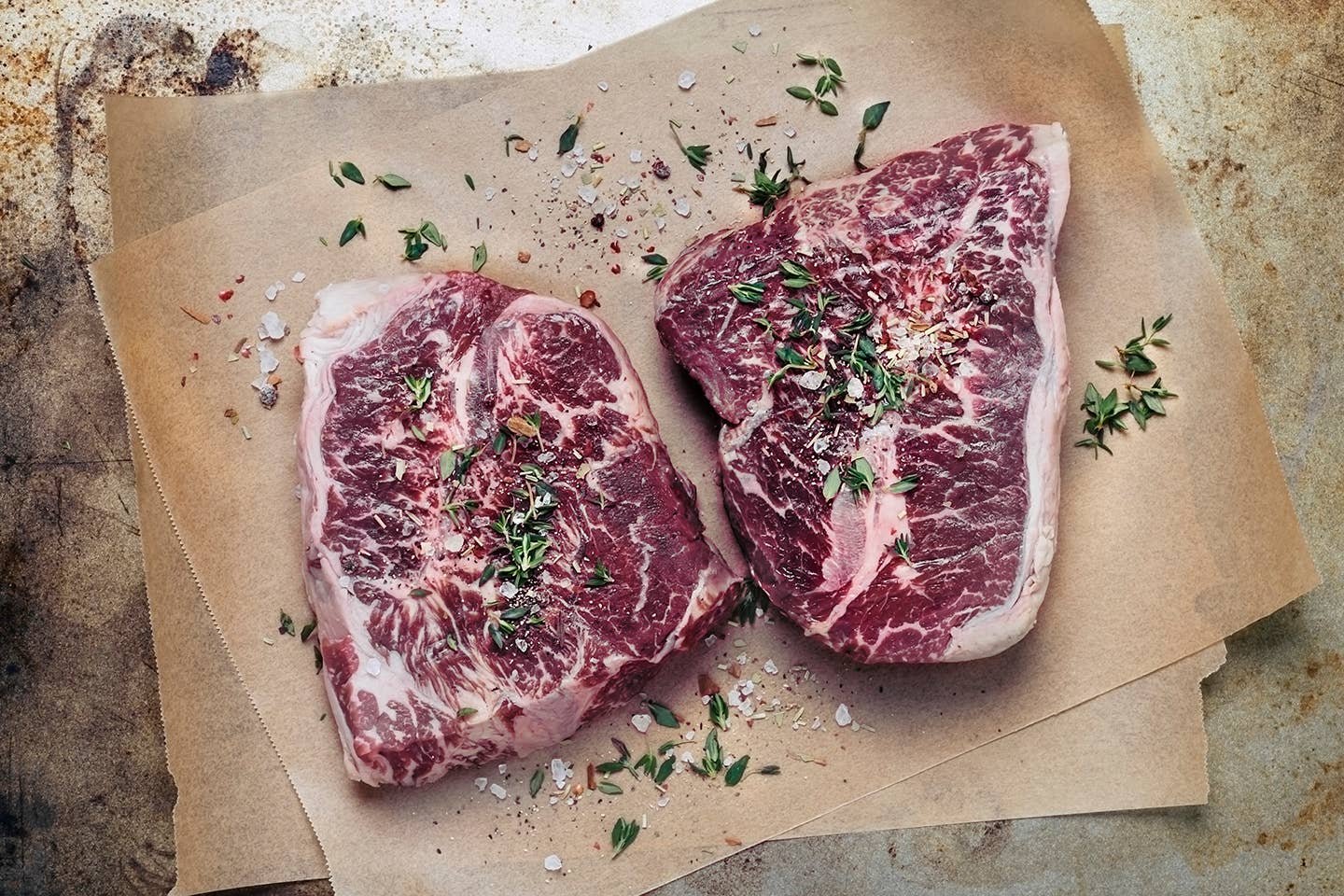 Shopping & Reviews
The 8 Best Places to Buy Meat Online When You Can't Get to the Local Butcher
Whether your menu calls for duck, lamb, or jamón ibérico.
Conscientious and discerning carnivores, take note: you don't need to venture far from home to source dry-aged porterhouse or succulent grass-finished beef. In fact, you don't have to leave your kitchen (or couch) at all. According to chefs, the best cuts can be purchased online—if you know where to look.
"I think many of us in the food community are becoming more mindful about what meat we eat and how often we eat it," says Emily Fedner, a New York-based cook and co-founder of pop-up dinner series Petite Pasta Joint. Indeed, the must-haves versus nice-to-haves of how animals are raised and meat is produced make for some extremely personal choices, mired in various ethical, sustainability, and budgetary considerations. You don't have to compromise to find the ideal cut, though. Ahead, we spoke with chefs to uncover the eight best places to buy meat online, whether you're looking to order in bulk or prefer to support local farms and butchers.
Meat Grade and Transparency
Meat is typically graded for quality—assessing tenderness, juiciness, and flavor— as well as yield, or the amount of usable meat is in a particular cut. The USDA's beef grading is Prime, Choice, and Select, and higher-graded meat is typically from younger cattle and has more fat marbling.
Transparency can also be a very important factor in terms of sustainability and ethical farming practices—like much of the food industry, many online purveyors tout local sourcing, environmentally-friendly packaging, and/or humanely raised animals.
For Cédric Vongerichten, chef and owner of French-Indonesian restaurant Wayan, meat "100% has to be fresh. When it's fresh, the quality is unmatched," he notes. There's an exception to that rule, though. Meat quality doesn't deteriorate if it's kept at minus 76 degrees Fahrenheit, explains chef Michele Casadei Massari, executive chef and owner of Italian restaurant Lucciola. For example, he prefers getting A5 Wagyu "super frozen" due to the premium cut's high content of perishable fat.
Massari suggests ordering meat that is tightly vacuum packed to avoid unwanted bacteria, though he notes that this will only ensure it arrives fresh, not stays fresh. Vongerichten looks for compostable materials, and tries to "avoid at all costs anything that won't break down naturally, like plastic or styrofoam."
Individual, Bundles, and Specialized Boxes
This comes down to a matter of personal preference as well as the occasion: specialized boxes make for great holiday gifts, while bundles are ideal for entertaining a crowd. Bundles usually consist of different pre-selected cuts and can offer more value than buying a la carte. They are also a nice way to sample a variety of meat types and maybe even find a new favorite cut in the process.
Massari raves about Debragga's meat quality and grade, as well as their knowledge about different cuts and sourcing methods. "Their website is more than just a repository of items; it's like talking to them directly and taking advantage of their expertise and honest approach to the world of meat," he says. A few of his favorite cuts are the 36-ounce Prima Reserve Niman Ranch, dry aged Porter House (aged for 45 days), bone-in 20-ounce NY Strip wagyu, 28-ounce Frenched cowboy steak wagyu, Miyazaki Ribroll A5, 16-ounce Australian Wagyu Boneless Ribeye (which has an 8-9 grade, he notes), the "outstanding" Elysian Fields Lamb, and 14-ounce Gloucester Pork Chop. Both Massari and Vongerichten praise Debragga's excellent specialty sets, which Massari likes for holiday gift giving, both personal or professional.
Felipe Donnelly, partner and executive chef at Colonia Verde and Disco Tacos restaurants, says D'Artagnan is his favorite place to buy meat "without a doubt." "The quality is superior to anything else I have tried, and I trust where their meat is coming from," he says of the company's impressive sourcing transparency. Its shipping and packaging protocols are topnotch, too: "The majority of their meat arrives vacuum sealed and frozen, guaranteeing flavor." We particularly appreciate the eco-friendly packaging, which is completely compostable. He says his "obsessions" are the brand's pork chops, ribeye steaks, and moulard duck breasts. Vongerichten is a fan of D'Artagnan's specialized boxes, if you'd rather opt for a set instead of a la carte cuts.
Emily Fedner is "beyond impressed" with the quality of Silver Fern Farms' humanely-raised lamb and beef, which are grass-fed and pasture-raised in New Zealand, "so you can almost taste the terroir." Plus, the company's online ordering set-up is "super easy" to navigate, Fedner says, thanks to options that allow you to mix and match or order bundles. She prefers the company's lamb steak, which she recommends dusting with salt, pepper, and cumin seeds, grilling for three minutes on each side, and serving over plov, an Uzbek rice pilaf.
If you're planning a big cookout like an extended family reunion or birthday bash, or prefer the double-whammy of savings and superior sourcing that CSAs or food co-ops provide, consider Vermont Natural Beef. "It's a small family farm, so you have to order in advance, and you can only purchase quarter- or half-cows, so they recommend you go in on a share with others," says Stephanie Venetsky, a New York-based chef and nutrition expert.
Guiding priorities and values when it comes to meat sourcing are so subjective; for Ventesky, grass-fed, pasture-finished is "paramount" while local is ideal, but secondary. "Without the pasture-finished indicator, cows can be loaded up on grain towards the end of their life, after living on grass for a brief time," she explains. (Pasture-finished meat is a more specific type of grass-fed, but not all grass-fed meat is pasture-finished, she notes.) Venetsky says she orders grass-finished beef most frequently from Long Island-based Acabonac Farms, because "the quality and taste is unmatched," in addition to their great service and quick shipping.
If provenance and ethics are top priorities, Dickson's Farmstand Meats sources solely from small, family-run farms in Upstate New York and handpicked for their humanely-raised, high-quality animals. "The farms are selected based on quality, commitment to sustainability, and human handling practices," says Vongerichten, with a number of supply chain requirements in place. Farms must be no more than 400 miles away, not use any animal-based feeds, prophylactics antibiotics, and added hormones, and their animals must spend their entire lives on a farm versus CAFOS or feedlots.
Ruben Rodriguez, chef and partner of Nai Restaurant Group, swears by Despaña Brands for imported cured meats. "Being from Spain, quality cold cuts are a main part of my cuisine; a Spanaird must always have lomo, chorizo, jamon, and salchichon" at the ready, Rodriguez says. "Despaña offers some of the best, and large variety of, Iberico meats that you can possibly import," available individually-packed so they're cost-friendly and easy to store for home cooks.
"The wonderful thing about cured meats, aside from being delicious, is that you don't have to panic about how far it was shipped from or if it took an extra day to deliver," Rodriguez says. "They will remain in perfect condition for months" when properly stored so they're lower-maintenance than fresh or even frozen meats. Plus, they're extremely easy to prep: "As a chef, I cook all day long, so when I get home I simply peel the plastic off these packaged meats, let them get to room temperature, cut some bread and eat. That is the perfect night!" he says. The ease of storing and prepping cured meats is relevant for home cooks as well as the pros (think: a busy workweek, menu-planning malaise, pandemic cooking fatigue.)
Rodriguez also buys top-grade, acorn-fed jamon iberico, from Cinco Jotas, "considered by many to be the most exclusive gourmet ham in the world," he says. "It's on the pricey side because of its quality as well as the safety protocols," such as "secure temperature and humidity controlled packaging technology to assure safe transportation," Rodriguez says. Sold by the leg, Cinco Jotas' ham is perfect for large gatherings or events— "but personally I always have a leg at home, slowly devouring it for breakfast, lunch and dinner."