Mantecados Manchegos
Not-too-sweet—and perfumed with citrus and wine—these crumbly Spanish cookies are for grown-ups.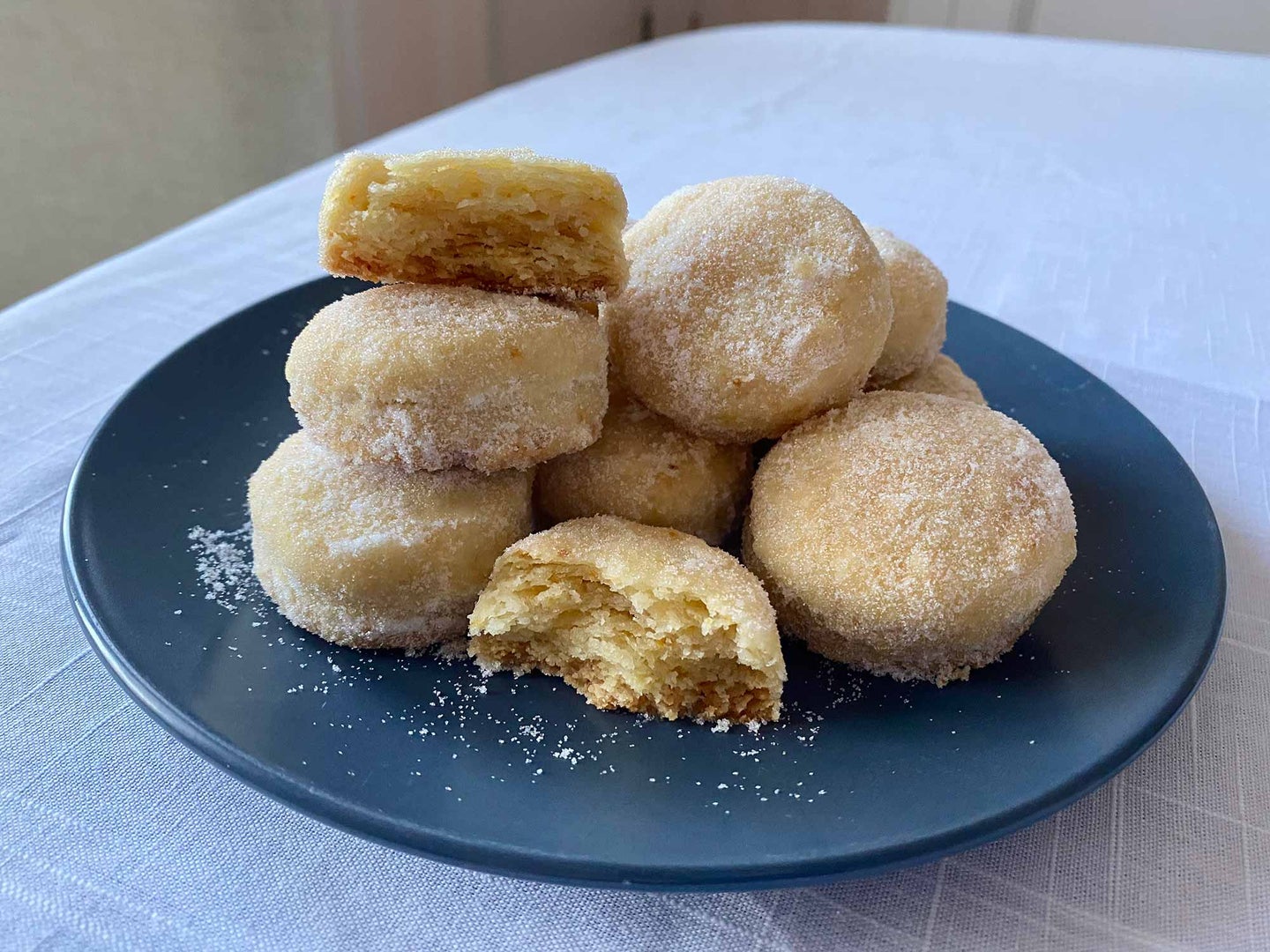 This recipe was inspired by Dulces Cobo, a family-run bakery in the Manchegan town of Pedro Muñoz that makes physics-defyingly light mantecados. Their secret, according to owner Mariví Cobo, is using top-quality Iberian lard. Unless you pal around with pig farmers, your best bet Stateside is to order lard online from a trusted purveyor such as Dietrich's Meats. Be careful not to overbake these cookies—they should hardly brown at all—as they turn bitter quickly.
Featured in: A Field Guide to Spain's Great Cookies »
Yield: makes Thirty 2-inch cookies
Time: 12 hours
Ingredients
3⅔ cups (1 lb.) all-purpose flour, plus more for dusting
2 tbsp. (½ oz.) finely grated orange zest
¾ tsp. fine sea salt
1½ cups (10¾ oz.) sugar, divided
12 oz. lard, chilled and cut into one-inch cubes
⅓ cups dry white wine
¼ cups fresh orange juice
Instructions
To the bowl of a food processor, add the flour, orange zest, salt, and ¼ cup of the sugar. Pulse once or twice to combine, then add ¼ of the lard and pulse until the mixture looks sandy, about 10 pulses. Scatter the remaining cubes of lard over the surface of the flour mixte and pulse until a dry and crumbly dough starts to form, about 8 pulses. Pour the wine and orange juice down the feed tube while pulsing until the dough is sticky and uniform, about 7 pulses. Lightly flour a clean work surface, turn the dough out onto it, and press into a 2-inch thick rectangle. Wrap tightly in plastic wrap and refrigerate for at least 6 or up to 24 hours.
Unwrap the chilled dough, lightly flour a clean work surface, then place a large sheet or of plastic wrap over the surface of the dough (you want several inches of overhang). Use a rolling pin to roll the dough out to an even, ½-inch-thick rectangle (dimensions are not important). With one of the long sides of the rectangle parallel to the edge of the surface closest to you, fold in the two short sides to overlap like a letter. Press down lightly, then fold the dough in half, short end to short end. Press the dough a few times to shape it into a tidy rectangle, then wrap in plastic and refrigerate for 1 hour more.
Preheat the oven to 350°F. Line a large baking sheet with parchment paper. Unwrap the dough and return it to the lightly floured work surface. Place a large sheet of plastic wrap over the surface of the dough and gently roll out the dough to a ¾-inch-thick rectangle. Working quickly, use a lightly floured 2-inch cookie cutter to cut out shapes of your choosing, and place them on the baking sheet, leaving at least 1 inch between each cookie. Reroll your scraps until you have no dough left.
Transfer to the oven and bake until the cookies are pale golden on top and beginning to brown at the edges, 25–30 minutes. Cool on the tray for 2 minutes. Meanwhile, to a small bowl, add the remaining 1¼ cups sugar. Gently place one cookie in the bowl, sprinkle some sugar all over to coat, then transfer to a wire rack to cool. (Do not toss the cookies around in the sugar as they are very fragile and may break.) Repeat with remaining cookies. Cool completely before serving; mantecados will keep for up to 1 month in an airtight container.